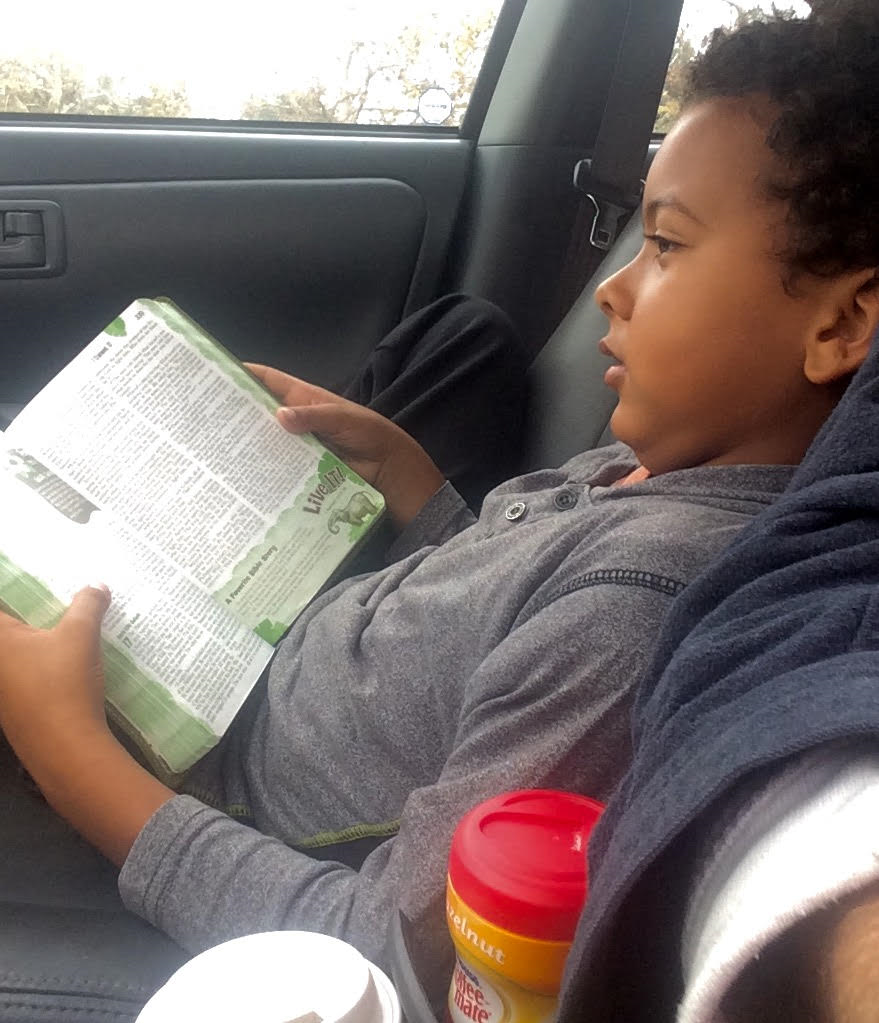 We started by me reading one of Jesus' parables from Luke's gospel. It was about a fig tree and I explained how parables have two meanings, a literal and secret meaning.
I thought I had sold him on searching for the secret meaning after D mentioned–thanks to being a huge Veggie Tales fan–Jesus' parable on building your house on solid rock.
Then, after reading the parable of the fig tree to him, I reiterated the key point with a dramatic voice. How every time the owner inspected the fig tree for fruit…there was no fruit.
I planned to transition to talking about the fruit of the spirit in Galatians 5:22: love, joy, peace, long-suffering, gentleness, kindness, goodness and, my favorite, faithfulness.
I wanted D to inspect the fruit in his life, to think if his actions have been loving and kind, but he had no interest in a story on a fig tree bearing no fruit, even one with a hidden meaning.
"I don't care," D said after I emphasized a second time that the tree had borne no fruit.
So I switched to a story with people. A short man who was a rich tax collector and climbed up a tree to see Jesus. Although he knew this story, I hoped to plumb its meaning in depth.
***
In his story, Jesus came to a tree in Jericho and saw a little man. He looked up and said to him, 'Zacchaeus, hurry and come down, for today (emphasis mine) I must stay at your house.'
Jesus made eye contact, called Zacchaeus by his name, and invited himself to be a guest at his house. This must have been a surprise not only to Zacchaeus, but also to the Jewish people.
And as Luke tells it, Zacchaeus hurried down and received Jesus gladly. And when the people saw it, they all began to grumble, sneering, 'He has gone to be the guest of a man who is a sinner.'
Hearing what the people said, Zacchaeus stopped and said to Jesus, 'Behold, Lord, half of my possessions I will give to the poor, and if I have defrauded anyone of anything, I will give back four times as much.'
Jesus declared, 'Today (emphasis mine) salvation has come to this house because he, too, is a son of Abraham, for the Son of Man has come to seek and to save that which was lost."
What made Zacchaeus confess his sins and publicly vow to repay those he cheated? There is only one possible answer: he had a empty void in his heart and knew only Jesus could fill it.
Interestingly, I thought later, it was the same story as Jesus' parable of the fig tree, a man who was bearing no fruit and had no way for his sins to be forgiven…except by Jesus.
I know we didn't plumb the depth of this story. Sure, we tried. We discussed details and what they meant. But I know we fell short of this simple truth: Jesus came to seek and save the lost.