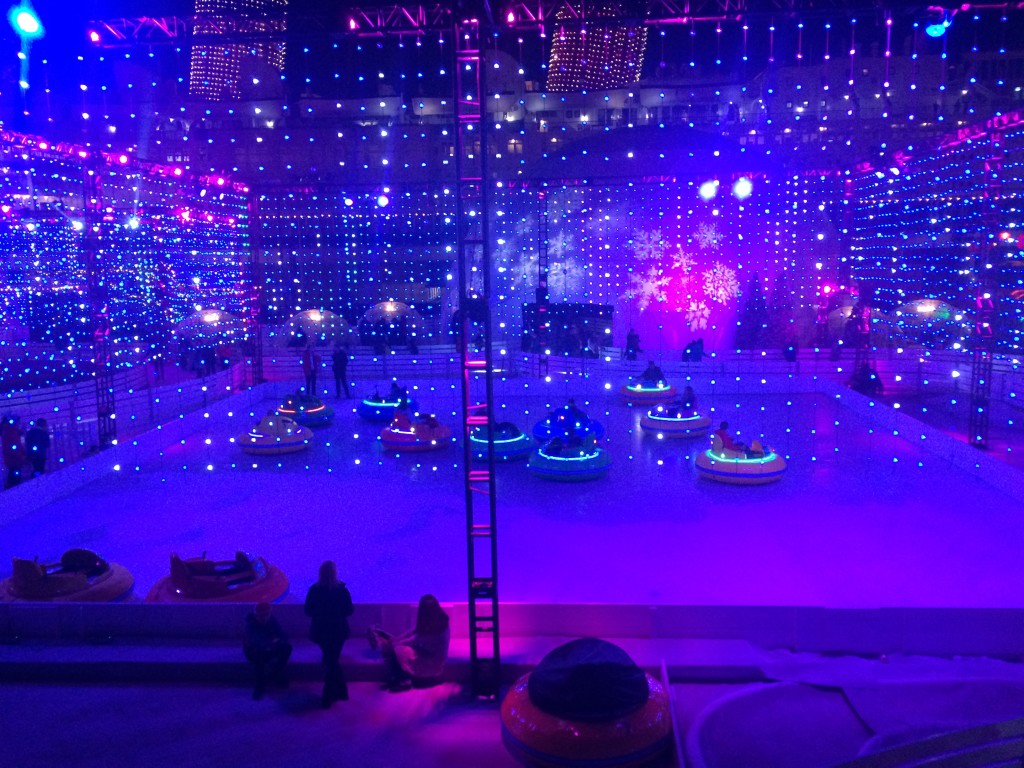 When L told D he could only go to "Chill" if he finished cleaning his room, he got very upset, and this was his endorsement of the Queen Mary's annual Christmas extravaganza.
"Chill" is open daily from 4:30 until 11:00 until Jan. 7, and in the next two weeks, it is a wonderful way to extend Christmas with the family, if everyone is in the mood.
As we waited  in line to see a 4-D version of Rudolph the Red-Nosed Reindeer, L said, "We could have stayed at home to watch Rudolph. D has seen it five times this Christmas."
But Rudolph in 4-D turned out to be her favorite part of "Chill," and it helped us overcome a mild case of Grinchiness—so don't miss it in favor of glitzier options like the 300-foot zip line or ice bumper cars.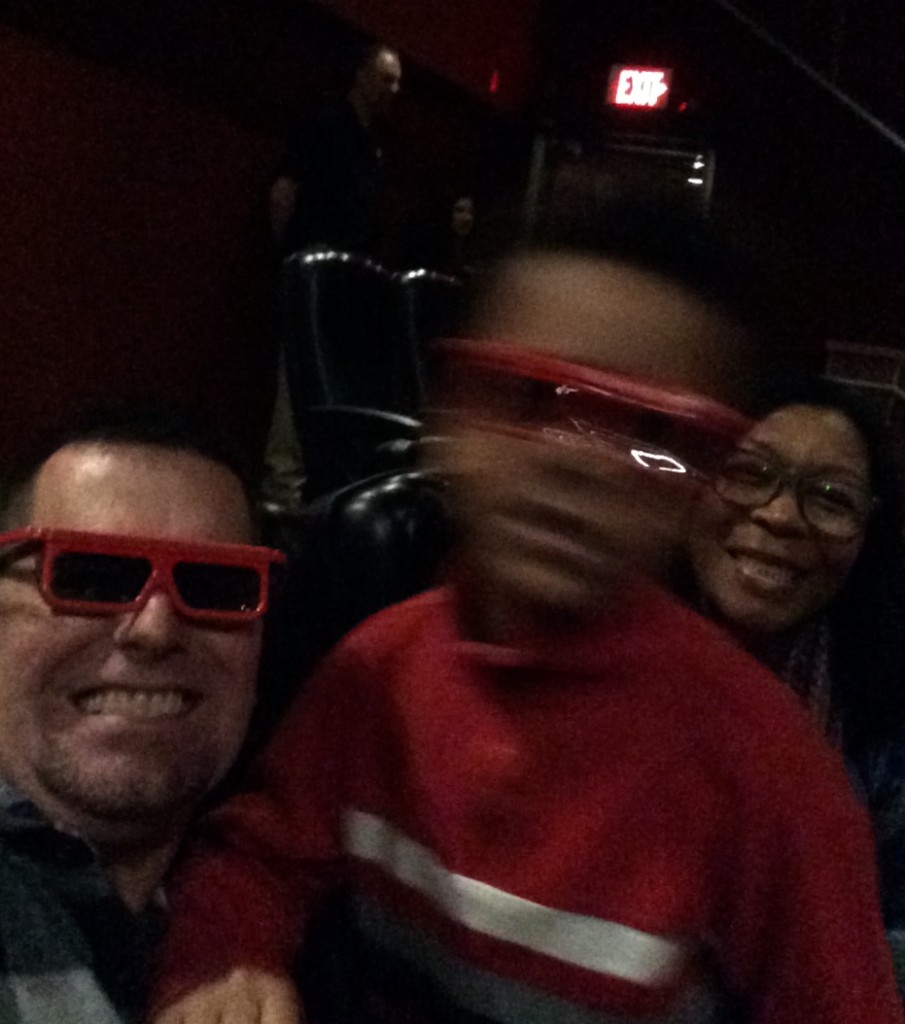 "Do you know what 4-D is?" I asked a man standing behind us in line to see Rudolph.
"4-D is one more than 3-D," he said, and we both laughed.
"4-D is one level more advanced than 3-D," his wife added. "I think that means it has more special effects."
I must have still looked confused, so the man added, "I think there may be snow that comes out of the ceilings."
Here's what I remember: the seats shaking every time the Abominable Snow Monster stomped in pursuit of Rudolph, Hermey, and the Yukon Cornelius and, yes, snow blowing out from top corner of the front wall.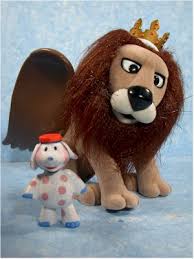 "I liked it was edited to 15 to 20 minutes," L commented the next day. "The special effects made the story come alive."
D stood up to grab snow flakes and animated snowballs–which thanks to the 3-D glasses–came right into his excited hand, and he liked the black smoke from a exploding TNT box, and we were now in the right frame of mind to enjoy "Chill."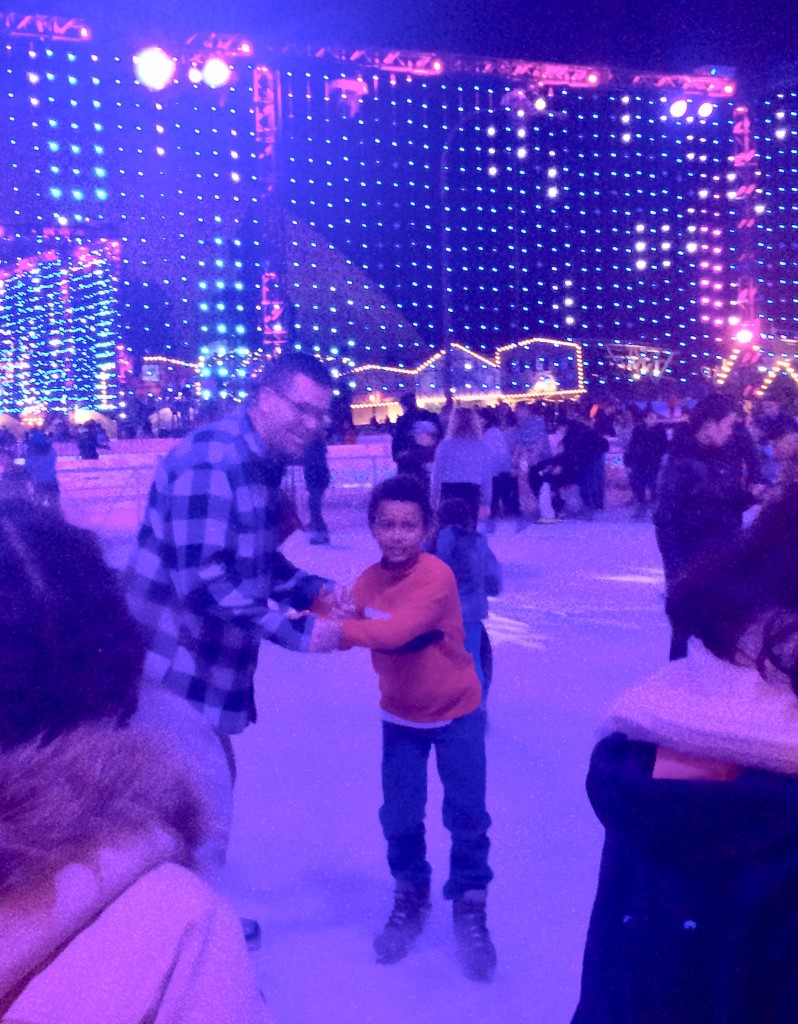 We went next to the ice-skating rink, and this was the highlight of our trip for me. D and I skated together several times around an ice track filled with skaters of all ages and ability levels.
Originally, D wanted a plastic penguin to help him stay upright, but he exceeded the 48-inch height limit to get a support device while skating.
So we tandem skated by holding hands, and whenever D fell down, he would say to me, "I said, left, right, left, right, and you went right, left, right, left…and you made me fall!"
We had a hilarious time skating. I think we both helped each other stay upight, and each time around the track, we became less wobbly, and it was an exercise in working together.
I am smiling as I write about our experience, recalling how D told a female employee, "It's his fault. I said left, right, but he went right, left…and so it was his fault that I fell down."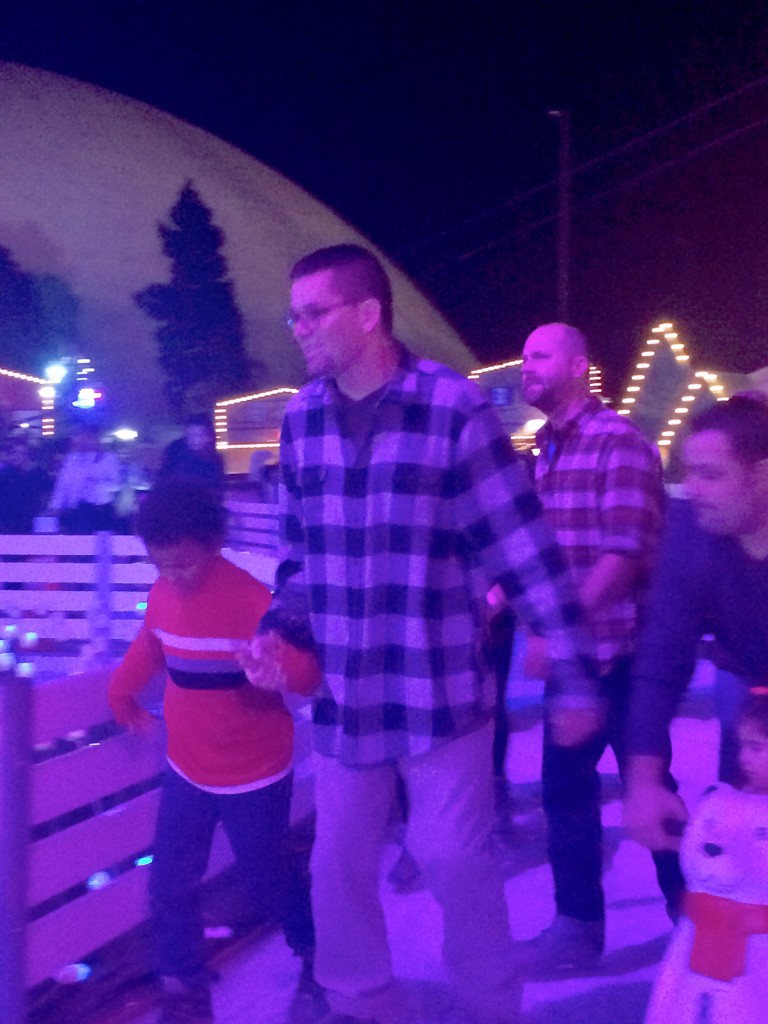 The best experiences always teach you something about yourself, and about those whom you love, and I learned D is funny, courageous, adventuresome, cooperative, and skilled at ice skating.
He showed he could fall six times and get back up six times, and that is one of the lessons I hope he will remember from our tandem skating at "Chill."
We passed by ice bicycling on the way to ice skating–but for some reason D didn't want to give it a try. There was a wide array of three-wheeled bikes, and it looked like a fun.
To quote Mary Poppins, "We're on the brink of an adventure. Don't spoil it by asking questions." This quote sums up our experience after we'd been at "Chill" for about an hour and a half
The questions came, and instead of being on the brink of a new adventure, we spoiled it with questions. Are  you getting hungry? Are you ready to leave? And there were a few more.
D asked the only good question to a female employee, "Do you know where Santa is?" There was a sign on the door to Santa's headquarters. It said, "Santa is out feeding his reindeer right now."
I prolonged our visit by convincing L to take a walk on the Queen Mary, but she didn't have quite the same exploring spirit as D and I, and so our next adventure never materialized.
However, we learned a valuable family lesson: if we have difficulty traveling 15 miles to Long Beach—to spend a couple hours—then it will be hard taking a week-long California trip this summer.
This was the lesson taught us by "Chill" that we needed to learn while having fun ice-skating, ice-tubing, watching Rudolph in 4-D, and strolling around together as a family.
The latter is one of my favorite parts of "Chill:" Just walking around the Christmas decorations, with the Queen Mary as a back drop while strolling or careening down a 135-foot ice tubing slide.
Full Disclosure: thanks to the good folks at the Queen Mary for setting us up with complimentary tickets. This in no way influenced my opinions while writing this post of our visit there. We have been regular visitors to "Chill" for the past five years as part of our family tradition.
For more info on Chill, go to: www.queenmary.com