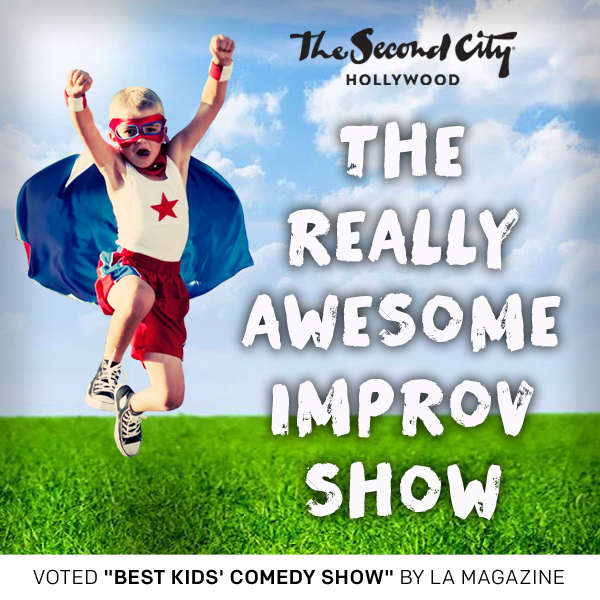 "Where are you?" L's text says.
As I glance down at my phone screen, a girl in her early twenties clucked like a chicken as she officiated a wedding ceremony for Michael Jackson as part of a hilarious improv comedy scene.
I type the words "kids' comedy show" and tap the "send" button, wondering how L will respond, as the bride and groom slide backwards on their toes moon-walk style across the stage.
"Where?" her text back says.
Okay, I felt nervous because of L's five-mile radius for our father-son adventures. But when I look over at D I see a smile spreading across his face and turning into heartfelt laughter.
He was becoming a fan of improv, and in that moment, sitting beside one another in a small black box theatre, I am reminded of what I have come to know about D: he has a creative mind.
"It's in Hollywood," I text back.
It all began with breakfast at Chic-fil-A and an urge to break out of our normal destinations and zip codes and to go somewhere totally new and different. D and I were overdue for a change.
"Want to go to Hollywood?" I asked D, after he ate his usual Saturday breakfast of two eggs and two boxes of hash browns. I had googled "kids' comedy show" and "Hollywood."
There was a show in an hour at noon.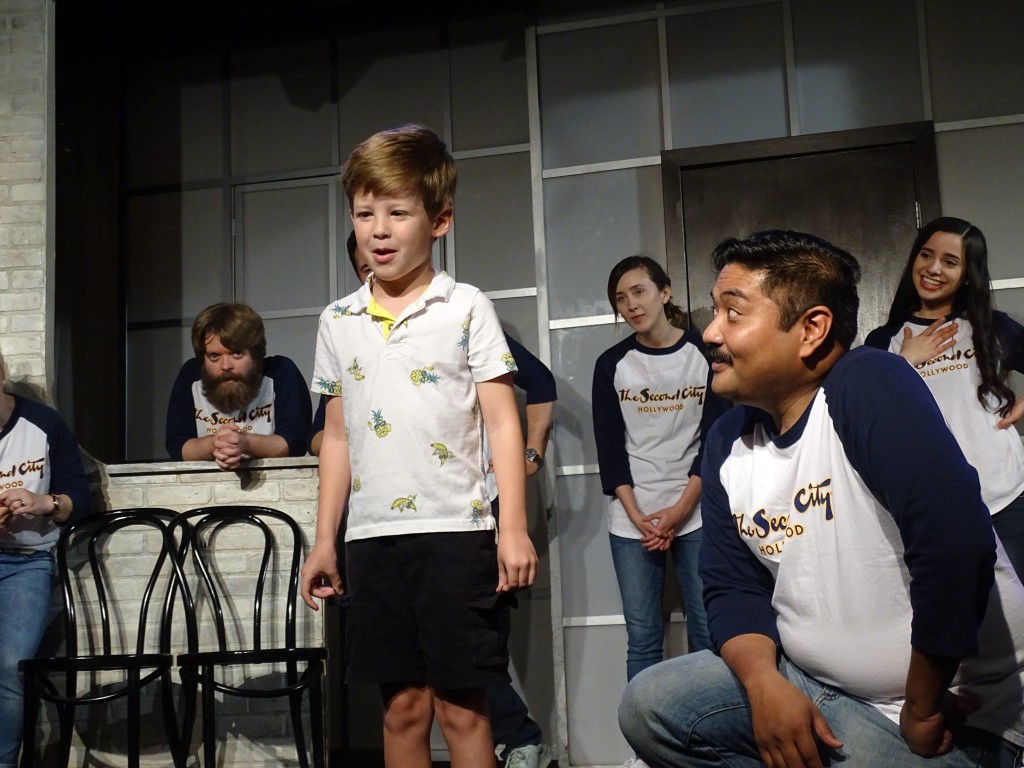 "Yes," he said.
"We're going to HOLLYWOOD," I cheerily boomed as we turned on the freeway for the 30 to 45-minute ride. "Hollywood, here we come! Woo-hoo, we are going to…HOLLYWOOD!"
Yes, my enthusiasm was overblown. However, it represented pent up frustration from mostly adhering to L's five-mile radius for our father-son adventures for the past five years.
A week ago, D asked me to go to a baby store to look at books, plush toys and other stuff. He walked up to a female employee and asked her if she could help him find an old favorite book.
I listened as my nine-year-old son inquired about a book for toddlers. On the one hand, he was taking initiative in asking for help. On the other hand, he inquired about a toddler book.
It felt weird. Maybe, he missed the characters from his early childhood. However, as the employee searched for the book, I pretended it was a birthday present for a toddler–if she asked.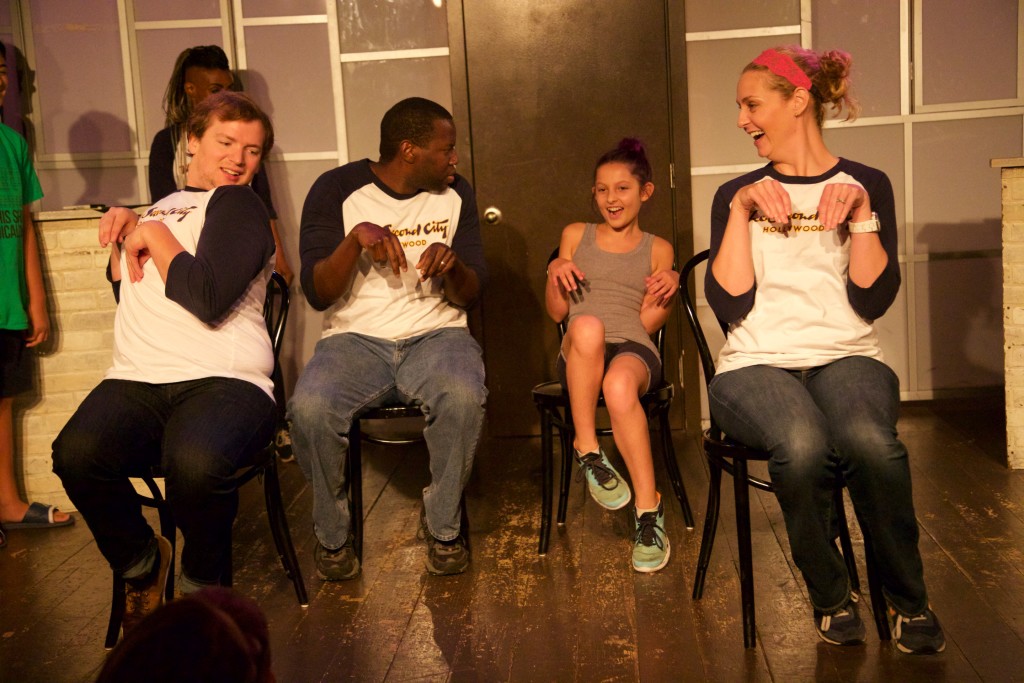 So this is what prompted our trip to "The Really Awesome Improv Show," voted the best kids' comedy show by LA Magazine, at Second City theatre on the famed Hollywood Boulevard.
We parked and had eight minutes till showtime. D and I started running, and I pointed out a few names of stars on the sidwalk, and we made it to the theatre with two minutes to spare.
The theatre had seats for 50 to 75 people. We sat in the front row and our feet touched the stage. It felt like the stage was in our living room and the actors performed just for us.
The actors played improv games, taking suggestions from the audience to create zany characters and scenes, and encouraged kids to participate. Wackiness ruled the one hour show.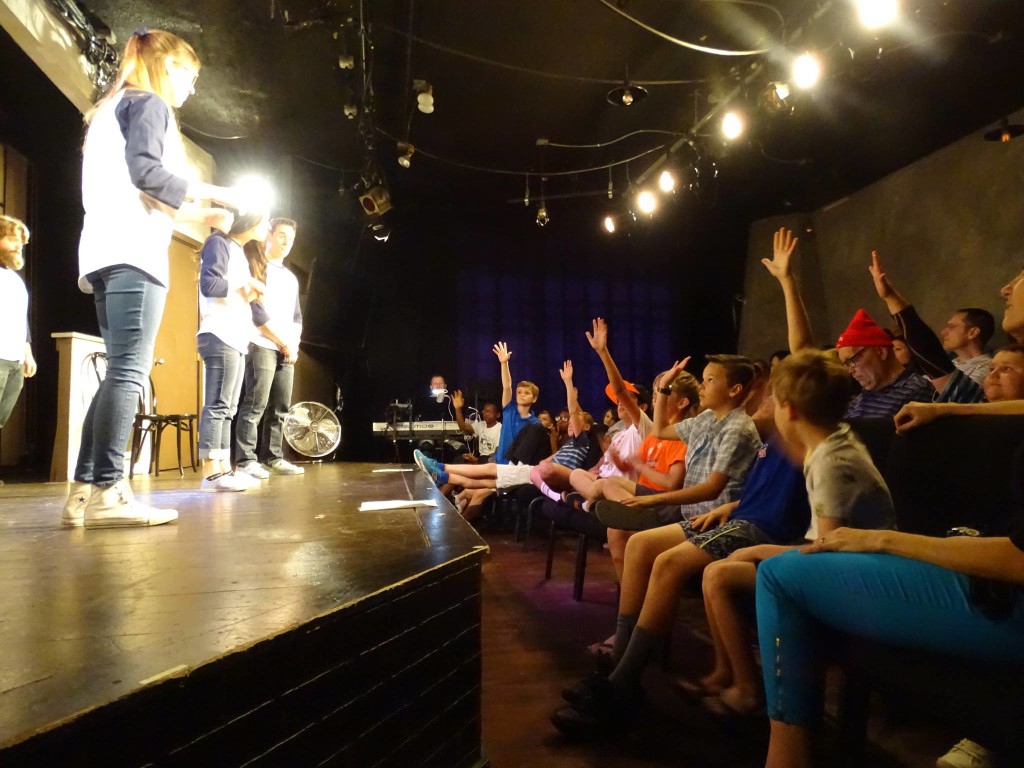 I wanted to nudge D to be part of a game on stage, but I sensed he was not yet ready. To be honest, it was an accomplishment just to make it here; and this would be an intro to improv.
I wish I could describe more of the scenes, but all I can remember is the actors demonstrated the symmetry and principles of improv beautifully. Listening and responding.
Saying Yes.
The biggest surprise of all, L was okay with us going outside her five-mile radius without me having discussed it and getting her approval–or, at least, she didn't seem to be upset about it.
She approved an hour long trip to Malibu Wine Safari last December–to which she declined an invitation–and granted permission for us to go the Griffith Observatory without her.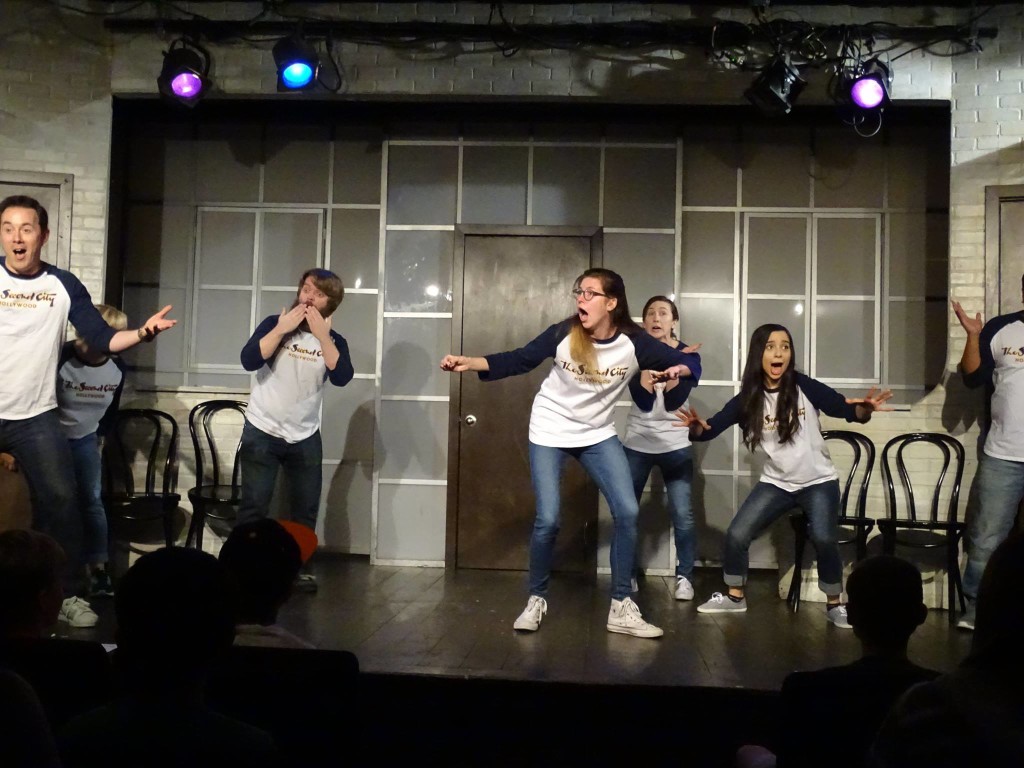 But she vetoed several of my ideas this year for longer trips, so her five-mile radius seems to be an arbitrary thing, depending on her mood or perspective on my parenting skills at the moment.
She suggested I take parenting classes during a recent heated argument.
And whenever she walks in on one of D and my "improv" scenes, which are of course ridiculous, she says, "do you guys ever have normal conversations?"
She is, apparently, not an improv fan; and I will be the first to admit our scenes are non-sensical and lack any logical progression, but they foster a social reciprocity like nothing else.
And that's what's important–especially for a kid on the spectrum.
This is why I love our "creative" conversations. It's the way D and I bond with each other, just as L connects with him in their deep conversations–though I am capable of having serious talks with D, too.
I wrote a few years back, I thought an improv class would improve D's social skills, and I think it is time to test my theory and take D's improv acting from the living room to the stage.
He came in the bedroom as I edited this with a towel around his body, no shirt, pretending to be a caveman, and I volleyed lines back and forth with Jack the Caveman for ten minutes.
So, yeah, I think Jack the Caveman is ready for an improv acting class.
The Really Awesome Improv Show is every Saturday at 12 pm for only $5.
This show has been running for eight years straight and is great for the whole family. No scene suggestions are accepted that are inappropriate for kids (my diarrhea idea was rejected), and because there is a rotating cast, you'll see a different cast and games if you return a second or third time.
Second City's is located at: 6560 Hollywood Blvd, Los Angeles, CA 90028.
Phone: (323) 464-8542.
Visit their website for a wide range of acting classes: www.secondcity.com.