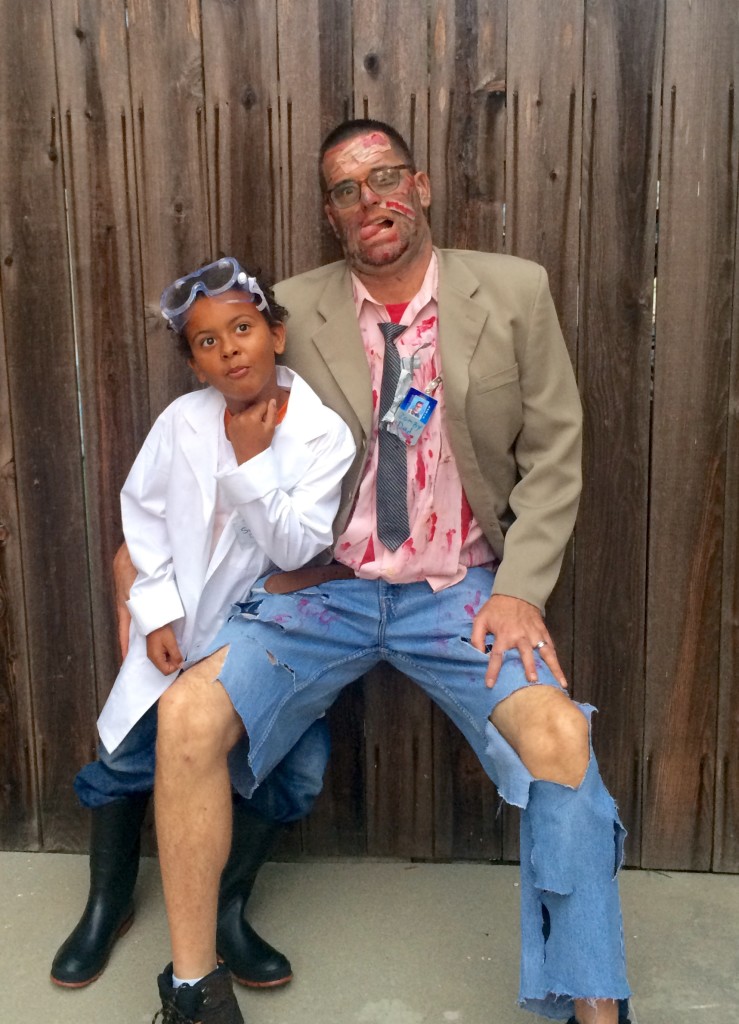 I didn't want to go trick-or-treating without a costume since Halloween has become an annual night of father-son bonding with D, and here it was four o'clock and I had no costume.
D was a scientist. He had a white lab coat, goggles, and boots, so I thought if there was any last-minute way to complement his costume—and then, I hit on it…I could be a Zombie Dad.
L allowed me to use her make-up, she rven dabbed black rings around my eyes, and I took over from there, adding splotches of red blood all over my face, thanks to her nail polish.
I shredded a dress shirt and 0ld pair of jeans, ransacked cabinets for accessories like a blood-splattered band-aid for my forehead, and wrote Zombie Dad on my teacher badge.
And an image from Plants vs. Zombies guided the last part of my costume: a clip-on tie from D's closet, a tan suit jacket from mine, and I applied nail polish generously to my dress shirt.
"You are overdoing it," L said of my increasingly gory appearance.
But D thought I looked good. So did D's friend C, and when we rang the doorbell of my former high school Journalism-English teacher, she complimented me on my costume..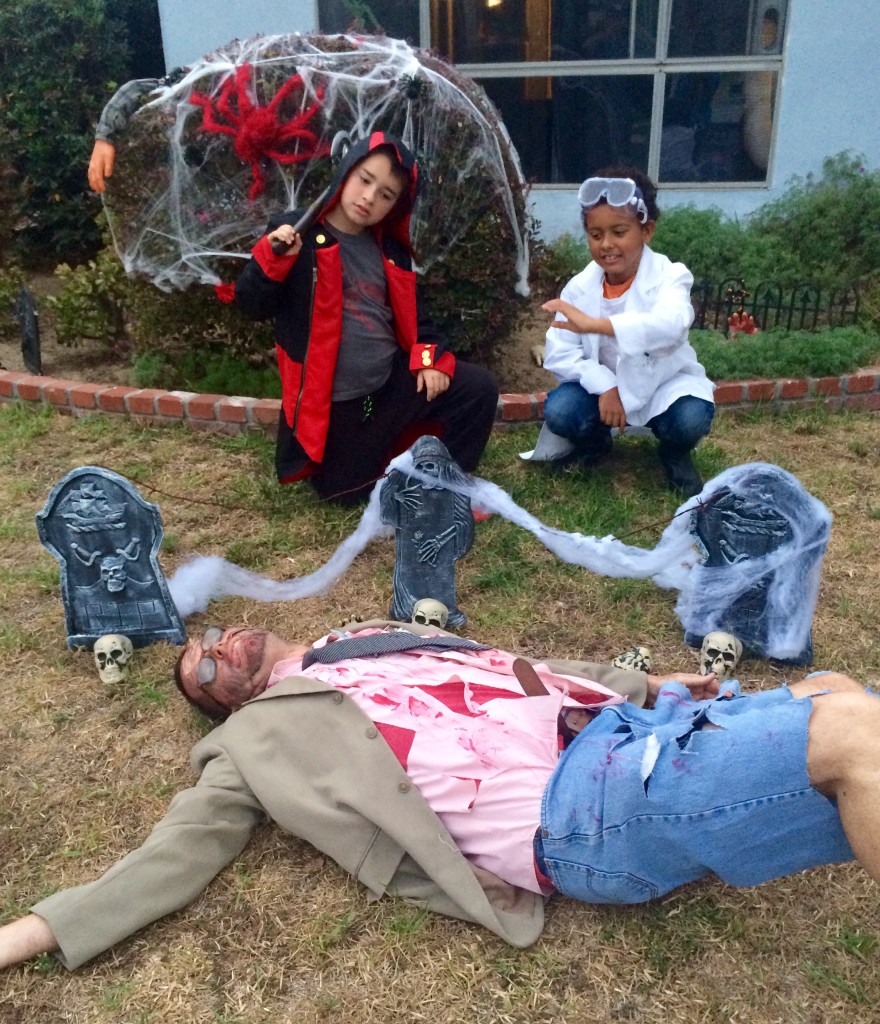 "You are so creative! You are  a fun dad!" she texted me the next day. D and I also made it on her Facebook page with the title, "1987 South High grad trick-or-treating at my door."
Halloween always makes me feel like Cinderella under ballroom lights, having a blast but knowing the clock is ticking on D and my running running through the neighborhood, both of us cherishing this chance to shed our everyday identities for a few hours.
"My dad is my creation," D the Scientist told a few neighbors.
So I must have succeeded in my last-minute effort to complement his Scientist costume, and in my desire to bond with D, I had finished just in the nick of time to go trick-or -treating.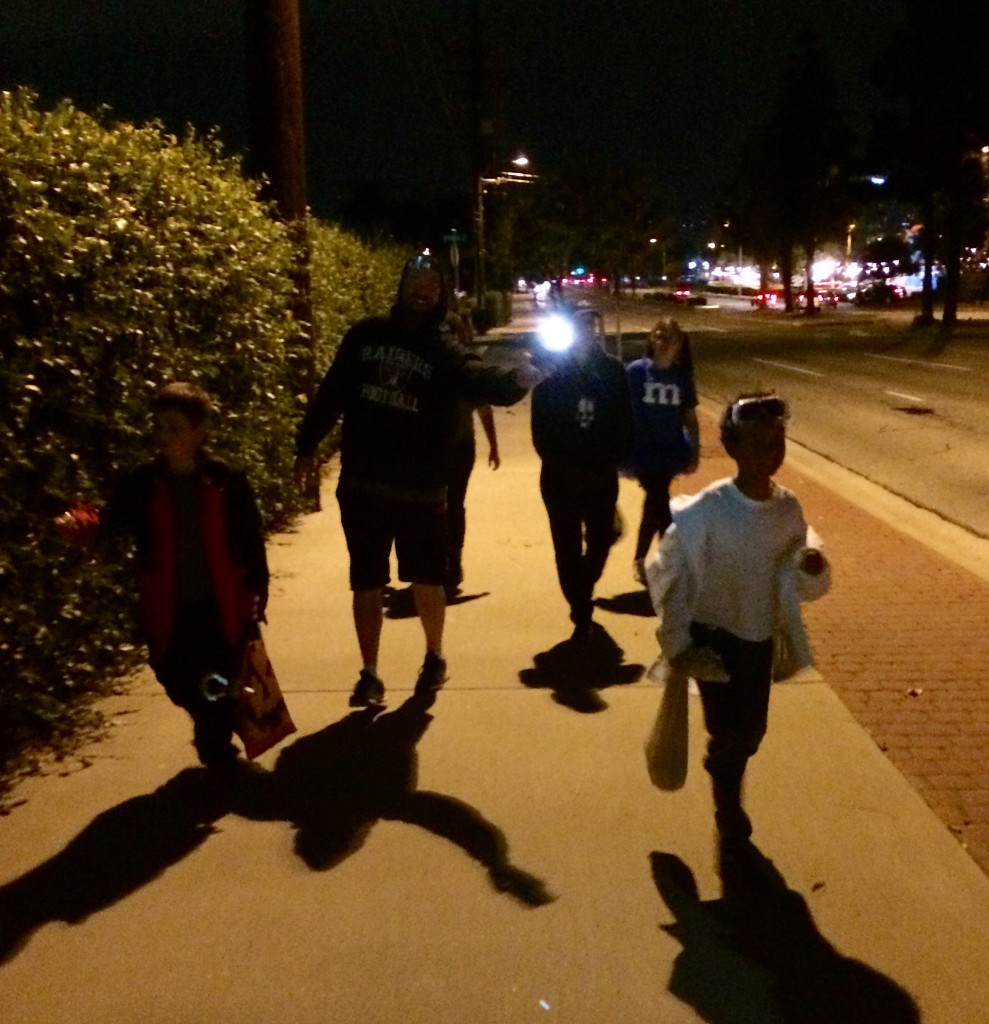 We joined up with C and his dad, plus the addition of two middle-school girls and their mom (a softball teammate of C's dad), and D's pillow case became increased in weight and dimension until wore out, and it was another sweet Halloween in the memory bank.
What I learned is: it only takes a modicum of creativity to enter into my son's creative world; a pair of scissors, an old shirt, jeans, a tan suit jacket I haven't worn in ten years, make-up, red nail polish, a band-aid, and name of masking tape over a work iD badge.
And, viola, you have a Sweet Halloween night. Actually, this was was an old lesson, as a few years back, I remember making a homemade Tin Man costume with an oil funnel, silver make-up, a plastic ax, and a poster board with a Sharpee drawn red heart.
As soon as I walked into the living room on that Halloween, D began checking out my make-up, hat, and ax and jumping off the living room sofa and chopping down imaginary trees.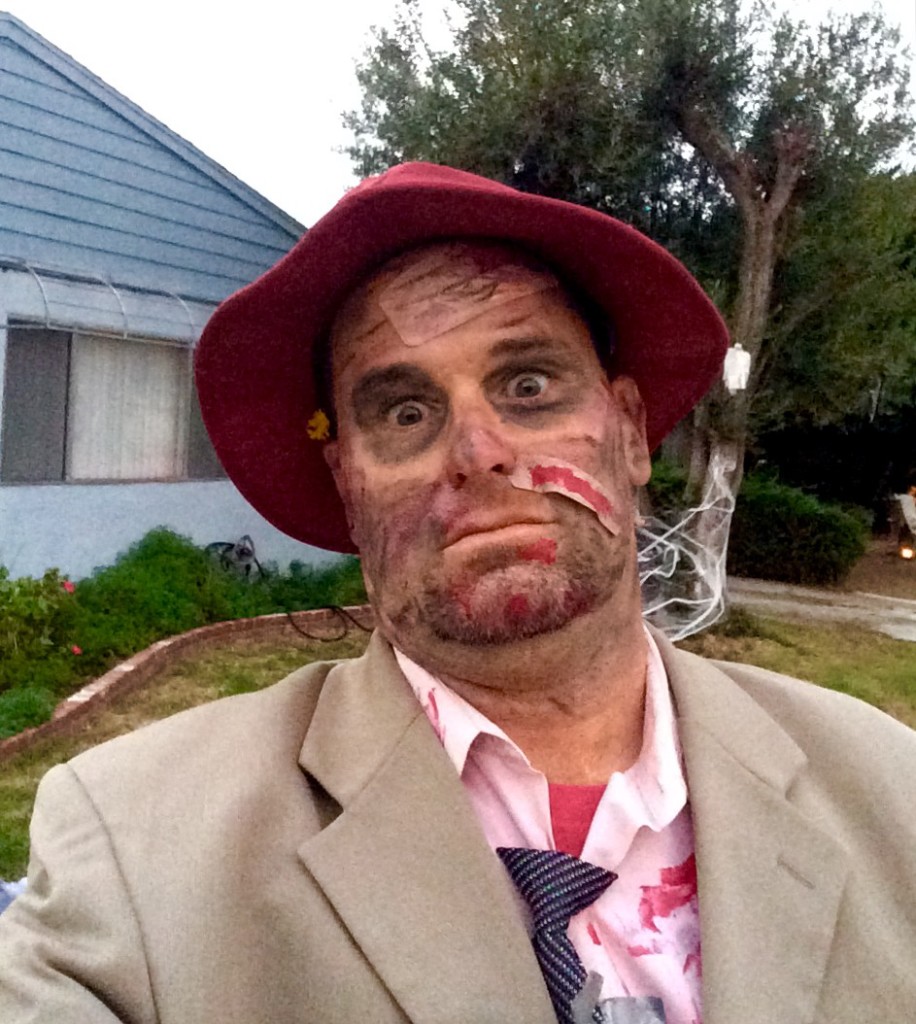 He had a similar reaction last year when I stuffed pillows under my shirt and painted my face green to be the Incredible Hulk. He ran up and body slammed into me like in a mosh pit.
This is why I love Halloween. With a   tiny flint of my imagination, D and I can become the Scarecrow and Tin Man, Captain America and Incredible Hulk, or a Scientist and his creation.
I am already looking forward to next Halloween, and those few precious hours to wander the streets with D, and to shed my Dad identity and assume the persona of my costume.
I saved my shirt and jeans–just in case my creativity wanes—and I need a last-minute costume; plus, I enjoyed my alter ego of being a Zombie Dad, and I could see bringing him back to life.