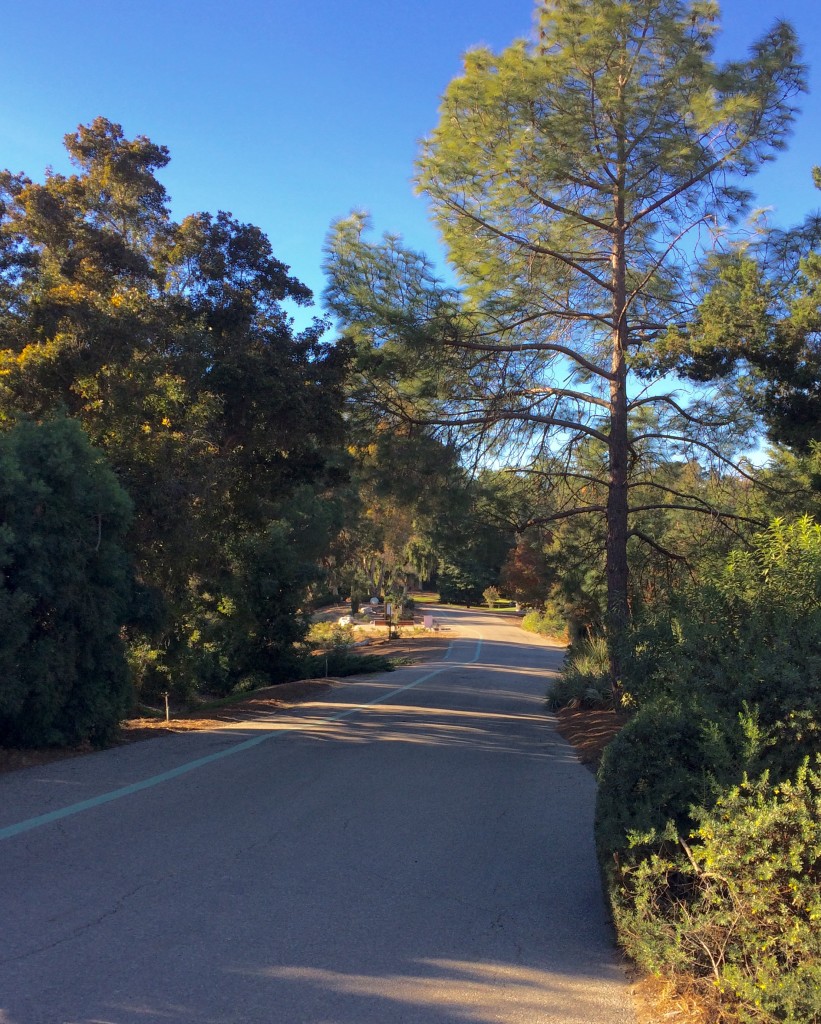 D and I have driven past the South Coast Botanical Garden in Palos Verdes in several occasions without giving a a passing thought to what we might possibly be missing in the garden.
Now, we will think about the garden,
It is an the urban oasis: 87 acres of blooming trees, shrubs, flowers, meadows, winding trails, benches in shady garden niches, a nice place to come and read a book or to do some writing (if I had more time for these activities…but I digress), the friendly volunteers and cool autumn air.
I will think of these things and fondly remember our visit to the South Coast Botanical Garden, and it will be harder to pass by, knowing how much beauty lies within. Why  drive an hour away? When nature is fifteen minutes away?
D is a lover of treasure hunts (mostly the kind around the house involving clues leading to a candy bar), so we went to experience "The Great Pumpkin Hunt" in the Garden which involved locating clues in birdhouses to find a clandestine pumpkin patch.
However, since I'm not much of a map navigator, and more prone to wander and enjoy nature, we got lost on the Great Pumpkin Hunt, and that was just fine with me. I like wandering more than following the points on a map.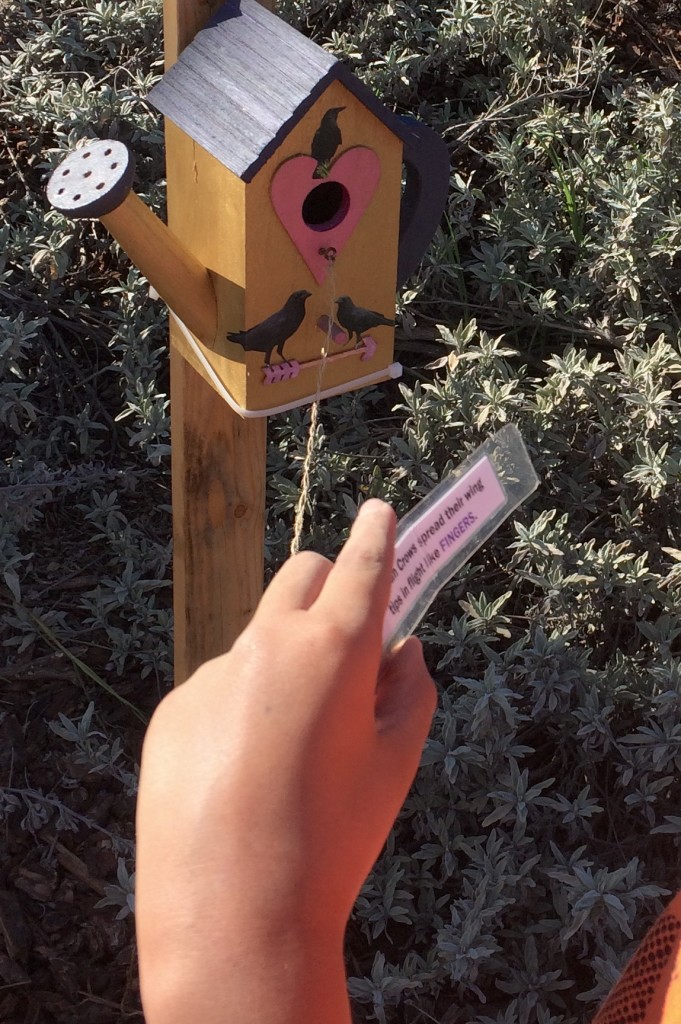 We asked a few people if they knew the locations of varioyz birdhouses, and they were in wandering mode as well, so getting lost in nature seemed to be preferable to seeking for birdhouses.
The secret "patch" turned out to be behind one of the Garden's Kid's Adventure Club Stations where kids and their parents were digging for pseudo ancient marine fossils.
This sounded like fun, so D and I were handed plastic spoons for shovels, a plot of dirt bracketed by string, and a volunteer explained to D how the garden had been a marine environment thousands of years ago; in between , it had also served a landfill-dump.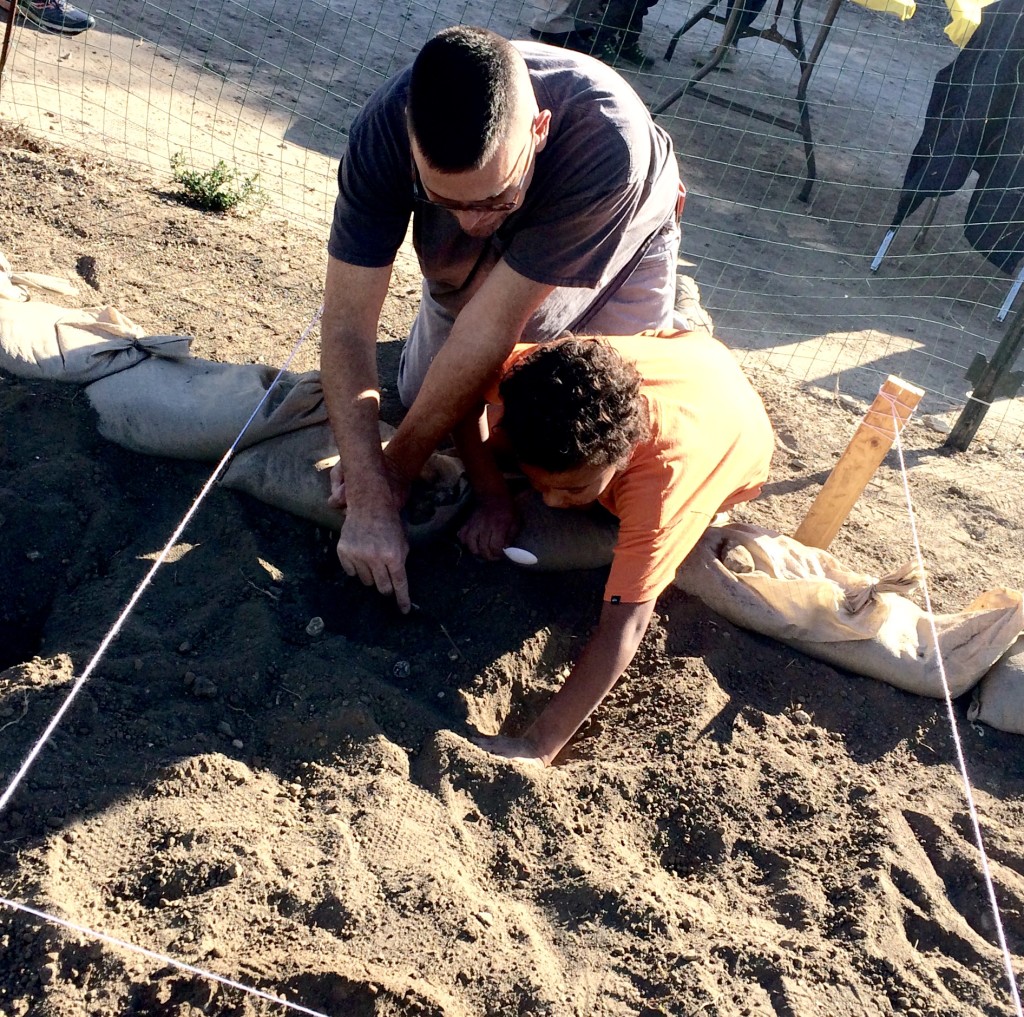 "Do you know what a person who digs for fossils is called?" she asked D.
"A paleotologist."
"What do you expected to find since it used to be a marine environment?"
"Maybe some shark teeth."
"Wow! You are a smart boy!"
We got so into digging for fossils that we I didn't notice a pumpkin patch five feet away from us. The pumpkins looked like they had been ravaged by some hungry animals in the Garden.
One pumpkin resrmblec a flat basketball without air, and later in the day, when we still had not found the pumpkin patch, a volunteer told me it was next to the fossil digging station.
I had visualized a nigger pumpkin patch, but it turns out, the Garden held a contest a year ago to guess the weight of a giant pumpkin, but if had been eaten by the squirrels, rabbits, mice and raccoons in the garden.
Getting lost in the nature, or sitting on one of the Garden's many benches, and just feeling the warmth of the sun, I concluded, is what I've missed driving by the South Coast Botanical Garden.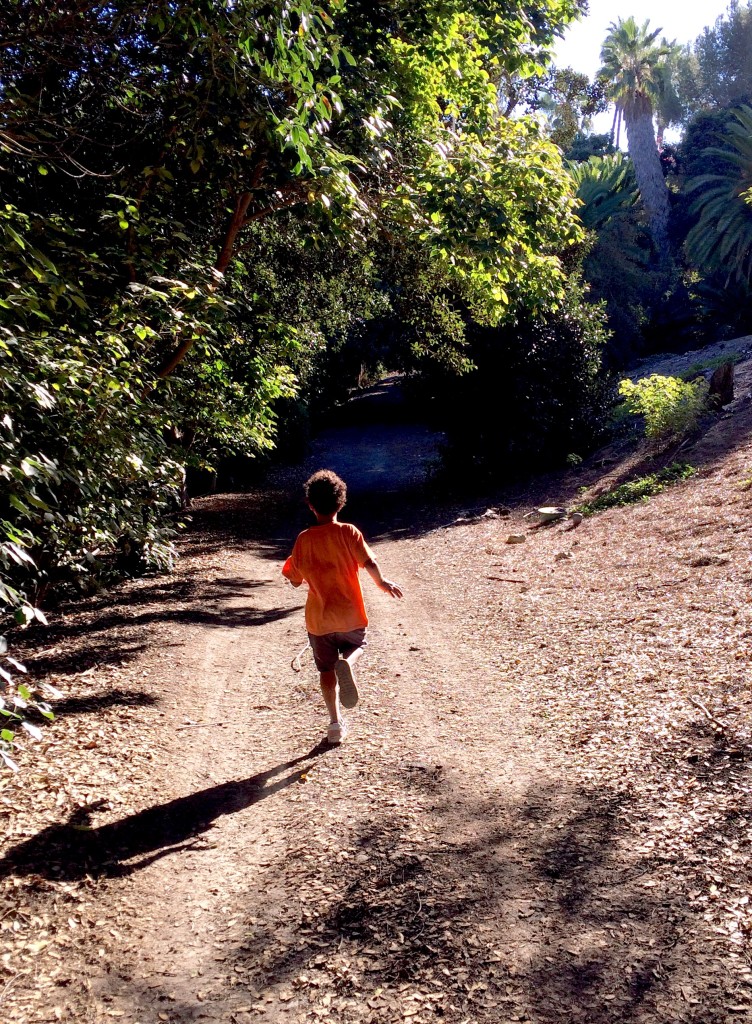 "Climb the mountains, get their good tidings. Nature's peace will flow into you as sunshine flows into trees. The winds will blow their freshness into you…while cares will drop off like autumn leaves."
John Muir's words came to me while D and I sat on a bench after walking through the labyrinth of trails, and as I pondered Muir's thoughts, I could sense nature's peace flowing into me.
True, D asked to look at my phone as he leaned back into my chest. But I enjoyed the lush greenery and warmth of the sun on my face as I wondered about the people who walked by us.
I reminisced about the 17-mile drive in Carmel when a tram passed by us. Walking on the Garden's scenic trails and roads brought back to mind L and my trip there on our honeymoon.
My mind wandered to the missed opportunity 18 years ago to ride a bike in a slight drizzle; in retrospect, it was the perfect condition–though I chose wisely to not abandon my new bride.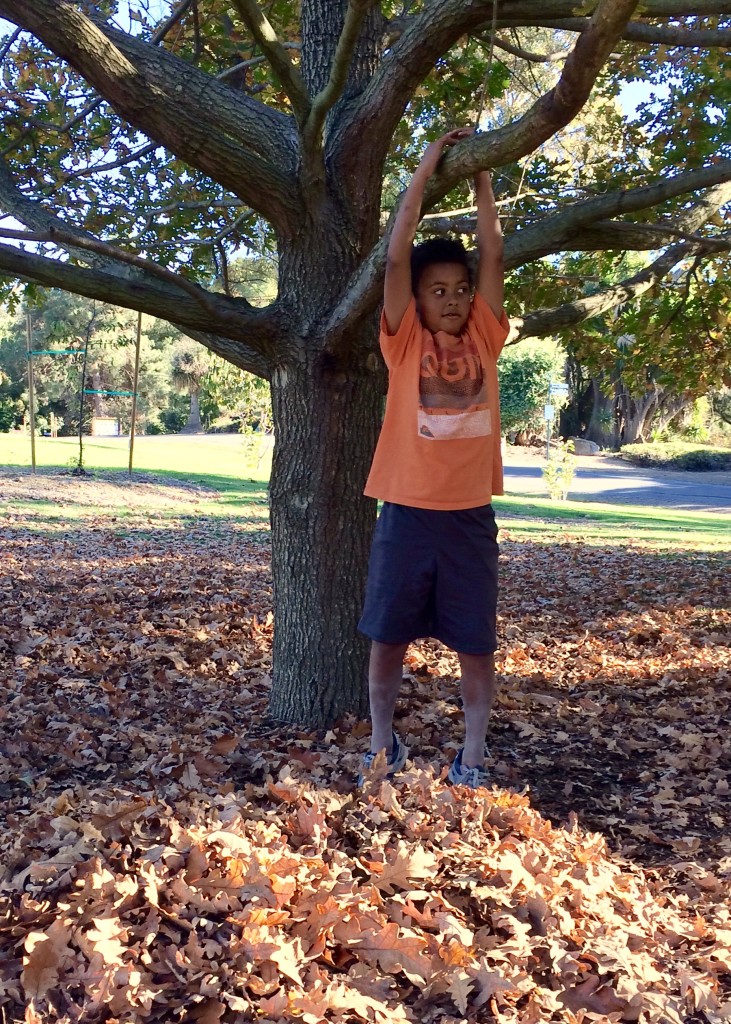 This got me thinking if biking is permitted in the Garden–I didn't see anyone riding a bike–but the program staff is always expanding new ways for visitors to experience the Garden.
In December, the Garden will pipe in Christmas music on selected roads/trails and host bands playing holiday music; in January, guests can listen to a pop music playlist while walking through Garden trails.
A sign outside the front gates also announced yoga will be coming soon to the Garden. In addition, the Garden hosts plays, concerts, and movie nights in its meadows–Mauna played in July.
D and I enjoyed acting out scenes from the Wizard of Oz in a small shaded amphitheatre with a canopy of trees. An acting class would make a great addition to the Garden, I thought.
We ran into a troop of girl scouts, and one girl ran over to D and said, "D, what are you doing here?" And then he was surrounded by a group of girls, who were all saying the same thing.
He hid behind a tree watching them before he was spotted. I gave him some space to interact with the girls, but he seemed overwhelmed, and we walked and ran on with the map in my pocket.
D liked the numerous opportunities to pick up dirt clods along the trails. He's still a sensory kid at heart, and frankly, that may have been his favorite part.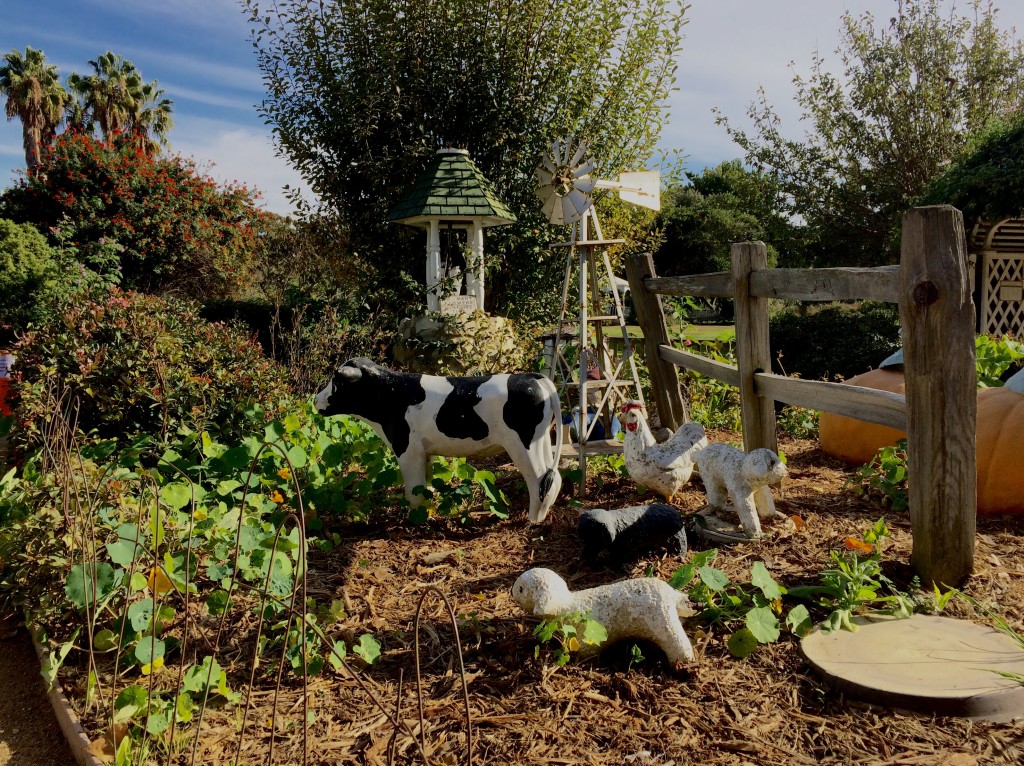 We appreciated the quiet solitude; sometimes, a father and son need to escape into nature–you know, to get away from family life stresses–and the Garden was a perfect nature getaway.
You enter through the gates, walk through an enchanted garden with small miniature houses, grazing cows and other ornaments, and you forget all about the various stressors in  life.
You walk along trails or a road, turn right or left down a myriad of trail/road options, and you will feel tempted to chuck the map, and you may decide getting lost in nature is preferable.
That's what I felt like doing–and so we found only two of the six birdhouses with clues to the pumpkin patch. But time stopped, and that's the best way I know to enjoy an afternoon with D.
The next time we drive by the Garden, I will assuredly give more than second thought to what I will be missing. And I am sure I will planning a return visit to the Garden in the next few weeks.
Full Disclosure: I received two tickets at my request in exchange for writing this blog post. However, all opinions in this post are mine, and I hope you enjoy the Garden as much as we did
The South Coast Botanical Gardens Hours are: 9 – 5 everyday (open 364 days a year). The address is: 263000 Crenshaw Blvd., Palos Verdes. You can learn more about the Garden by visiting their website:southcoastbotanicalgarden.org.
Tickeprices are: Adults $9, students $6, children (4 – 12) $4, and toddlers are free.