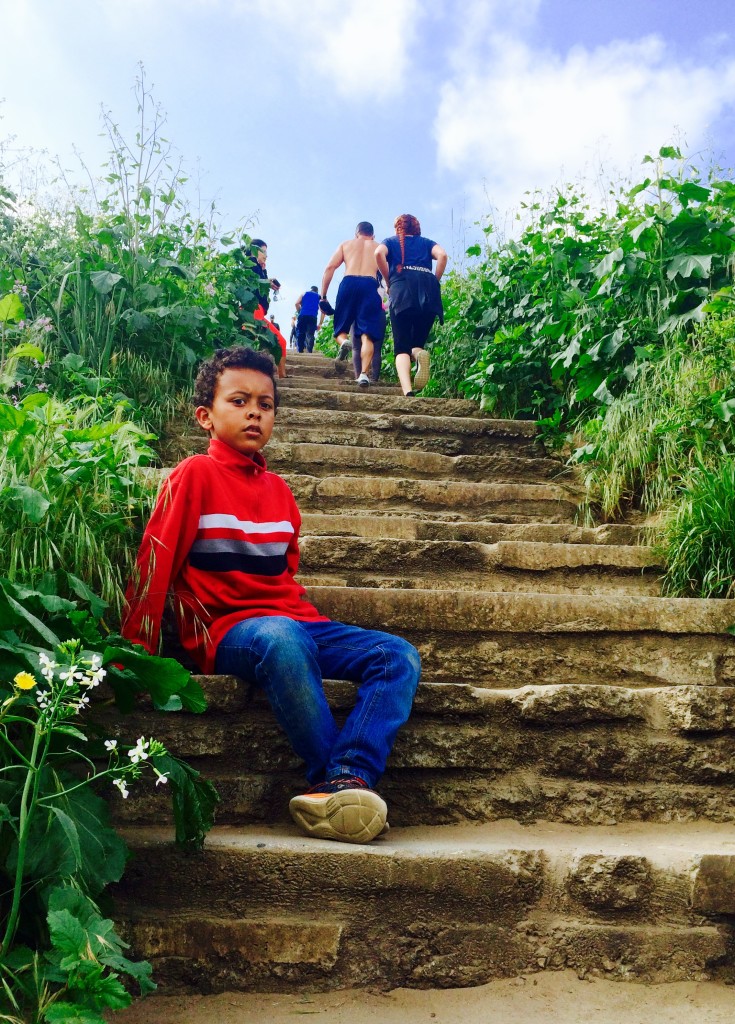 This was one of those ideas–hiking up 279 stairs at the Culver City steps–that sounded like a good idea at the time, but it didn't feel so great once we were  on, say, step number 133 or 208.
At step number 279, I was more than grateful we'd made it to the top,  Some breaths felt much deeper than others, and I realized I can feel feel the effects of aging on my body more than ever.
I am two digits away from 50, and this workout reminded me of a stress test I recently took where they kept speeding up the treadmill more itches until I felt like I was about to have s heart attack,
The hill was steep enough that I had to stop several times, my lungs heavy and legs burning, and I was too tired to pretend to fiddle with my camera and stared up at the steep incline ahead.
D was usually five or six steps ahead, and probably more if I didn't tell him to stop when I took a break.  I needed to catch my breath s few times, but D didn't have this problem. He kept climbing up the steps, only stopping occasionally, never seemed fazed by the two-foot cylinder block stairs.
I looked forward to a father-son moment taking in a vista of Los Angeles, but when we reached the top, D looked back for a split second and followed the trail around a curve.
Ho-hum, he must have thought.
I was thinking something along the lines of  "hey, this isn't everyday you see a view like this, and I was really hoping (re: needing) to take a much longer break…to get a second wind."
We passed through a building with a display on the history of Los Angeles on the way back down. However, D looked at the pictures for about 20 seconds before exiting out a door.
The way down was easier. I realized near the bottom I needed to find bathroom. The stairs on the way up moved my breakfast through my intestines at a faster clip than usual.
Or was it going downhill? The gradual steady decline may have made finding a restroom a personal emergency—for all I know. The point is, I needed to make it to the nearest potty pronto.
And there were none going downhill.
That is, except in the building with the display on the history of Los Angels—which I regretted not staying longer, so I could get rid of my unneeded waste.
Plan A…was a nearby Dunkin Donuts which I remembered passing on the way to the steps, but there was a sign on the bathroom door: Out of Order.
Plan B..Smart and Final next door. I needed to make it in a hurry, but the stall was occupied, and there was no time to search for a nearby restroom.
Plan C…required expediency. I saw a nearby trash can. There was no time for Plan D–just immediate action.
D looked at me with a surprised look. He had never seen me poop in a trash can before—nor do I remember having done so—so I felt a need to provide a life lesson of some sort to what he saw.
"Sometimes, you have to do what you have to do in an emergency. This was an emergency and, maybe, you will be in an emergency like this one day."
Poop in a trash can if you must.
That's what I was trying to say. Yeah, I am not proud for what I did–and I only accidentally hit publish on this–but I think I would do the same thing if the same situation happens again.