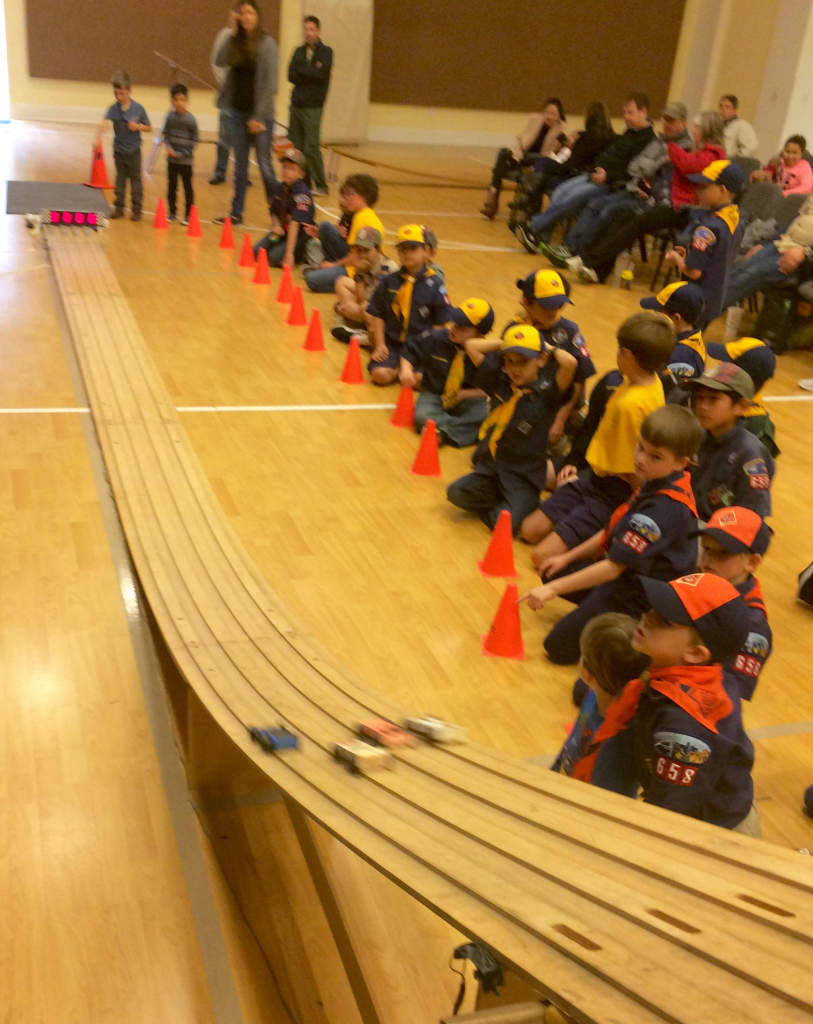 I listened to an interview with a mother on a Radiolab podcast ("The Ghosts of Football") who said her eight-year-old son's favorite part of playing football was the pizza party and trophy at the end of the season.
Thirteen members of the boy's family played in the NFL, and despite his ability to make other players "eat dirt" from making aggressive tackles, he decided he no longer wanted play football.
"That kind of stuff is messing up the history in my life," he said after making one boy cry.
And I thought of D and the Pine Wood Derby, and if I were to ask him his favorite part, he might say eating French Fries afterwards at the Habit Grill. (In fact, I did ask him after writing this post, and that's exactly what he said.)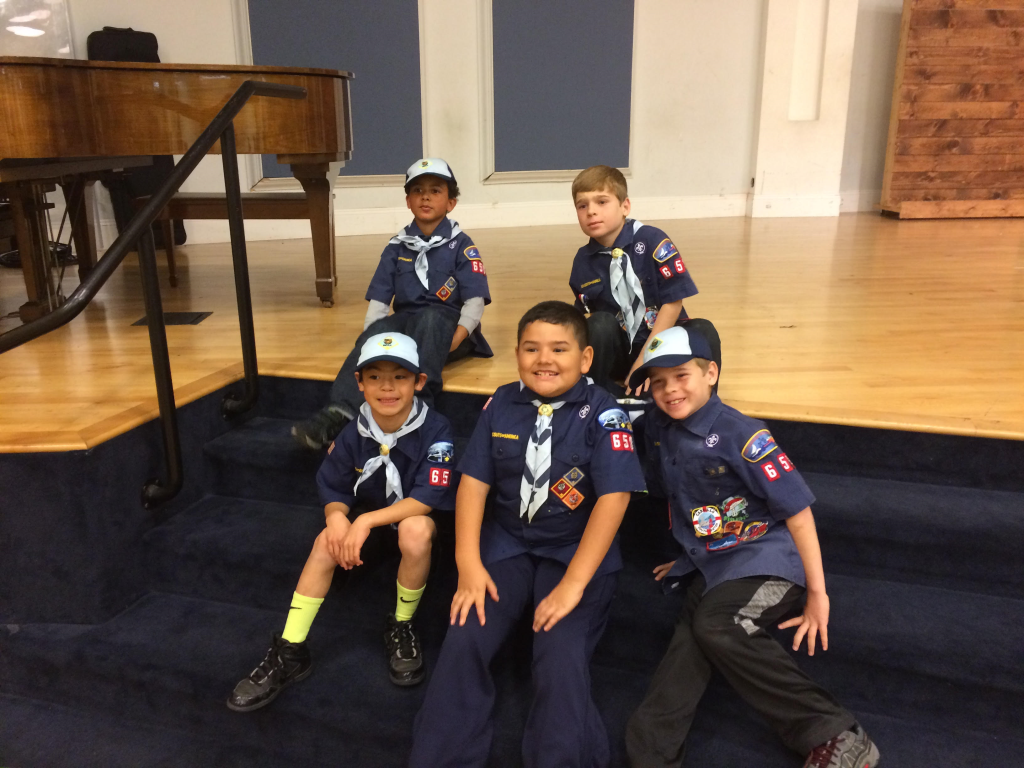 I know my son. Seriously, though, we pulled it off, a mechanically challenged dad and his son designed a functional car, and like a few other dads I talked to on race day, we weren't the only ones to do it the day or night before.
Despite using a fan to dry his car, the paint on D's car was still drying (no kidding) when we got to the race, and when we arrived at the check-in table, we had twelve minutes for his car to pass inspection.
This was D's first Pine Wood Derby (I scheduled D's birthday party on the day of the Pine Wood Derby last year), and I must have not been listening to announcements during pack meetings stating that each car must weigh six ounces to meet race regulations.
The regulations were also written on paper instructions that came in the box with his block of wood, wheels, four nails, and a sheet of sticker numbers. Apparently, I missed the weight requirement again when reading the instructions.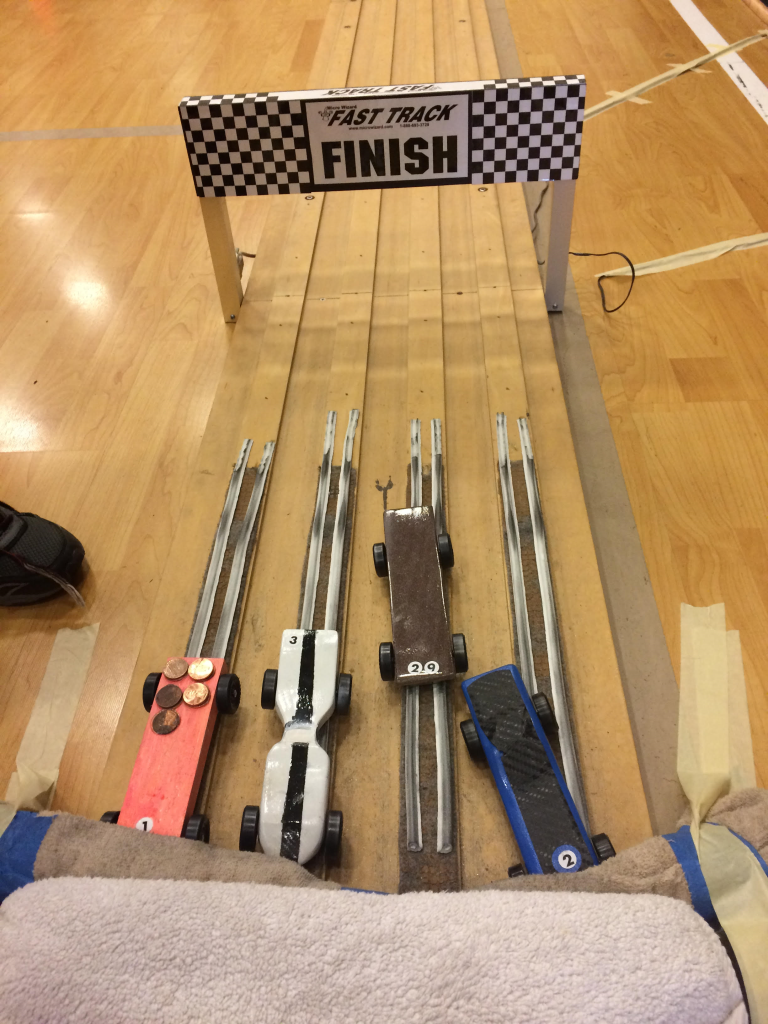 Hence, I began soliciting pennies, nickels and dimes from parents to glue to D's car, so it could meet the weight requirement and we passed the inspection guidelines with about thirty seconds to spare.
D used a glue gun to weld most–okay, half–of the thirteen coins to the top and bottom on his car the Saturn V, and while it wasn't aesthetically pleasing to the eye, I thought at least the coins might make his car go faster.
Ok, so.
We waited a month between the time a parent volunteer cut out his design from his wood block and getting started on his car (sanding it down and putting sealer paint coat on it the night before) and then adding a final coat on the morning of the race.
A confession. D drew his car design on paper, and I traced it onto the wood block, and if my memory serves me correct, I made a few slight alterations so it would be a more aerodynamic car.
But next year, I plan to take a more hands-off approach, discuss the design factors with him and let him do it all, and let the chips–literally and figuratively–fall where they may.
This year, admittedly, his car was more of a team effort, and that's probably pretty normal. I was glad D took pride in his car, running up to me to tell me his car took first place in one heat.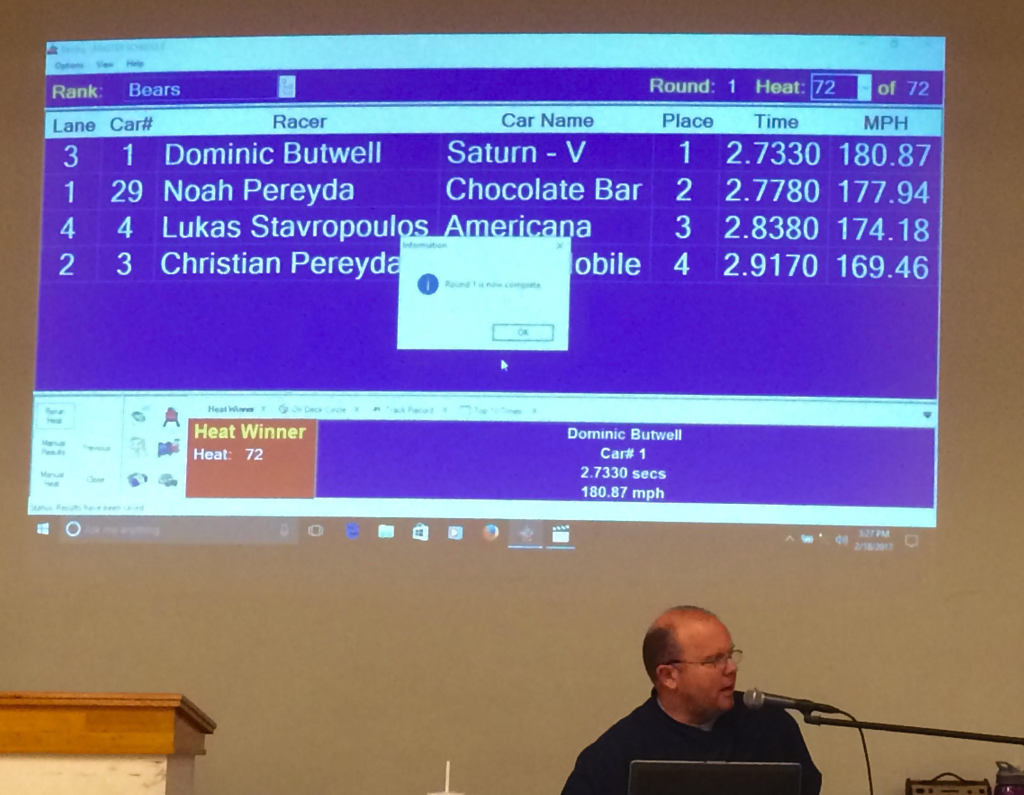 But the race was, how do I put this nicely, anti-climatic to watch. D's car finished second in the seven other heats–and though I was relieved by the results–it got a little tedious watching the same outcome over and over.
At least, I thought, the wheels to D's car didn't come off or some other catastrophic result like I feared might happen. Or he didn't finish in fourth place eight times in a row (which actually did happen to a few unfortunate kids).
D's car clocked at a high of 181 mph and the difference between first, second, third and fourth was usually only fractions of a second, so the worst car was not that bad and the fastest not that great.
It probably didn't seem that way to a typical 10-year-old after their car finished last over and over again. But I guess perspective comes with age to recognize the small difference fractions of a second can make.