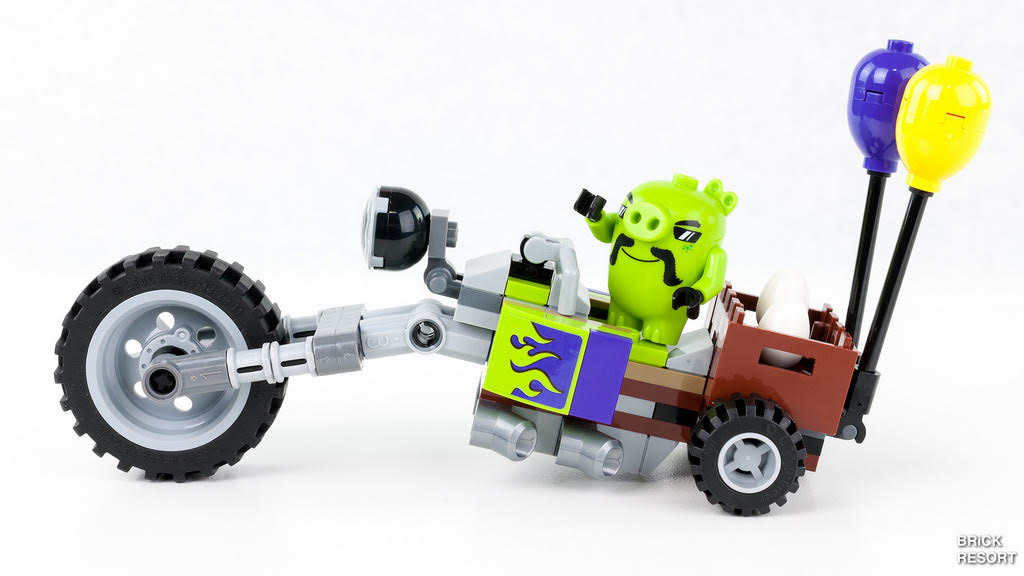 This is a Google image of the biker pig motorcycle D and I assembled on his birthday because he smashed ours not long after we completed it.
That's fine. Really. Okay, he could have let me take a picture of our collaborative efforts before shattering it to pieces.
His mom made a chocolate cake with white frosting and, two days later, a strawberry cake for my birthday. Both were delicious, and neither lasted long, since we all have a sweet tooth.
As for our collaboration, D ripping open the plastic bags, the tiny pieces nearly got mixed together, and a few pieces fell to the floor, and I got anxious, knowing the added difficulty we'd face with lost or missing pieces.
The truth is, D was more excited more to get to the angry bird figurines in the bags than construct the motorcycle, and unlike me, he wasn't concerned at all about the difficulty of the task ahead.
"Hey, you knocked some pieces on the floor," D told me a few times after he bumped more Legos on the floor.
It was one of those moments where I could feel myself starting to lose it, but I managed to hold it together. I realized it was only Legos, so we pressed forward on assembling the bike.
We followed the instructions step by step, snapping small pieces together and mostly working together, and 20 minutes later, we had finished and I breathed a huge sigh of relief.
It was a Friday night, and following pictorial directions and handling teeny weeny Lego pieces was difficult after a long week of work, especially for someone like myself with limited mechanical skills.
Although I did probably 70 percent of the work, it was still a collaborative effort and I had fun working together with D, even if he shattered our biker pig motorcycle soon after we assembled it.
Afterwards, D and I joined his mom in the living room, and we all took an electronic break. The Wife and I fell asleep, and an hour later, D was still on his I-Pad, celebrating each tower knocked down by an angry bird.