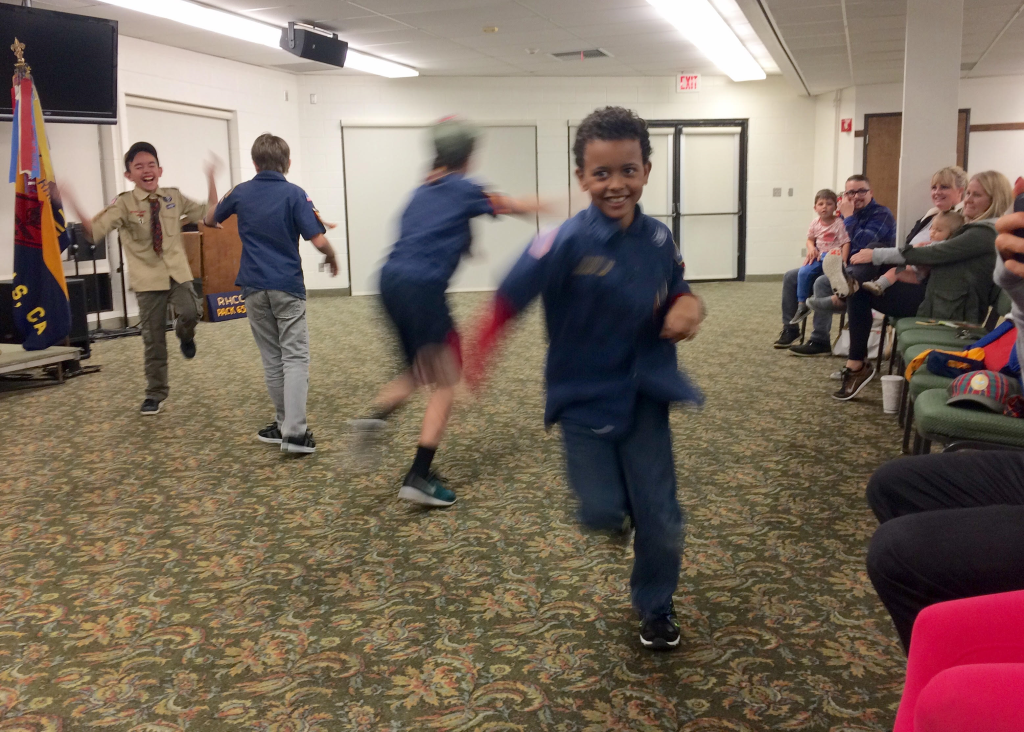 D's favorite part of a Cub Scout pack meeting is the game and snack time. Anything involving running and a little craziness suits his temperament.
I think it's similar for most scouts. The game at the latest monthly pack meeting was Sharks vs. Minnows. Blind sharks, that is. And it got crazy.
There were about 30 scouts, all running in a 15 by 20-foot area, and as the blind sharks sought to tag the minnows, running with their eyes closed, there were some close calls.
No one got hurt, though, and as I watched kids run across the room and or crawl under a table to avoid being tagged, their joyful spirit was a reminder I need to have more fun.
"How to Be a Fun Parent" is the title I would choose if I wrote a book on parenting. But I often need to remember to have more fun with D–to get down on the floor and be silly.
And I think this is true for most parents. We're always telling kids to do this or that when what they want the most is for us to stop all our giving directions and to play with them.
The pack meeting had a nice random feel because the assistant scoutmaster filled in for the Cub master, and I liked how he winged it by giving several scouts public speaking opportunities.
The Pine Wood Derby winner for the two years running, for example, gave a design recommendation on how to build a faster car: "You have to make it aerodynamic," the ten-year-old said
"What does aerodynamic mean?" the assistant scoutmaster asked. "You know, just in case anyone here does not know what that word means."
The boy supplied the definition which means D will be up against stiff competition, and so we better get startedworking to make his car as, um, aerodynamic as possible.
There was a skit and cheer, and then a scout talked about an upcoming camp, and then another scout from the oldest den (Weblos 2) explained the rules for the GameStop the end of the meeting.
And that's when it got really fun–and I started to think how important it is to have fun, thanks to watching 30 so boys running wild all over the room.
There is a time for earning badges by learning how to use a pocket knife responsibly, for  learning outdoor etiquette on a hike–but there should also be time set aside for for fun.
That's what I learned at D's Cub Scout pack meeting