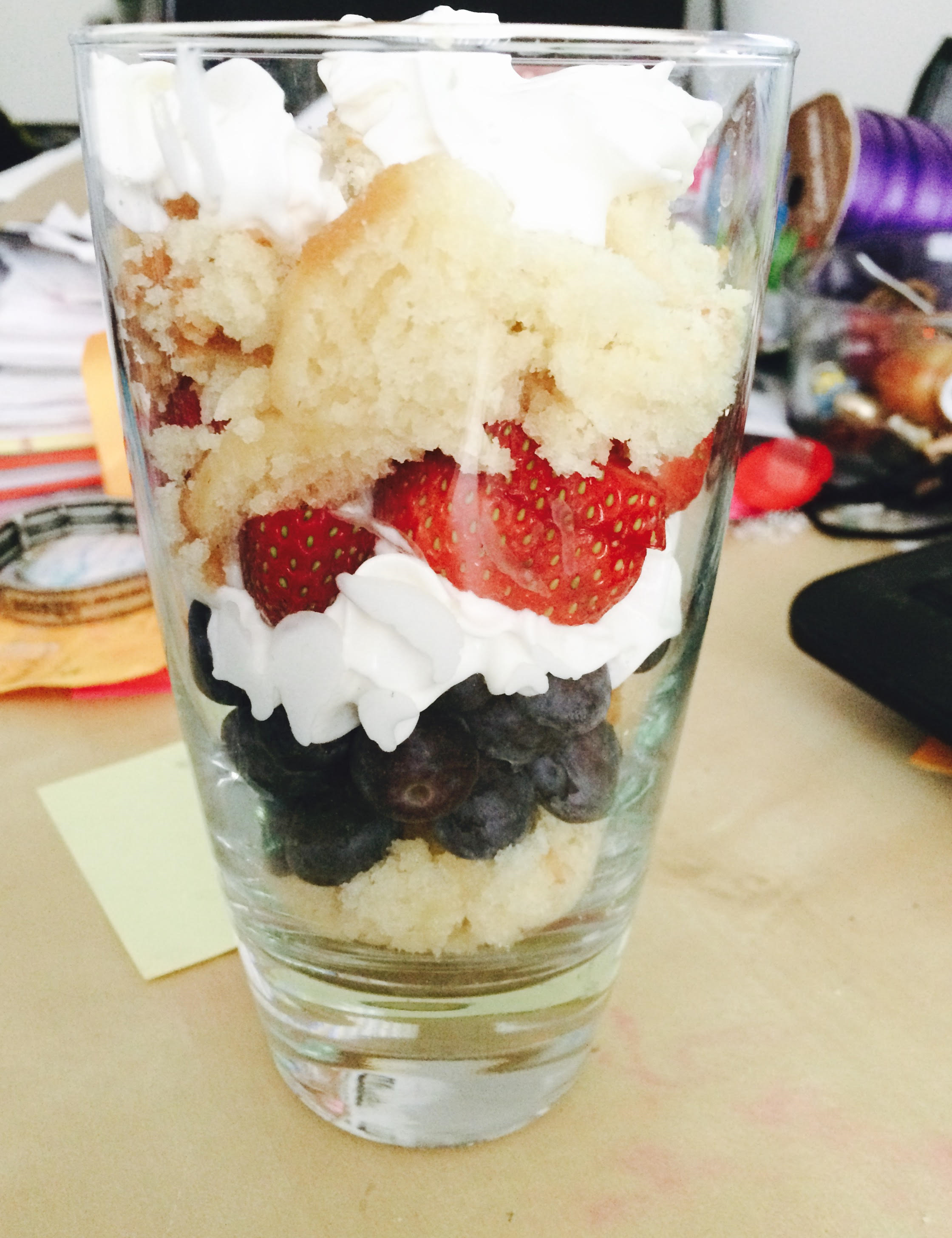 Have you ever bought a book and forgot all about it? That's what happened to me with Mike Adamick's Dad's Book of Awesome recipes. I bought it, and it went into the abyss known as the bookshelf.
But D and I put it to good use during his two week winter break after I found it. We made a five-minute microwave chocolate chip cookie and a rubbery-tasting cake (probably) from using gluten-free flour.
And a yummy DIY trifle.
The trifle tasted the best of our concoctions. We made it on the final day of D's vacation and, yeah, there was no baking on our part. Our part was to just assemble the layers and to enjoy.
I had planned to surprise D by making him a trifle; that is, before he walked into the kitchen while I was spraying whip cream into a tall glass.
"What are you doing?" he asked.
More accurately, I think he noticed the white foam coming out of the nozzle, and as a lover of all things sweet and sugary, he wanted "in" on the action.
So he sprayed whip cream in a glass, held the nozzle down extra long, I added bits of pound cake, and he sprayed in more whip cream. Extra long. Again.
He skipped the fruit layer because he's never eaten fruit.
"What are you doing?" the Wife asked, walking in unexpected on our latest concoction.
"We're making a dessert," I said. "It's a do-it-yourself trifle."
"You already gave him a candy bar."
(True. I'd made a treasure hunt out of a bible story with a Hershey's bar as the treasure at the end.)
"He hasn't even eaten lunch."
"Oh, I thought he had already eaten lunch."
It was 1:05, and all three of us were on vacation mode, and not really following much of a schedule.
She made a few reasonable comments, and then after her gentle chastening, we delved into a pre-lunch dessert.
Man, it was delicious.