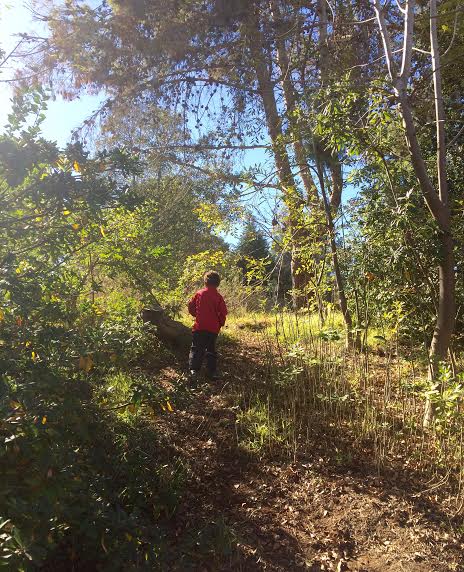 Sure, I would have preferred to be hiking in Yosemite, but I know what the Wife would say about that, so despite my thoughts of Yosemite, the nature preserve near our home proved to be good enough second option.
D took a fondness to a couple of toddlers, and so we followed them around for awhile, and then we found an abandoned fort made of logs piled horizontally against a massive tree.
Two boys and their dad joined us, and D told them it was a "boys only" clubhouse. One of the boys wanttc to add more logs, and the five of us hauled more logs back to the fort.
I pretended the logs were extra heavy, but it was great fun in an old school kind of way, reminding me of the things kids did when I was growing up that they don't do as much anymore.
It was fun to be out in nature, maybe not as awe-inspiring as Yosemite (so I've been told), but I didn't have to worry that D would walk off the edge of a cliff, like he might at Yosemite.
This was L's reasoning for nixing my idea to visit Yosemite this summer. Four hours away is one of the most amazing national parks, and yet it remains oc the bucket list for now.
But one day, I know we'll make it there. It's on the bucket list, and we will do it, just not as soon as I would like to go there.