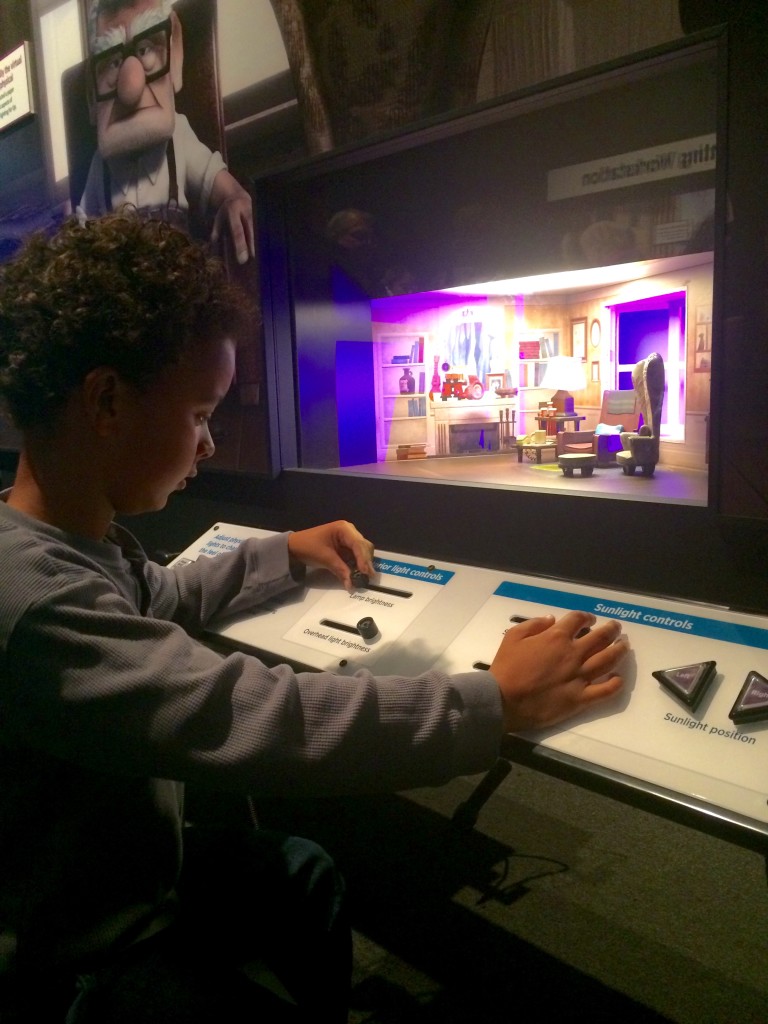 D cued up Frosty the Snowman when we returned home from "The Science Behind Pixar" exhibit at the California Science Center, so my fear that it might ruin the magic of movies for him was, well, unwarranted.
But it's true science, technology, engineering and math (STEM) are responsible for the stuff you see in Pixar movies; thankfully, I don't think it will change the way D watches a Pixar movie for quite some time.
After all, D bought a black hat for his first snowman when we went to the mountains last year, and he wanted me to invite Charlie Brown over to our home for Thanksgiving dinner this year.
At eight years old, movie characters have a strong grip on his imagination and his current math knowledge doesn't extend past three-digit adding and subtracting problems yet.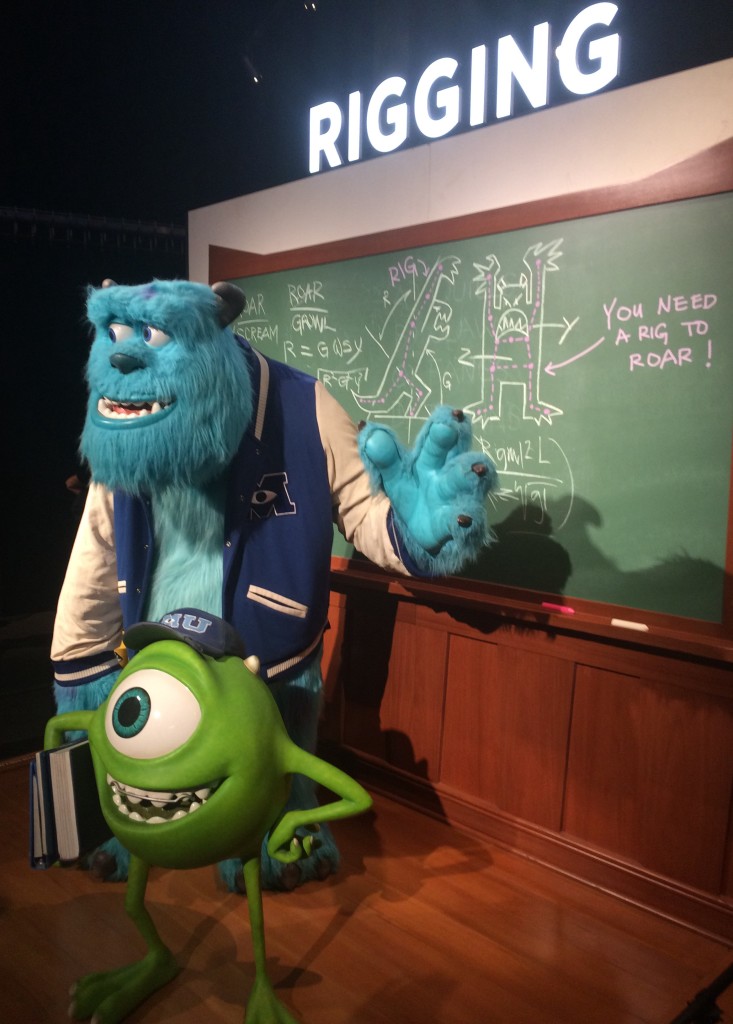 D is still working at regrouping in subtracting problems, so the science and math concepts were light years ahead of him, and so Frosty will likely remain a magical figure for a few more years.
As it should be, in my opinion.
The same goes for his favorite Pixar characters like Anger and Fear from Inside Out, Sully and Mike Wazowski from Monster's Inc., and Mr. Fredrickson and Russell the Boy Scout from my favorite animation movie, Up.
Right now, D is so captivated by the characters and stories that the next time he watches Toy Story, I doubt his experience changing Jesse's facial expressions with a rig will break the grip the story has on his imagination.
Or the next time we watch Up, he may remember dimming the lights in Mr. Fredricksen's house using a rig, but I seriously doubt he will reflect on the math, science or engineering concepts behind it.
I guess what I am trying to say is the Pixar exhibit was a brief glimpse behind the movie-making curtain, but one that will soon to be forgotten (I'm sure) when D is caught up in watching his next movie.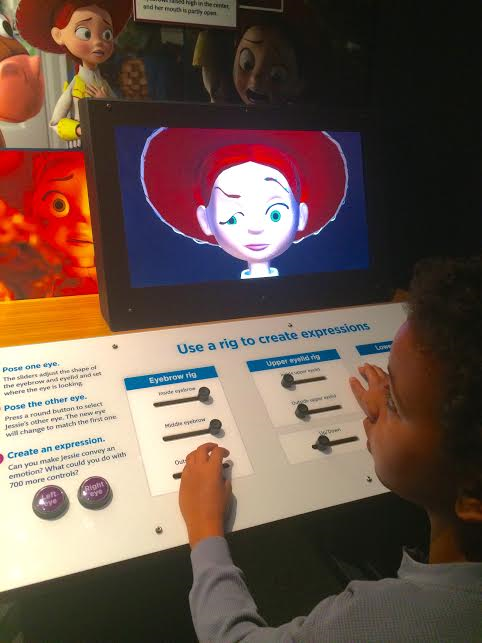 My wife and I laughed to ourselves when we overheard a mother authoritatively telling her three-year-old son at one station, "This is what you are going to be doing for a job when you are an adult."
For sure, the 40+ interactive stations at the Pixar exhibit are cool hands-on activities that reveal a behind-the-scenes glimpse at moving making and, um, future animation work possibilities.
However, as far as understanding the STEM subjects in the process, D is at least another three or four years away from seeing the connection between science, technology, and math and making movies.
D liked making different combinations of robots from wooden blocks with magnets like Wall-E more than listening to videos featuring Disney animators explain what they do at several of the stations.
He also liked seeing the adult-size models of Sully and Mike Wazowski and the miniature clay-size model of Russell which are used by animators to make digital movie characters.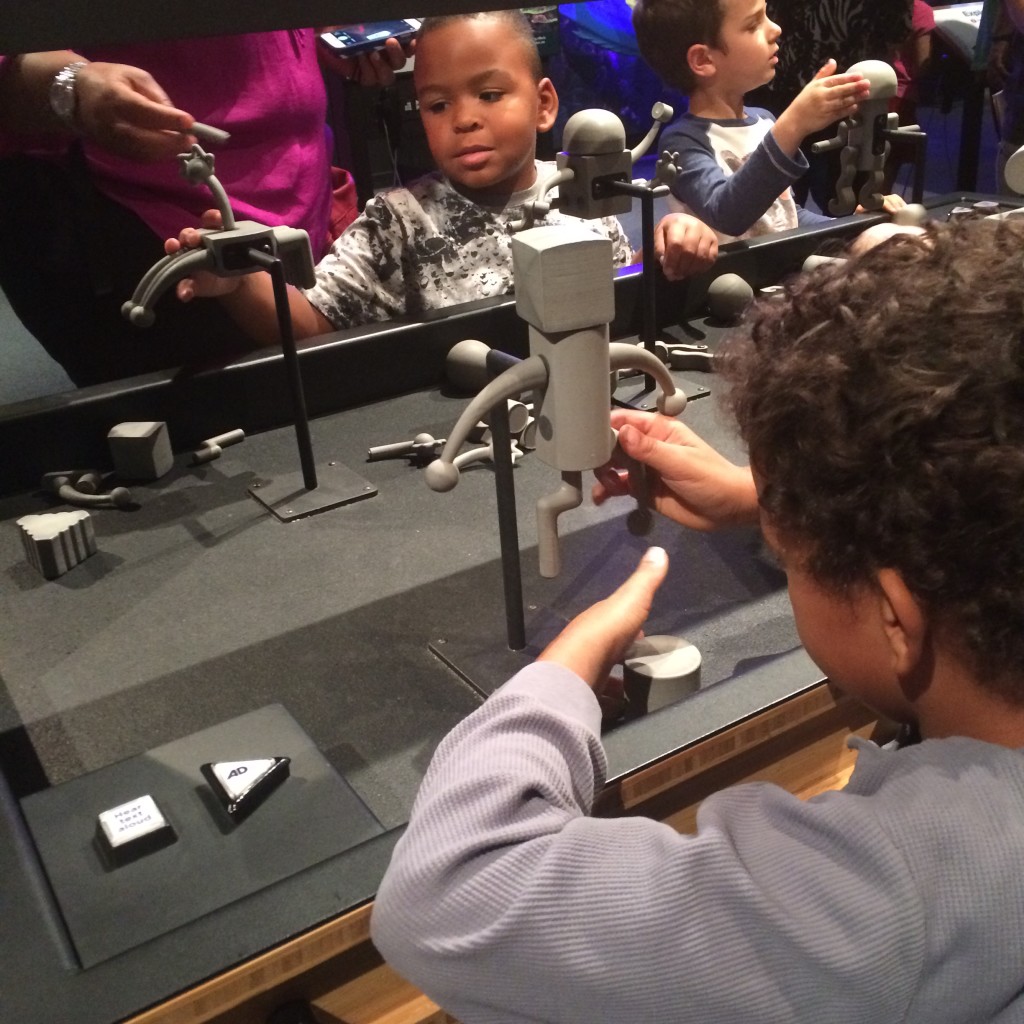 D loves science. And technology and watching movies. Right now his greatest love is the solar system–it's a daily conversation topic–and because of this, I could see him becoming an astronomer.
But, maybe, with his love of movies, he will want to be an animator, and I could see him becoming a computer scientist, creating characters and telling stories through the science of coding.
My favorite part of the exhibit was seeing D interact with other science-minded kids, collaborating together to make a digital character by touching different shapes on a screen.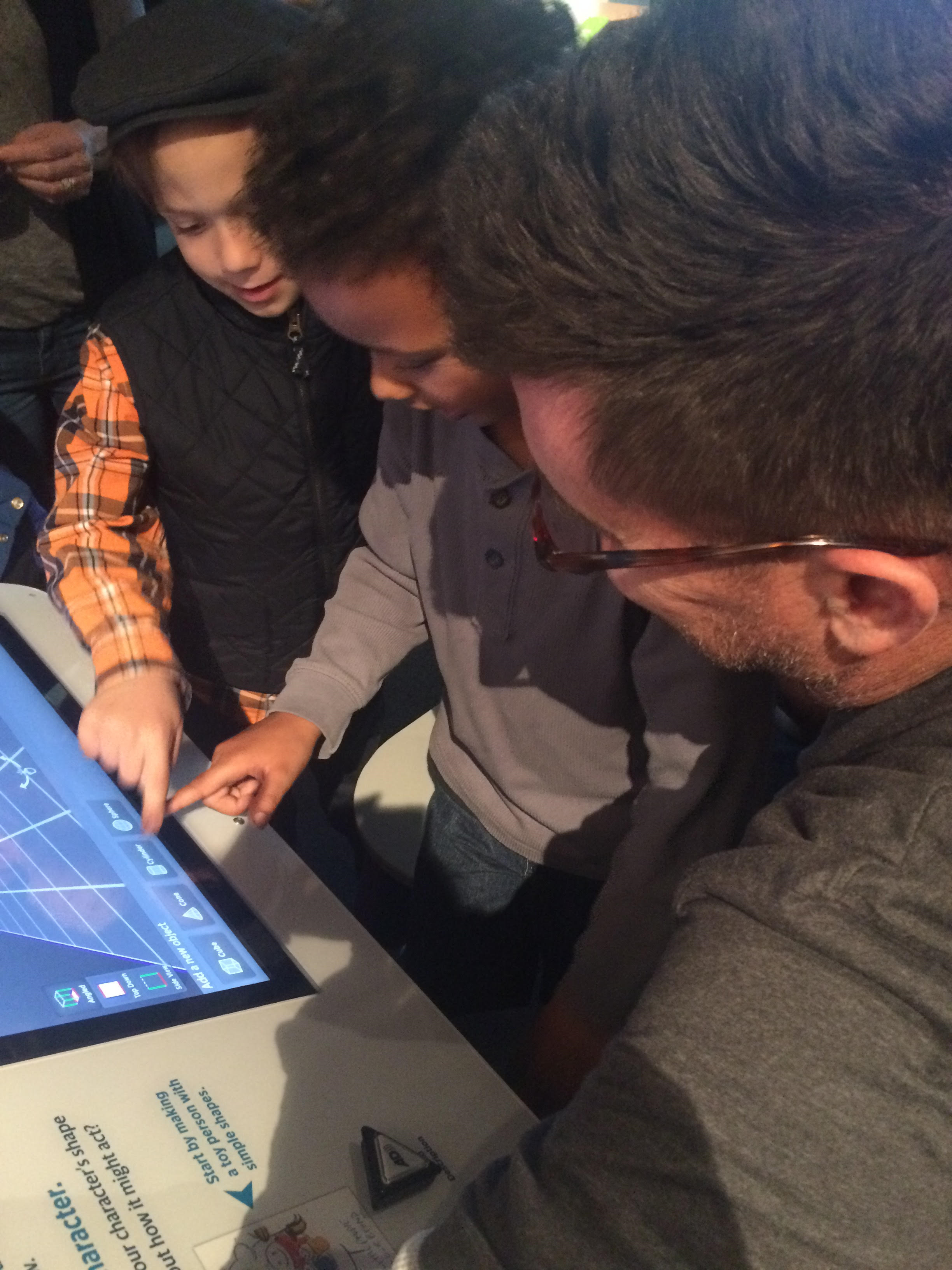 Before we exited the exhibit, D saw Joy from Inside Out on a computer screen in a production phase before her blue hair and clothing had been applied to her body, making her look bald and naked.
"Look," he said, laughing. "Joy is nude."
Then, outside the Pixar exhibit, D and I thrashed around in a hurricane simulating machine. I shook our bodies, and it must have looked convincing, because we fooled a mother and daughter who were watching us.