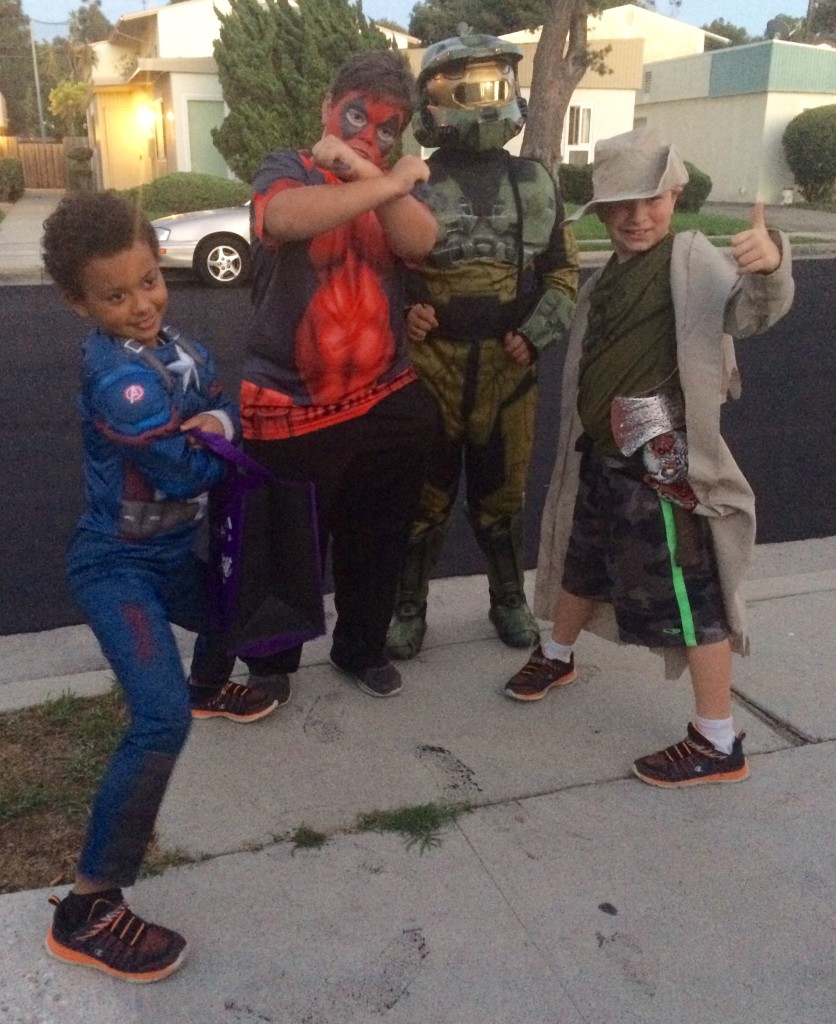 D went trick-or-treating with friends for the first time this Halloween. This relegated me to a supervisory role, but I was happy for D's development.
He could have joined his friends a year ago if I'd been more savvy to set it up, so it was more a lag in my parenting than growth in his social development.
D and I have trick-or-treated together the past several years, but I knew the day was coming for him to bond with his peers more than with me.
So I was happy to see D basking in the Halloween spirit with his two friends while I remained in the background, a sign in my own parenting growth.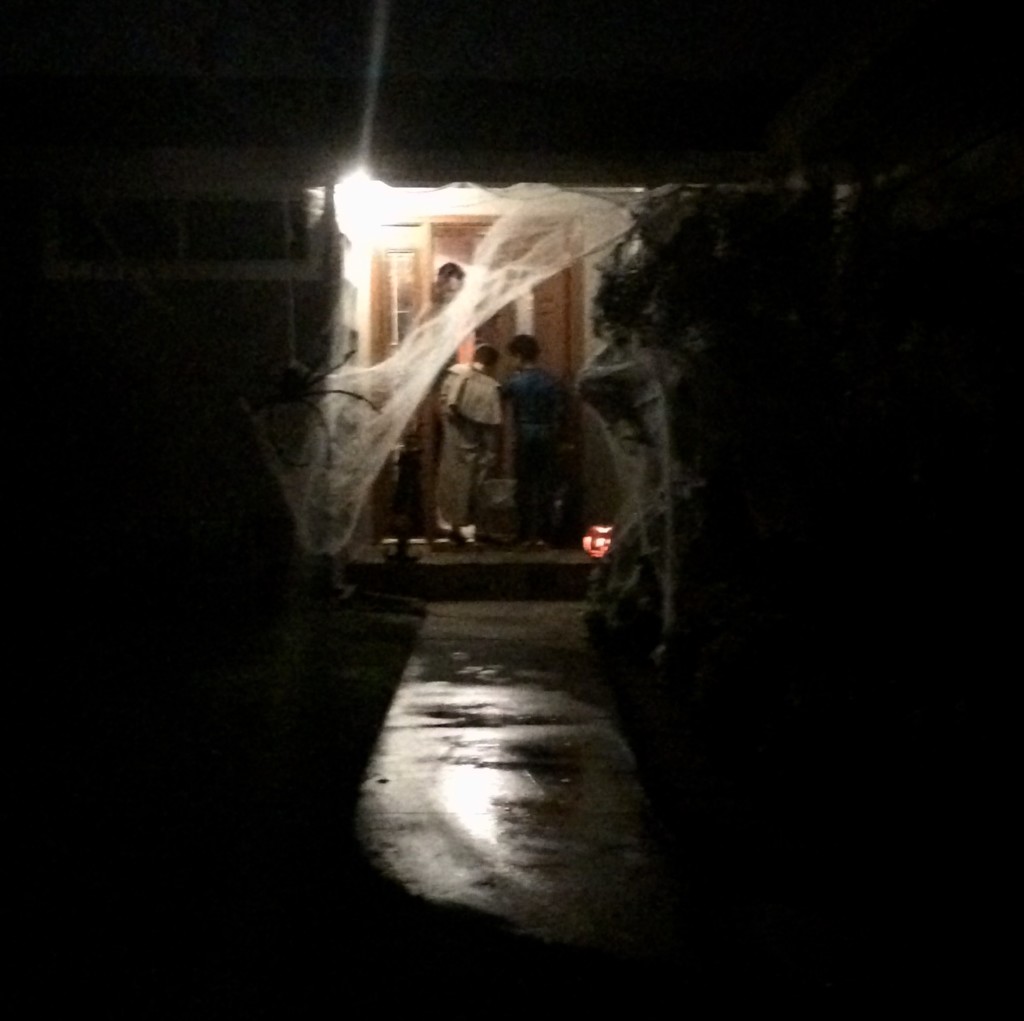 Sure, I missed the comaraderie D and I shared on past Halloweens while we sprinted from house to house in the dark of night under street lights.
However, at age eight, I realize I needed to allow D to grow in his relationships with his peers, as the Wife has reminded me many times.
We still had our moments like wrestling while posing for pictures, Captain America (D) using his mighty strength to try to subdue a Zombie (me).
D and I drove with C and his dad to a neighborhood that had more houses giving out candy after D's other friend decided to go home after an hour.
D and C came to the scariest house of the evening, and C decided to cross to the other side of the street. D hesitated a moment, but he kept walking towards the scary house.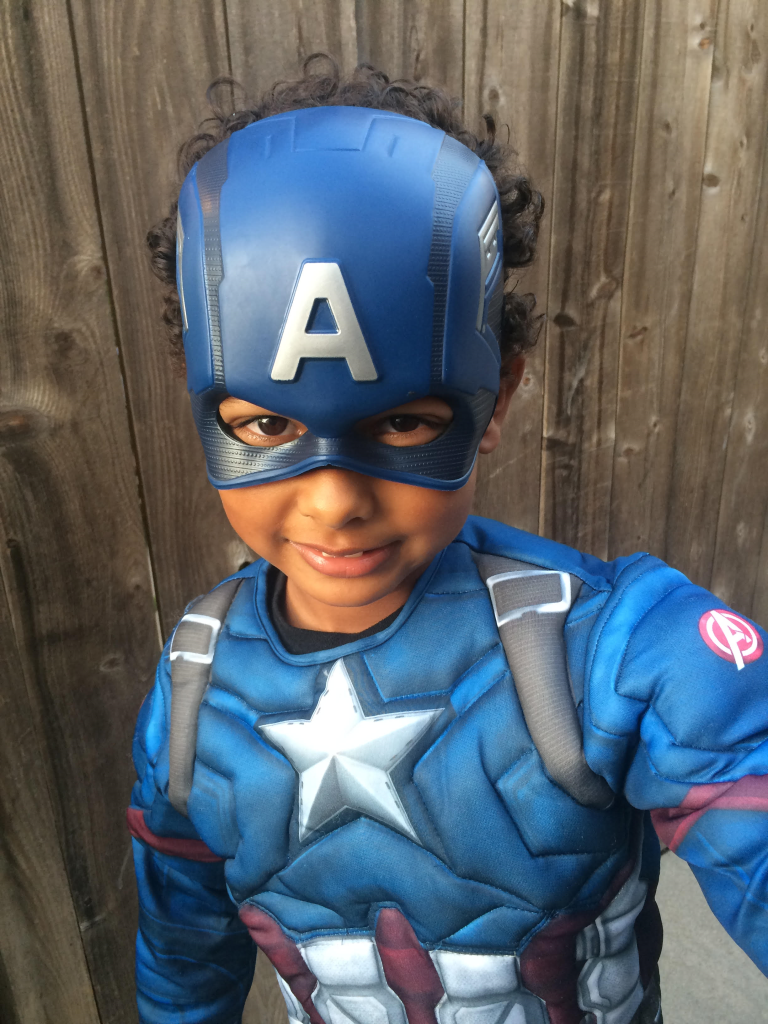 "I'll give you a dollar if you make it to the front door," I said, remembering D skipped this house the past two years.
D stopped at the driveway as four silhouetted figures slid their hands down the front window, and he looked ready to beat a hasty retreat.
But hevtook a step toward the door, passing two skeletons inside a car, and with his hand covering his ears, he proceeded towards the front door.
A skeletonpopped out of a coffin on the porch, but it didn't faze him, and he overcame his fear while adding to the bulge in his candy bag.
D looked back at the silhouettes from the sidewalk. He had overcome his fear and, best of all, we had done it together.