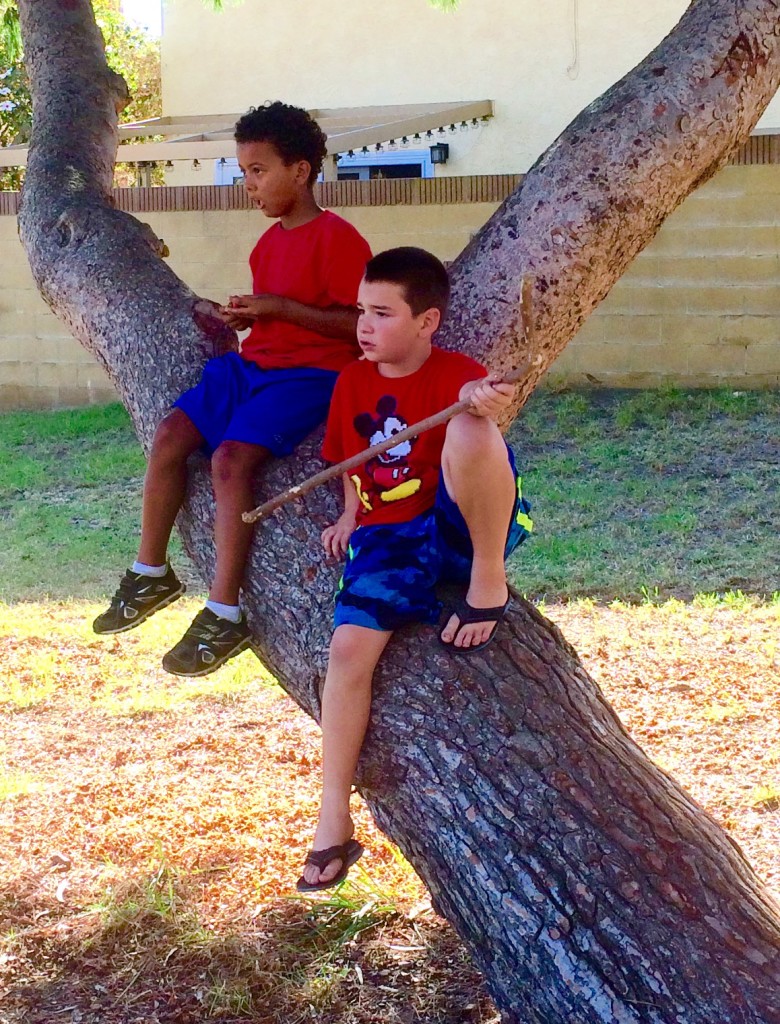 D and I went to the park with his friend C. They climbed their favorite y-shaped tree and watched six workers building a well. They both had on red t-shirts and blue shorts and their eyes were fixed on the workers.
"Did you guys call each other to wear the same colors," I said, a joke I realized was above their heads.
The well has taken over two years to build. The street dug up for underground pipes. Fences surround a huge section of the park. We often park far away due to no parking signs.
D and C kept staring at the workers, D's mouth hanging open, as if they wondered what it will be like to be grown up and have to go work every day. Honestly, I'd never seen sit them still for this long.
"I bet they make $48 a day," C said.
I thought about correcting him by telling him it was more like $48 an hour, but figured he'd learn the economics of a paycheck when it was time. And then I wondered what D was thinking.
Was he thinking what his future vocation might be? Was he appreciating the innocence of childhood? Was he thinking what it was like to be grown up and working? Or was he thinking nothing at all?
I watched too, thankful for this quiet moment and chance to rest; not really thinking, just being with D and his friend, enjoying not working, and having no plans.
The workers laughed and kidded each another. I thought, this is how work should be done. Not too serious. Done with camaraderie and a light-hearted spirit. Remember this, I told myself.
C told me how he wanted to be a teacher when he became grown up. D threw a rock near the fence towards the workers, making, perhaps, a symbolic statement. And then the moment ended.