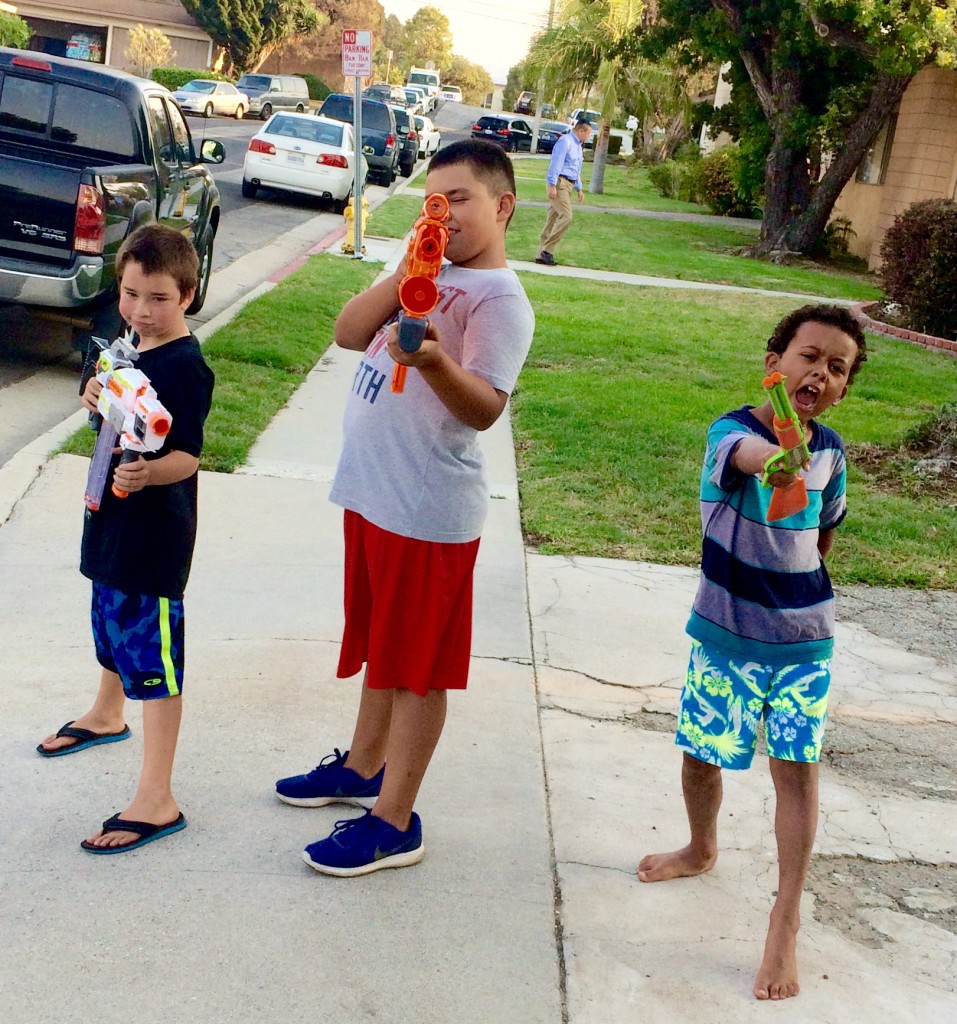 They saw me and waited with guns drawn. I crept up behind the parked cars on the sidewalk, hiding behind a maroon SUV, while D's friends, J and C, ran to the front door.
"D, grab your gun and come outside."
It was Humans vs. Zombie. D and his two friends versus me, so I ran into D's room and grabbed my weapon, a red angry bird to throw as a plush grenade.
"Don't take that outside," L said, "I just cleaned it."
But I needed a weapon to defend myself, to find a way to activate my imagination and incarnate myself into a seven to nine-year-old's world, and to protect myself against Nerf bullets.
I followed them to the park, hiding behind massive oak trees, rejuvenated by a nap in the car, ducking and dodging bullets.
I fell down whenever I was shot, but when my grenade hit one of them, they did not reciprocate in dramatic fashion.
I pursued them all over the park, up and down hills, ambushing them and getting riffled with bullets, connecting on my rifled grenade shots.
This is how seriously I took the game. I took off my shoe, stuck it out a few inches on the side of a building and ran around to ambush D and his friends, tricking them to think I was stationary.
I was happy to be shot and fall to the ground, and if one of my grenades connected with its target, I was happy even when no one responded with a dramatic death scene.
There was a knife fight, hand to hand combat, D saying "deutsch, deutsch" while spraying me with bullets. Then D transformed into a real life Zombie by biting his friend C.
So I switched from being a zombie to a dad, trying to console his friend ("D got a little carried away," I said) while facilitating reconciliation to be able to continue with the game.
D didn't want to be told to say he was sorry (he hates when being asked to apologize), but wanted to be able to say sorry on his own initiative.
"Okay, say you're sorry on you own."
"I don't want to say I'm sorry."
"Did you just bite Chad?"
"Yes."
"Is it right to bite your friend?"
"No."
And so it went. Until D apologized and the game continued. And there were more bullets fired and grenades launched; and there was still an inequitable number of death scenes.
I was like the cat with nine lives, and then the game was over.
D told me later that night he was creating a story about three Super Brothers–Chad-scapes, Gunman and Mr. Jellybean–starring his two  friends and himself.
"Are the Super Brothers going to fight any Zombies?" I asked.