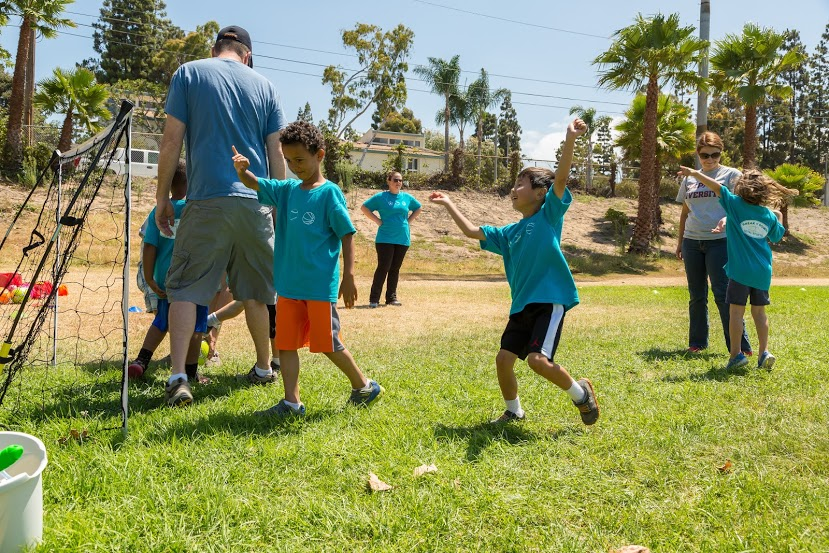 The most fun game of soccer I've ever played in my life came after I gave a suggestion to one of D's teachers in his "Break it Down" Total Spirts class.
My suggestion was to let the parents play soccer against the kids to prevent the kids from the usual clumping together in one big mass on the field.
The parents could spread the kids out by passing the ball to each other. That was the idea, more or less, that I shared with one of D's teacher
Really, though, I was lobbying, for a parents vs. kids game. That's how D's teacher regarded my comment and, yeah, she saw through my suggestion.
I'd advocated for a parents vs. kids game in this baseball class, and it was a wonderful experience taking the field with D and the five kids in his class.
So D's teacher encouraged me to form the parents into a team. Eleven parents took the field, including two moms who said they had never played soccer.
"Doesn't matter," I said to one mom. "Just kick the ball when it comes to you."
Perfect. That's how it felt to be on the field with D, the other kids and parents who, moments earlier, had been sitting mostly separately in lawn chairs.
I kicked the ball backwards to our goalie at one point. The ball rolled to a stop in front of her and she yelled, "What do I do with the ball?"
"Kick the ball," I yelled.
"We need a parenting class," I overheard one of D's teachers say.
So it was the kids, and a few of the parents, learning how to play soccer, which gave the parents vs. kids game an even sweeter innocence to it.
The kids' effort picked up noticeably playing against the parents. They had looked sluggish in a scrimmage last week, but now their  eyes brimmed with fire playingvtheir parents.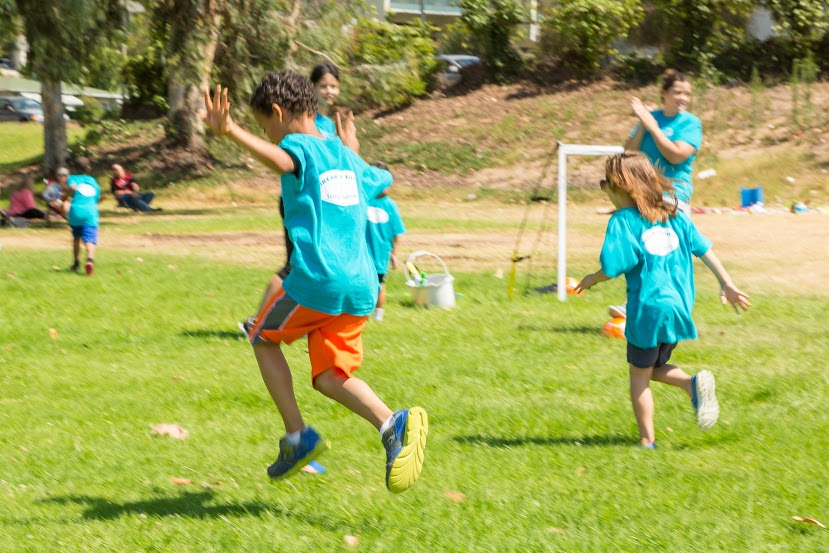 Their increased energy showed when four kids and I chased a ball ten feet beyond the goal. The referees were lax in calling out of bounds. That was the only modification to the game.
I modeled enthusiasm by running all over the field, so I told myself. But really I was having fun, and that's what I hope I was showing D: sports is fun.
I celebrated scoring a goal by running with my arms in the air. The kids were ahead, 2-0, so I figured scoring a goal would keep the game more honest.
The Wife will say I should not be at the center of his soccer class. However, I believe there are not enough activities for fathers and sons to do together.
D ran up to me in the middle of the game and grabbed onto my t-shirt. I was frustrated for a moment that he wasn't more focused on the game.
But then I was happy D and I were on the field together. He hugged my legs and I temporarily stopped running to enjoy this moment with my son.
I hope other parents enjoyed playing soccer with their kids. I've taken a soccer ball to the park and D showed zero interest in kicking it around.
So, besides having fun playing soccer, I didn't take for granted this chance notice what was transporting but wth D and the other kids playing soccer.
"Are we still going to be friends?" I heard a girl ask her mom after the kids won the game. It was a perfect ending to the game.