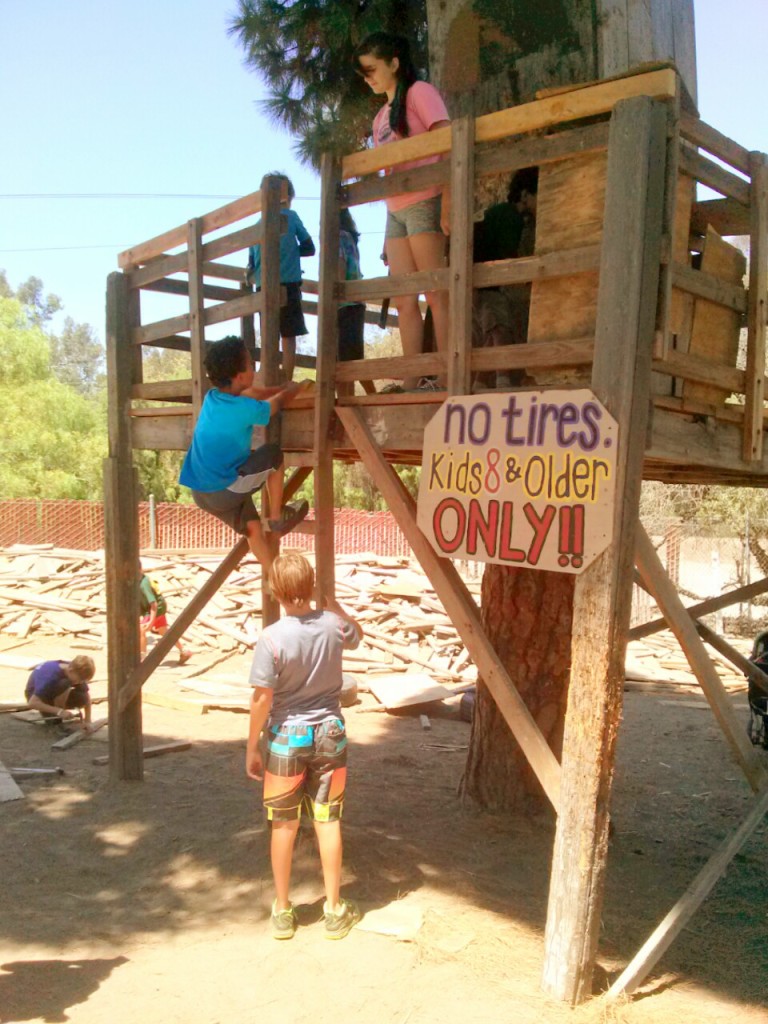 Picture a large pond filled with muddy water and wooden rafts with navigation poles; a mud slide leading to a sink hole of  sludge; and piles of wooden planks to build your own tree house with a hammer and nails.
Such a place exists, and it's not only in the pages of Mark Twain's Adventures of Huckleberry Finn, one of my favorite novels. It's a place called Adventure Playground in Huntington Beach, and D and I discovered it's
Sure,  it would be more fun cascading down a raft on the Mississippi River with Huck and Tom Sawyer in a real adenture, but Adventure Park is the next best thing, especially since the Wife would never allow me to take D river rafting until he's much older,
And rightfully so. But even grown men are entitled to have a few fantasies, and I was guilty of fueling one of D's when I told on the way to the park, you will have to get muddy if you want to join the Little Rascals club. I invoked the Little Rascals to help him be in a more adventurous spirit, particularly related to anything involving water.
I think he took my comment literally, perhaps, because he wanted it to be true, but also because Adventure Playground looked like the setting for a Little Rascals movie. Everything was muddy and brown, there was a row of wooden shacks for dressing rooms circa the 1030's and kids the Little Rascals age were everywhere.
I also had told D he could make a club house like the Little Rascals, and I think he imagined Spanky, Stimie, Alfalfa, and rest of the Little Rascals would be there at Adventure Playground, or he hoped they all would be there as his play mates.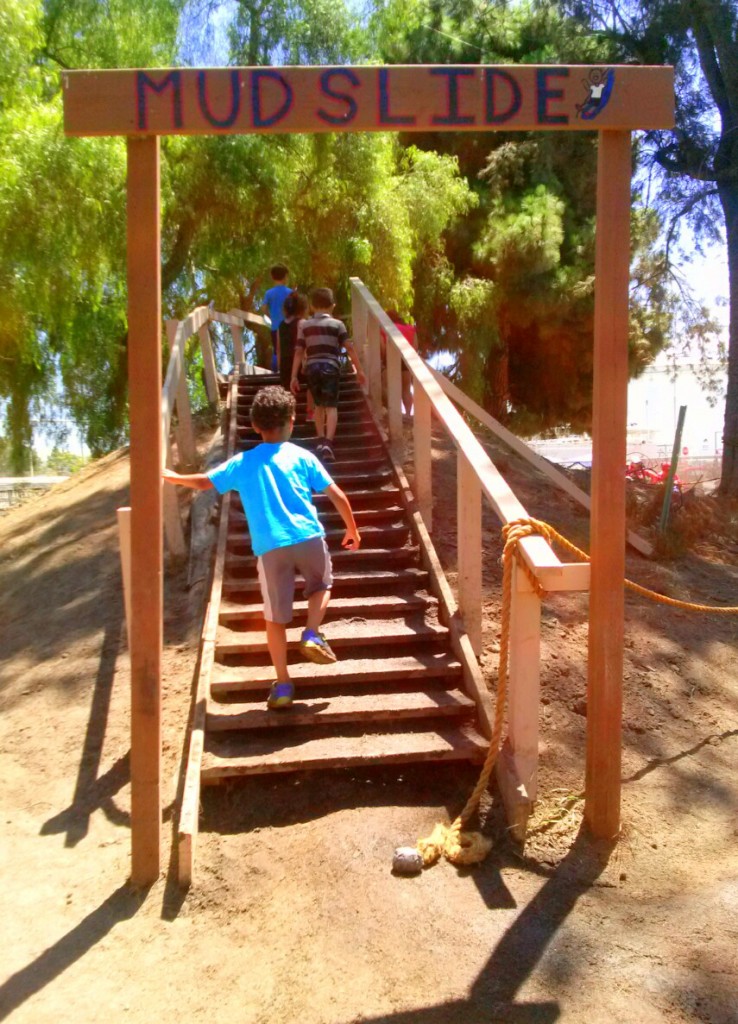 D floated on a raft and navigated around the pond by himself with a long pole. His raft would have capsized if I had climbed aboard. And he inched his butt down, luttle by little, on the Mud Slide, not quite with the same fearless excitement as other kids.
But he did it, and maybe my Little Rascals comment was on the back of his mind. He whacked scrap wood with a hammer to the side of a tree house, and he loved exploring the wooden changing rooms, but still I could sense there was something was missing.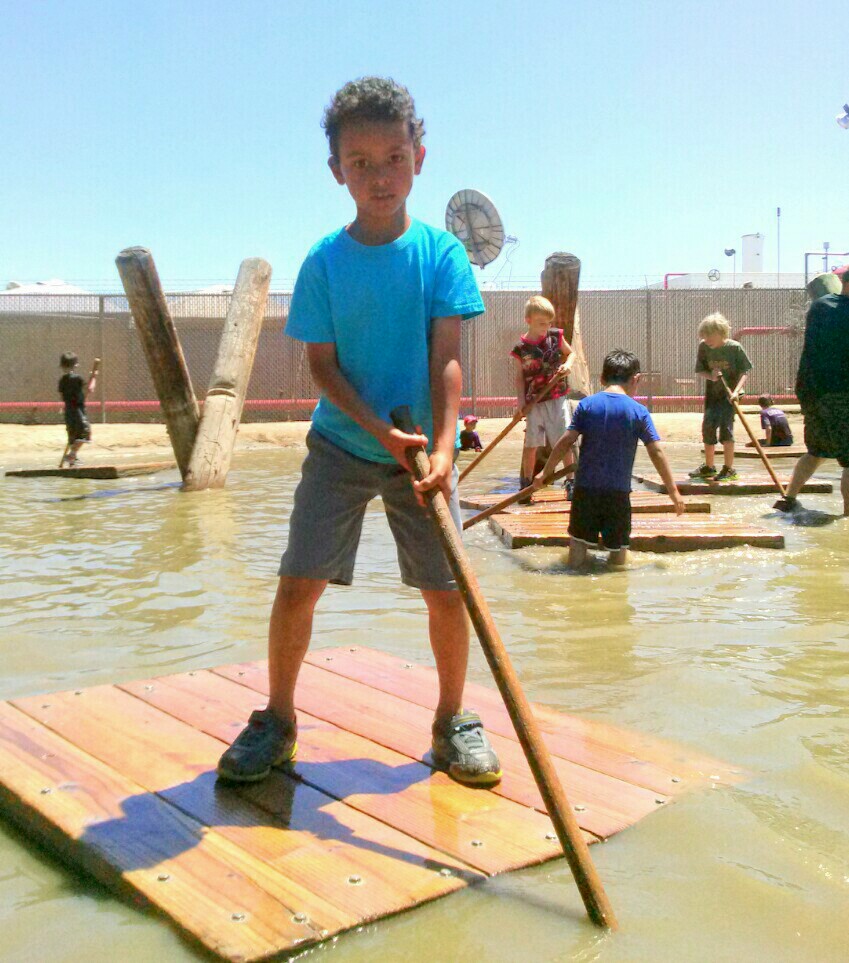 I found out later that night while I was tucking D in to bed and I asked him about our trip Adventure Park, and he told me what was missing, "I was upset the Little Rascals were not at the clubhouse."
"You really wanted the Little Rascals to be there."
"I thought they would be there."
"You really want to be part of the Little Rascals club, don't you?"
"Yeah, I want to be in their club."
So I told him a story about my favorite literary characters Huckleberry Finn and Tom Sawyer and a guy named Muff Potter they helped save after he was accused of murder because they had overheard two men talking about what happened in a graveyard.
I also resolved to sign him up for an acting class since movies can be more exciting than real life and a cast of kids with quirky personalities might be a good substitute for the Little Rascals.
***
Adventure Playground is located right in Huntington Beach at 18000 Goldenwest Street (right next to the library).
It is $3 entry per child (parents are free!). Tennis shoes are required.
Towel and change of clothes recommended.
Lunch or snacks too.