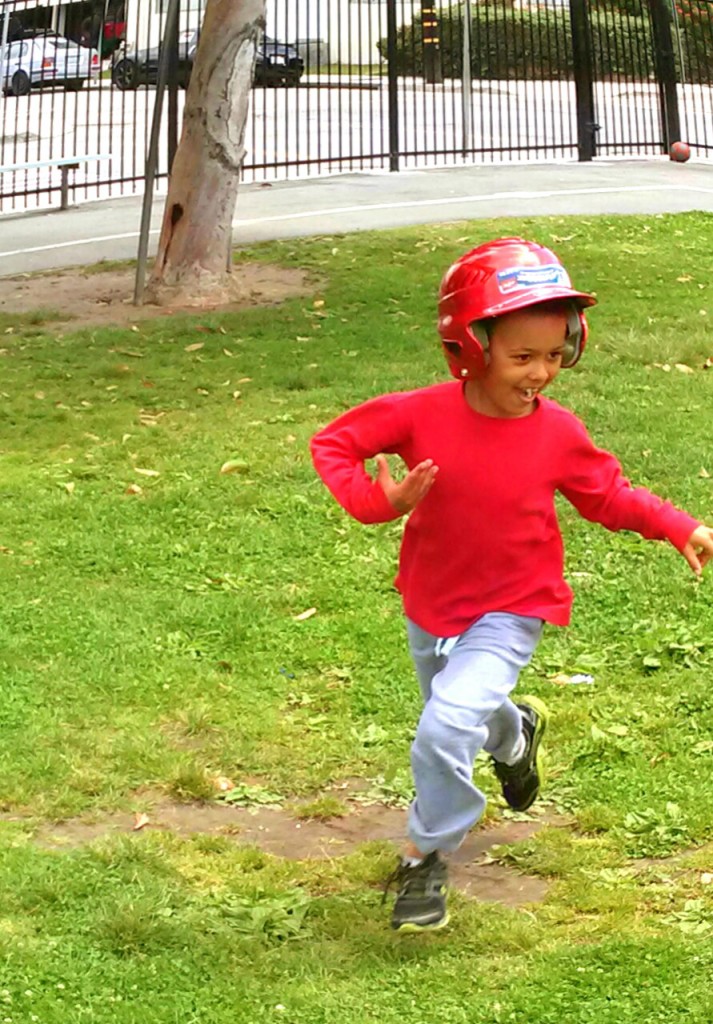 D stepped up to bat, swung and hit the ball. He dropped the bat, started off nice and easy, and then picked up his speed after rounding first base.
Second base came into his view and a fielder running towards him with the ball in his glove, and that's when things got a little bit crazy.
He made a loop towards third base – technically illegal—to avoid being tagged out and swerved back and flopped down onto second base.
Safe! Unless D was called out for the illegal loop and he wasn't since he was learning the rules of baseball in his "Break it Down Total Sports" class.
He was laughing and out of breath. I was laughing too at this new dimension to learning baseball: tagging a runner out.
For several weeks, he'd practiced hitting, throwing, catching, fielding grounders, running the bases–essential components of a kid learning to play baseball.
But there was a key ingredient missing–something more important than fielding grounders–and it was evident in the comical base running chase.
More social interaction.
Kids play sports for all sorts of reasons. To smack a home run. Swish a basketball in the net. Run for a touchdown.
But the most fundamental reason kids play sports is to have fun, and especially at a younger age, they play because it's social game.
And this was evident in my son's cheesy smile as he was chased by one of his peers.
It felt like one of those long, endless summer days playing baseball as kid. Remember those? With all the neighborhood kids gathered in an abandoned lot.
I know because I'd asked into the game—my reason being two kids were absent–as a fielder and then as a base runner.
Sitting and watching your child play baseball is not as much fun as being tagged out by your son.
I may even have to advocate for a parent versus child game, to be able to get on the field again with D.