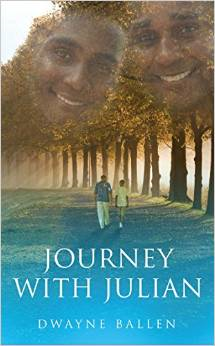 I just finished reading Dwayne Ballen's outstanding memoir Journey with Julian about his son on the autism spectrum.
It is one of the few autism parent memoirs I've read (I've read many) to describe their child's life from birth all the way up to age twenty.
Most other parent memoirs cover a three to five year span from the point of diagnosis to the initial challenges of dealing with the symptoms of autism.
The three to five-year span memoirs give a limited scope to how autism affects a child's life. It's like watching the first quarter of a basketball game.
However, for parents with a child on the spectrum like me, Ballen's memoir is a welcome and glimpse down the road ahead. Furthermore, he shows how another parent has already dealt with these challenges.
The stories he shared about his son made me see how important it is to celebrate the small victories in my son's life.
Sometimes, as I'm sure every parent of a child on the spectrum can attest, it's often much easier to focus on the latest crisis.
The most important thing I'm learning is to keep my son moving forward. Yes, as Julian did, my son may have deficits particularly with social communication.
However, if he is moving forward, making progress in his development, this is what matters the most.
This is what I saw in Julian's life: he was moving forward by pursuing his passion for art throughout his childhood.
He volunteered at a kid's summer camp, combining his love for drawing with a gift for working with young kids.
He bravely faced tsunamis like overcoming depression and a mental breakdown with great resilience.
One thing his dad shared that was helpful to Julian was being part of a weekly social group that met every Friday night.
The group included five kids on the spectrum and, twelve years later, the group still gets together every week.
They do sleep overs, have traditions like watching a scary movie before Christmas, and they are real friends.
This is my dream for my son: he will develop real friends and have his own strange traditions with them.