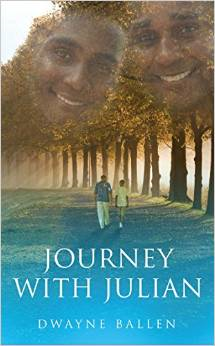 I just finished reading Dwayne Ballen's memoir Journey with Julian about his son on the autism spectrum, and what I liked is that it it is one of the few autism parent memoirs to describe their child's life from birth to twenty.
Most parent memoirs cover a five to seven year span from the point of diagnosis to the initial challenges of dealing with autism. And I always find myself saround page 89 wondering when the author will ever get around to the child's life outside therapy.
The majority of parent memoirs are written by moms, and the other thing I dislike about them is they get weighed with too much worry about their child,  which is, most likely, unconsciously will affect their child's self-image.
Yuck.
The "five-to-seven year" span memoirs give a limited scope on a child's life. It's like watching the first quarter of a basketball game and not ever seeing how the rest of the game turns out.
Does the football team come back from   a 20 – 6 halftime deficit–through a lineman returning a fumble for a touchdown and a nearly intercepted pass turn into the game-winning play?
Lastly, my final beef with autism memoirs is they often lack a climax in the plot structure, but I still enjoy reading them and rooting for the child to reach their maximum potential.
Ballen's  memoir isn't perfect. It does not really narratively tell a story, but was more vignettes on his son's social and academic struggles, but it was a welcome glimpse down the road for what I might lay ahead in D's life.
I like that he showed how he and his wife chose to deal with these challenges, and in some cases, they could only wait and let Julian overcome big challenges like depression in the course of time.
In that way, I remember thinking–having had a bout with depression in my early 20's–Julian is like anyone else struggling against the beast of depression: he needed to time and space to overcome its mysterious grip.
The stories Ballen shared about Julian made me see how important it is to celebrate the small victories in D's life which show he is making progress towards continued development.
Sometimes, as I'm sure every parent of a child on the  spectrum can attest, it's often much easier to focus on the struggles, and to be focused more on the challenges in your child's life.
Keep moving forward. I've been learning that's what matters the most, regardless of anything else, and this is the trait I saw in Julian's life: he kept plugging away by pursuing his passion for art all throughout his childhood.
He volunteered at a kid's summer camp, combining his love for drawing with a gift for working with young kids, and he connected with kids by sharing his passion for drawing and his love for Disney and animals.
One thing Ballen mentioned was the most helpful to Julian in his childhood was being a part of a "social" group with five other kids on the spectrum which met every single Friday night.
The group still gets together every week since it started twelve years ago. They are close friends who do sleep overs and have traditions like watching a scary movie before Christmas.
This is my dream for D: he will develop real friends, with whom he can have his own traditions, to journey through the highs and lows of adolescence, enjoying the sweet fruit of friendship.