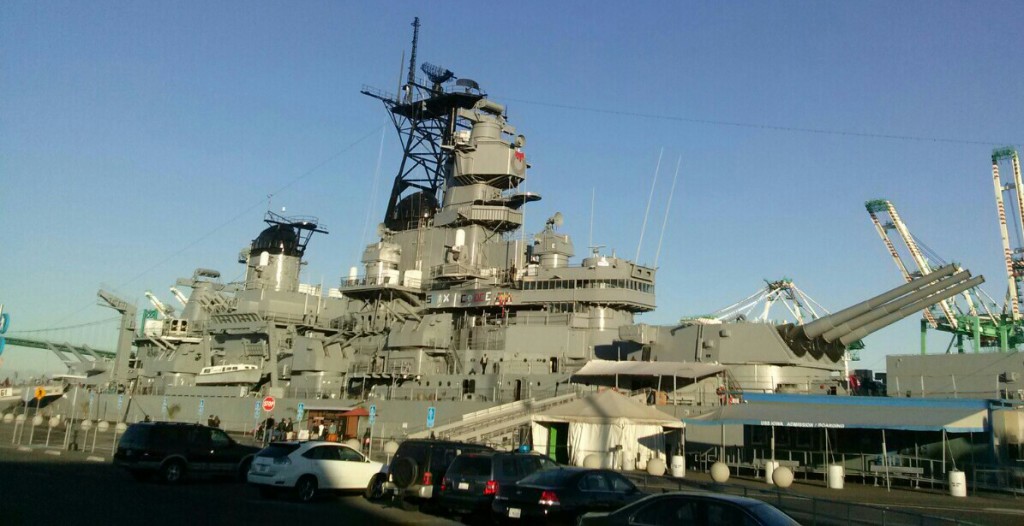 Top twenty reasons to take your children to visit the USS Iowa in San Pedro:
Hear juicy details in the Captain's room of a former president's top-secret voyage aboard the USS Iowa.  The docent really knew his history and told the story with dramatic details.
The sheer size of the USS Iowa: it is four feet longer than the Titanic (887 feet) and twenty four feet taller (above waterline) than the Statue of Liberty. It's freakin' huge!
3.   The USS Iowa is a chance to walk aboard American naval history.  The USS Iowa was the lead battleship in World War II and served in the Korean and Cold Wars.  And when I say walk, I should say climb.
4.   Burn off some serious calories: the USS Iowa has 20 levels (eight currently open to the public; the rest being restored). Climbing the steep, narrow stairs is more fun than the stair master at the gym.
5.  Confession: I am not much a history buff.  I just thought exploring the interior of a former battleship with my son would be an adventure.  And it was!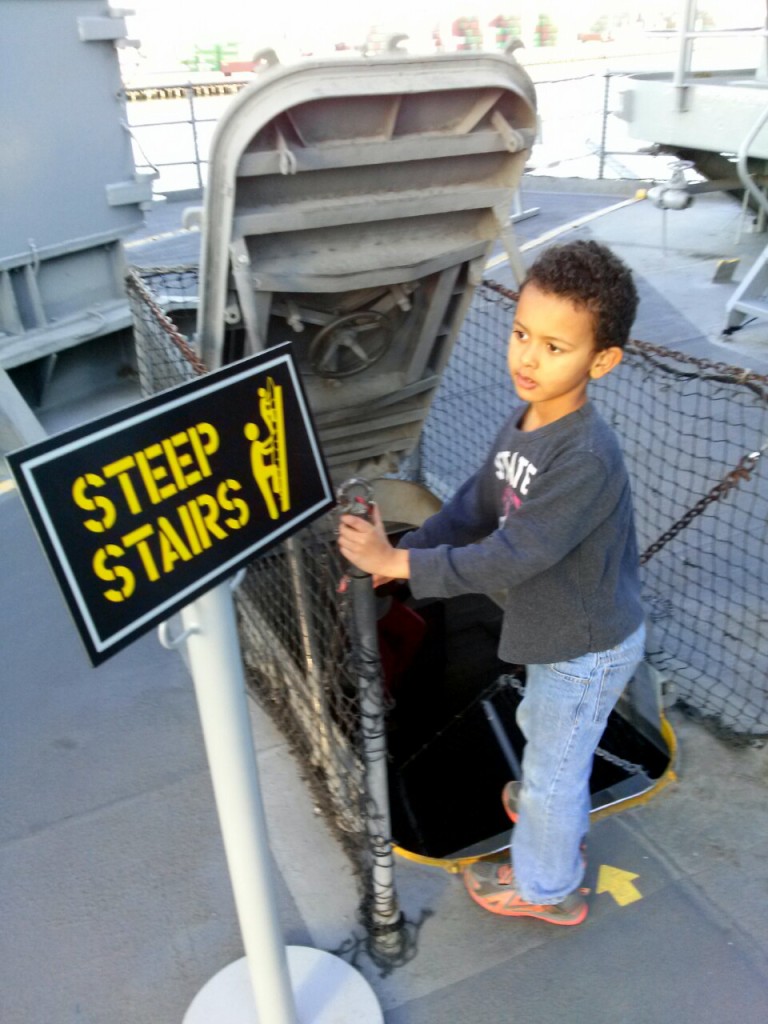 6. The self-guided tour is as easy as following the Yellow Brick Road, ahem, the yellow arrows.
7.  Docents (most retired servicemen) are available at key points along the ship to answer questions.  When a docent  is not available, the tour pamphlet is stocked with interesting facts…even for a non-history buff.
8.  Fun fact #1: While aboard Iowa in 1943, FDR learned of an errant incoming torpedo.  With full faith in Iowa's capability, he asked the Secret Service to move his wheelchair to the side of the battleship for a better view.
9. Lest you think FDR was missing a few screws, the USS Iowa's Countermeasures Decoy Launching System spreads a cloud of small aluminum into the air to confuse and neutralize incoming radar-guided missiles.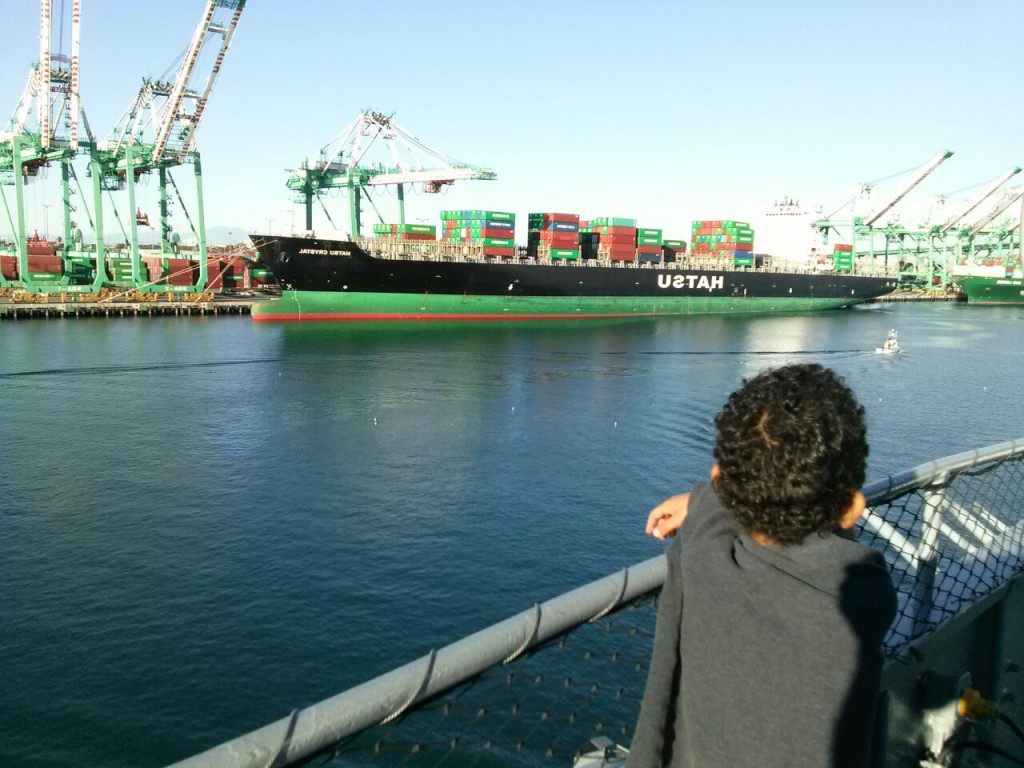 10.  Parking is a bargain: $1 an hour.
11.  A vintage 1900's Red Car trolley (ride all day for $1) is located just beyond the parking lot.  It connects to Port of LA attractions like the U.S.S Lane Victory, Ports O'Call, Maritime Museum, Crafted weekend artisan marketplace and Gateway Water Shows.
12. Listen at the water shows to Randy Newman's I Love LA, the Beach Boys' California Girls, and other songs synchronized to water streams shooting 100-feet in the air.  Shows are every 30 minutes.
13. See the Captain's room (FDR's room during his voyage), crew quarters, mess hall, navigational equipment, and, most of all, Iowa's powerful weaponry.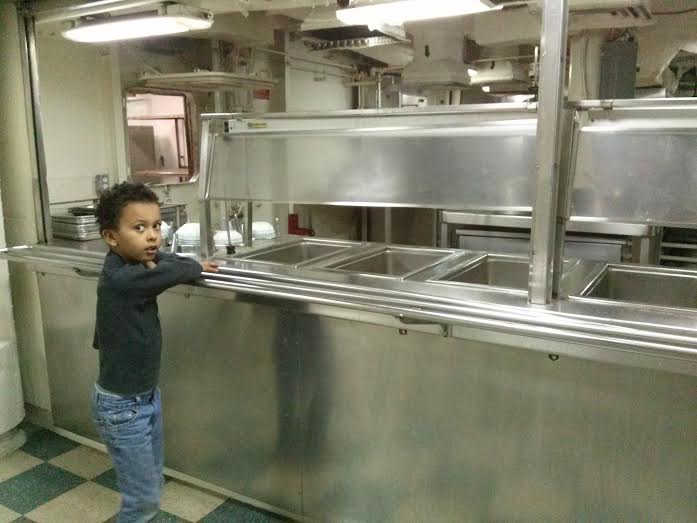 14.  The different types weaponry aboard the USS Iowa are impressive: Tomahawk cruise missiles, 16" /50  guns on three turrets, four phalanx weapon systems which shoot 3,000 rounds per minute.
15. Fun Fact #3: The Harpoon anti-ship missile has the capability of traveling at over 500 mph.  The 2,000 pound missile can travel 26 miles.
16.  The USS Iowa is a not a dusty, old battleship, either.  The USS Iowa is still owned by the Navy and can be recalled at anytime between now and 2020.
17. Tell this story about Hitler: "At eighteen, he took his inheritance and moved to Vienna to live and study. He applied to the Academy of Fine Arts and later the School of Architecture. Ever see one of his paintings? Neither have I.  Call it overstatement, but I will say it anyway: it was easier to start World War II than it was for him to face a blank square of canvas." (War of Art, by Steve Pressfield.)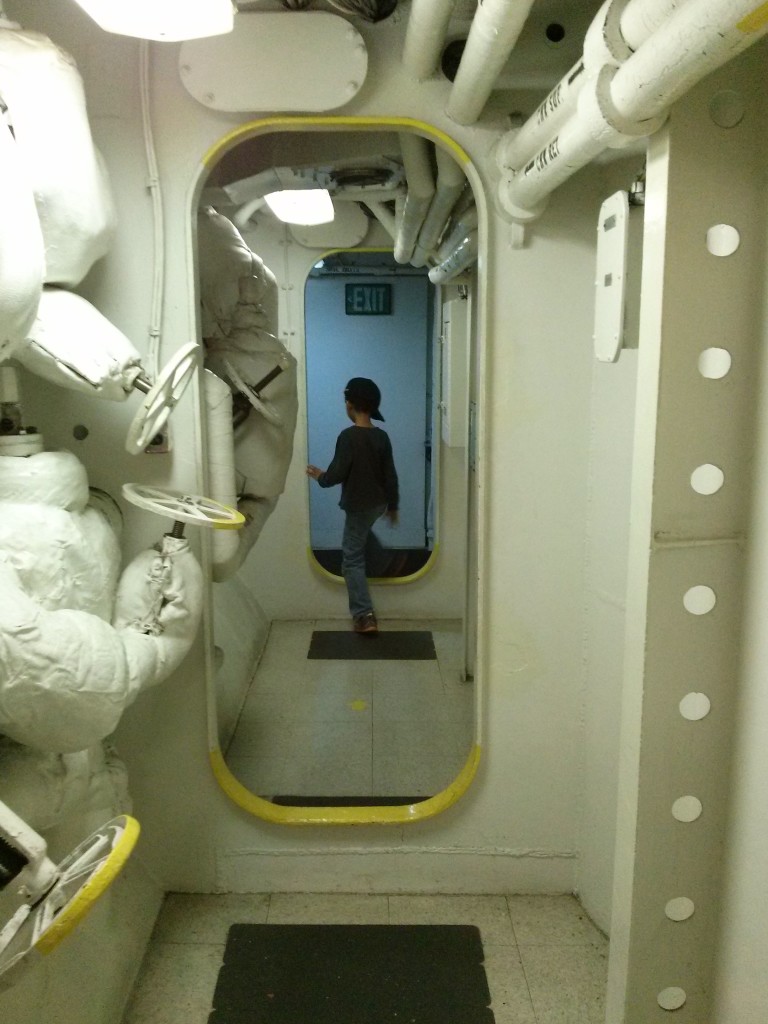 18. Kids will enjoy finding pictures of the dog Vicky, USS Iowa's mascot who served on board from 1943 to 1949, around the ship as part of a scavenger hunt puzzle.
19. There is never-ending photo opportunities in the dining area, sleeping quarters, weapons on deck, and the amazing views of the port harbor and Vincent St. Thomas bridge.
20.  From looking over the side of the USS Iowa, I discussed the export/industry with my son and how t-shirts and toys make it from China to United States.
There are many more reasons to climb aboard the USS Iowa.  The main one for me and my son: The USS Iowa was fun to explore with its narrow stairs and steep ladders.
I loved my son's question to me after hearing about FDR's top-secret voyage during World War II to a meeting with Winston Churchill and Joseph Stalin.
"Who were those three Gentlemen?" he asked.
This was as close as we came to having a historical conversation.  But his question showed he was listening to the docent's story about FDR's historical voyage.
Who knows what else he was thinking as we walked aboard the USS Iowa?
Full Disclosure: The USS Iowa is a non-profit organization and provided two complimentary tickets in exchange for writing this post.  Adult tickets are $18 (12 – 61); seniors (62+) $15;  youth (6 -11) $15; and kids five and under are FREE.   Purchasing tickets online is a $2 less.