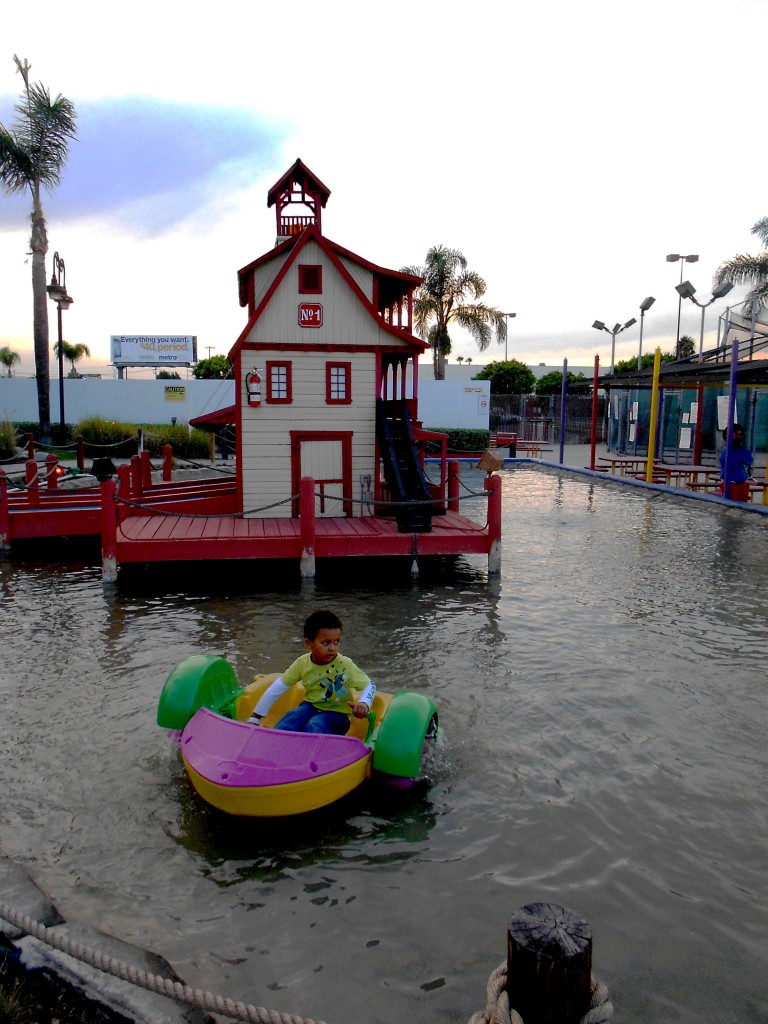 This was one of those "family outings" D and I should have taken together. Alone. Without the Wife. I know it sounds wrong, but the Wife and I were at opposite ends of the spectrum at Mulligan's Family Fun Center.
As soon as we entered the video arcade, D bounced around like a pinball, his sensory system overly activated from all the flashing images, beeping sounds and bright colors.
He stayed focused to play a game where he shot giant spiders trying to attacking him as he steered a boat down a coursing river, but then it was like the wheels came off his sensory system and he couldn't slow down.
Maybe, he was still excited from shooting all the spiders.
My intuition said he just needed time to adapt to the environment, and he'd be fine. Tring to intervene might only trigger a meltdown. This is how I assessed the situation. Let his over-stimulation just ride itself out.
The Wife demanded I calm D down immediately. I balked. She left to another room. A series of texts ensued. She retreated to the car. Her final text asked me, "What time do you want to be picked up?"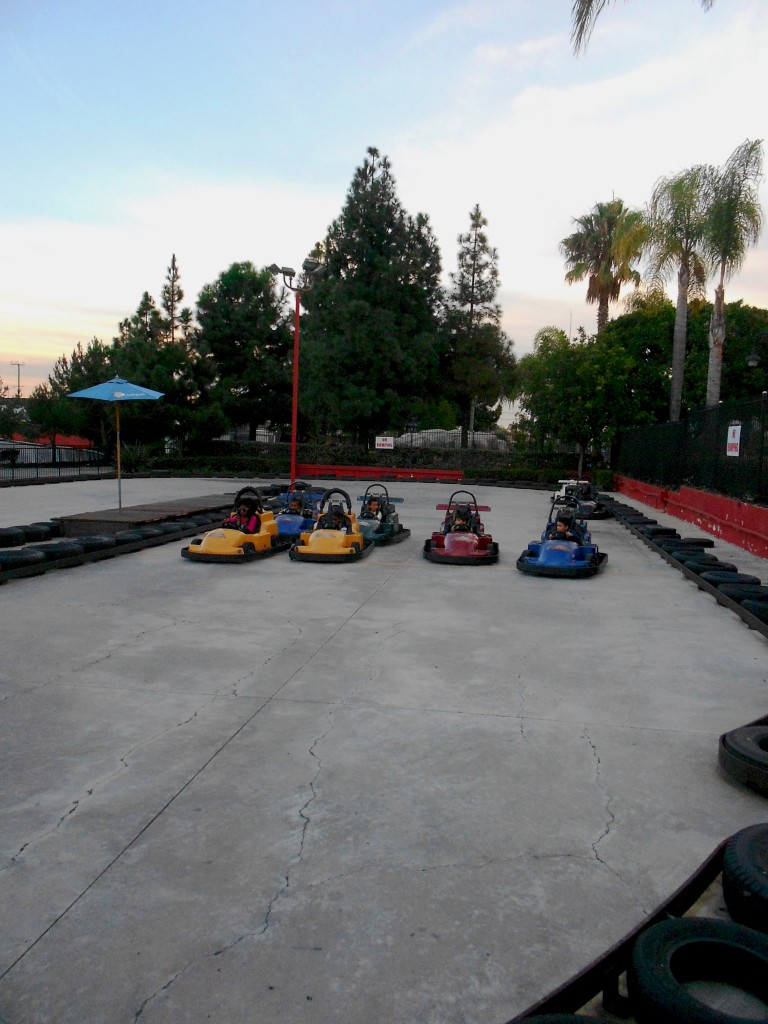 D and I were in line to ride a two-passenger go-cart when I got her final text. I buckled D in the passenger seat, the checkered flag went down, and my foot pushed down hard on the gas pedal, the video arcade chaos in the rearview mirror of my memory.
D had a dazed look as we rounded a turn on the track. We were on our second time around. I asked him a question, but he didn't respond. He must have been on sensory overload from the vibration of the go-cart, so I eased my foot off the gas and let the other go-carts pass by us, relinquishing first place.
He still had that dazed look.
Still, we did it.
He drove a mini go-cart. Sort of. I assumed they would explain how to push the gas pedal, so I didn't give D any instructions while we waited in line as I should have, and when the other go-carts sped off, his yellow go-cart remained at the starting line.
A worker sat on the side of his go-cart. She pushed the gas pedal and he steered the wheel. And D gave me a huge smile every time he drove by. My guess is, his sensory system was still recovering from the stimulation of go-cart ride and video arcade to be able to focus on motor planning.
D also rode a paddle boat–a much more calm experience–and we made it through eighteen holes of miniature golf. We skipped a few holes after D had trouble waiting and suddenly took off running like an escaped convict on the loose.
Still, we made it to the 18th hole.
I forgot all about the Wife, and our struggle to find common ground in our parenting, so we won't disintegate in a puff of smoke on family outings. This was our first outing in a while, as I'm sure you can probably imagine why.
Family fun can be an oxymoron for us.
I am a centrist on most parenting issues, preferring not to take a strong position one way or another. So what if D runs around a video arcade for five minutes. That was my attitude at the turning point of our family outing.
No big deal.
The wife marches to a much different beat. She is a toe-the-line mom and demands D's behavior meet the standard requirements set by her. She gets upset fast when he doesn't comply with her requests immediately.
By upset, I mean her anger can go from zero sixty in a matter of seconds, based on D's or my lack of compliance to what she expects D or me to do, and being in the middle of the release of her emotion is not a pleasant place.
So I can see where our contrasting parenting styles could be confusing to D. He can do more or less whatever he wants with his dad while he is forced to follow much stricter behavioral guidelines with his mom.
Naturally, he is going to like his dad better than his mom, and so we need to develop unity in our parenting, and since I don't see her becoming less strict in her parenting, I need to be the one to change my parenting style.