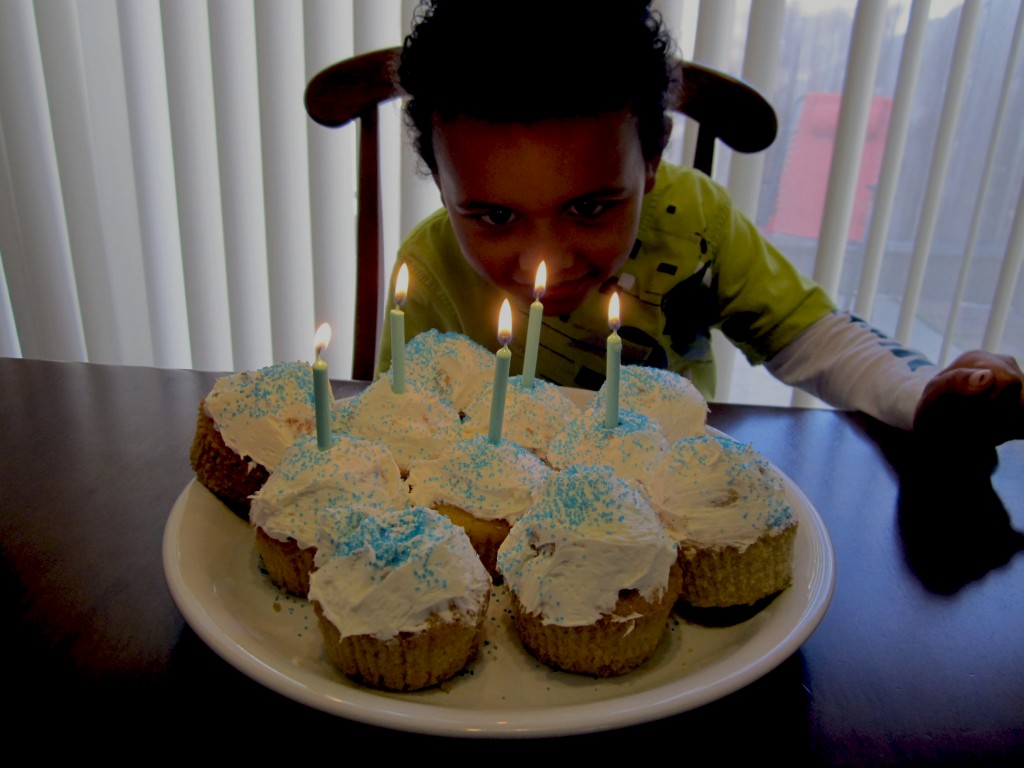 It was a few days before his birthday, and when I mentioned in the car that he would soon be six, he told his mom and me, "I don't want to be a man."  
We both laughed.
I told him that he would still be boy for many more years, and that he should enjoy being a kid, and he seemed greatly relieved by this knowledge.
Six is a great age.
He had cupcakes with his classmates on his birthday, and if he felt like classroom royalty, his was a tiny kingdom of six home schooled boys. 
The Wife dropped us off in the afternoon at McDonald's (one of our hangouts) while she completed some last minute birthday preparations.
We played digital mini-golf on a space course, and I purposefully hit our digital off the course, and as it slowly drifted into space, he laughed hysterically.
So we took turns whacking ball after ball into outer space. We forgot about trying to hit our ball into the hole, D laughing hysterically the entire time.
The Kid has it figured out: a little silliness is needed (don't forget this, son) from time to time to escape from the seriousness in the world.
We had a quiet birthday celebration at home. Mom, dad, son. He ate a piece of his mom's gluten-free cake and then unwrapped his presents.
I admit his presents–a bible and basketball–were selected more with spiritual and physical considerations in mind.
He looked into the bag where the bible came from and said, "I want Iron Man. Where is Iron Man?"
He bounced the basketball on the floor, flung it in the air, and it ricocheted off the wall. Father and son were sternly commanded to go outside.
A few days later, his grandmother took us out for dinner. He unwrapped his present and, without any intervention, it was Iron Man.
It was like he just met his new BFF, and they struck up an animated dialogue.
That was the beginning and end of conversation with him: if we wanted to converse, it had to include Iron Man.  
But, boy, was he ever happy.