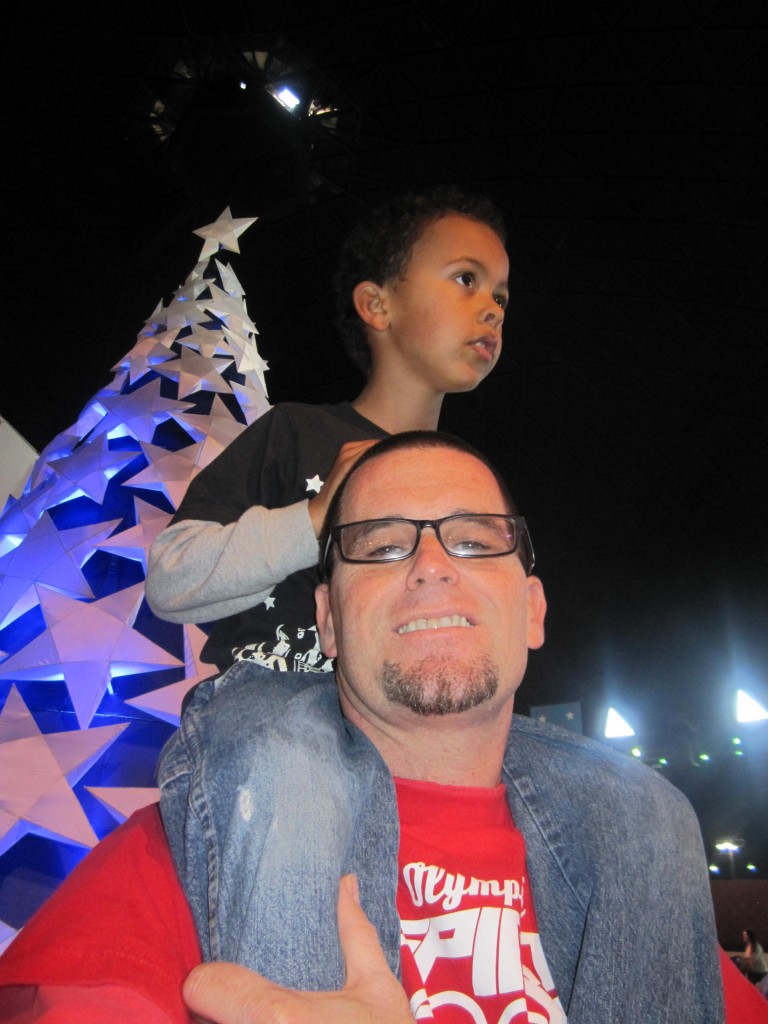 Our first visit to "Chill" at the Queen Mary lasted an hour. It was just enough time to go ice tubing and ice skating and to see some ice sculptures. I tried to get L to stay fifteen minutes longer. Ten. Five. So we could go on a few more ice tubing runs.
Trust me, I tried.
The Christmas goodies just had to be cut and wrapped. Before D's afternoon occupational therapy appointment. There was no changing L's mind. No matter how hard I tried, believe me, she wasn't budging a millimeter.
We had an rhetorical argument, and I lost. There were no lines for the ice tubing which I felt was a solid point, but L maintained the Christmas goodies for his OT had to wrapped in time of his therapy appointment.
But an hour at "Chill" was enough to get D excited for a return visit, and we stayed longer this time, embracing the Christmas spirit it oozes with from the holiday music and decorations galore to winter activities and hot chocolate.
I'll spare the details of our stressful morning from last year's visit, but there was something amiss between us. I'd like to say it was not L…but what a difference a year can make!
To be fair, I could have planned our visit last year at a better time, so we could have spent a more time without the need to rush home. So I accept a part of the responsibility for our first visit being full of tension and drama.
D's favorite thing to do at "Chill" is ice tubing. He loves the adrenaline buzz of going fast down the 100-foot ramp. He even tried running up the ramp. That's how excited he got while ice tubing.
The wait in line was an hour, but it was a good thing. One of the main goals of D's occupational therapy has been learning to regulate his body, and the long wait provided him good practice.
I thought putting D on my shoulders would provide the sensory input his body craves. He smacked my head a couple of times for input. Otherwise, he handled the long wait very well.
L read a book and munched on caramel popcorn in a nearby lounge. Even if she was the one relaxing–and I was getting smacked in the head–I was happy we were in one accord.
Next, we braved a return visit to the Ice Kingdom, a 13,000-square foot igloo with amazing holiday-themed ice sculptures and a temperature of nine degrees, according to an employee.
They give you a blue parka to keep you warm, but within ten minutes last year, L said "Where's the exit?" I wanted to stay a little longer, but my fingers were too stiff to take pictures.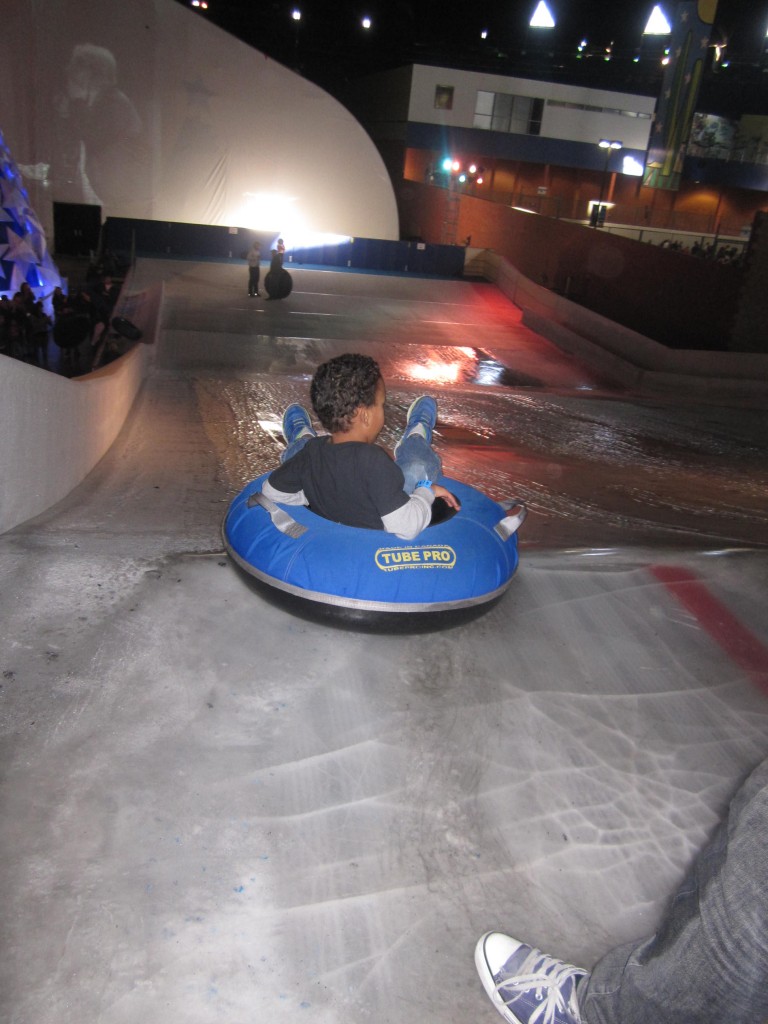 So we found the nearest exit, and the cold temperature temporarily united us as we sought refuge in the warmth of a cup of hot chocolate, thawing the negative vibe steadily growing from stressful interactions all morning.
This year, the man at the entrance to the Ice Kingdom joked, "don't lick the ice sculptures or your tongue will be ours." I considered repeating it to D, but I knew L would tell him.
"Did you hear what the man said?" she said. "If you lick the ice sculptures, your tongue will get stuck, so be sure to keep your tongue in your mouth."
D came out with his tongue still in his mouth–I didn't think he'd lick a statue–and I agreed when L wantec to exit the Ice Kingdom for the sunny and warm Southern California weather.
We went from the Ice Kingdom to a Snow Globe jumper. It looked like a madhouse inside of kids bouncing around in a frenzy, and I thought it would be a good sensory test for D.
L and I looked through a plastic window as D and a blond-haired girl peered back at us. The three-year-old girl was in pink pajamas and her cheeks smeared with chocolate.
D plugged an index finger into both ears, drowning out the high-pitched squeals of euphoric pandemonium. Kids were falling all over the place behind D and the blond-hair girl.
He joined the fray, but with a finger sstuck into both ears. And L and I enjoyed a quiet moment to ourselves while we watched D navigate around kids jumping with reckless abandon.
He passed the sensory test with flying colors, and we celebrated with garlic French Fries. While munching on fries, we saw a Bucking Reindeer ride, a kid's version of a mechanical bull.
D wanted to ride the reindeer, and my only complaint (aside from the one-rider per ice tube policy) was D fell two weeks short of the age requirement (six) for the Bucking Reindeer.
But we'll be back next year!
Most importantly, we found the mysterious rhythm of enjoying time together as a family, thanks in part to my more astute planning, and escaped into the wonderful holiday ambience at the Queen Mary's "Chill."
Thanks "Chill!"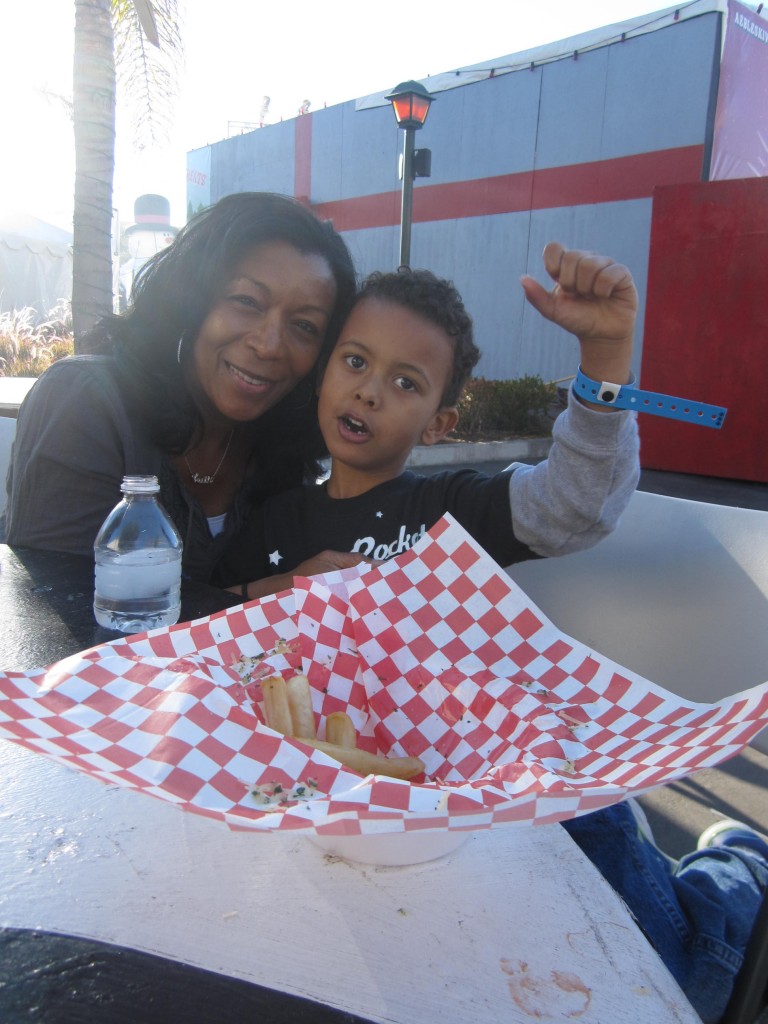 Full Disclosure: We enjoyed "Chill" compliments of the Queen Mary.  Thank you to the Queen Mary for tickets in exchange for this blog post.