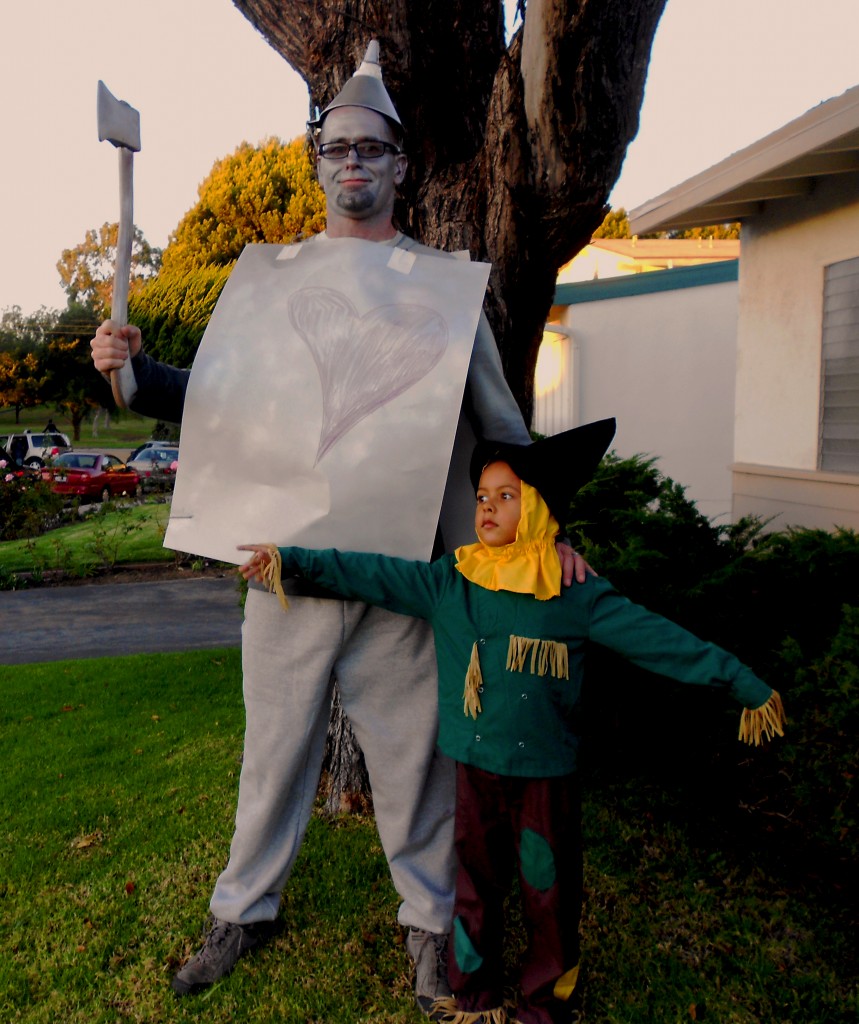 Halloween is fast becoming my favorite holiday, thanks to D's attitude towards this night when neighborhood doors open with generosity and Wall Mart grocery bags fill up with candy.
Thanksgiving is an all-you-can-eat buffet. Turkey, mashed potatoes, green beans, mac and cheese, yams, stuffing and cranberry all mixed together in one scrumptious bite of flavors.
Christmas is nice, but expensive.
But Halloween is a night ripe for father-son bonding for D and me, running from house to house in the dark of night and shedding everyday personas to dress up in a costume.
D does not just wear a costume. He becomes the character and assumes their identity. He is the Scarecrow from the Wizard of Oz, and I joined him by becoming the Tin Man.
"The Tin Man!" D exclaimed when I came out in my costume. "It's the Tin Man!" He checked out my silver-painted poster board with a red heart drawn with a sharpee, silver make-up, oil funnel hat and trusty plastic ax.
I struck a pose as the rusted solid Tin Man and groaned an incoherent "oil." He gave me a squirt in my legs, arms and neck, I thanked him, and our Halloween began at that moment.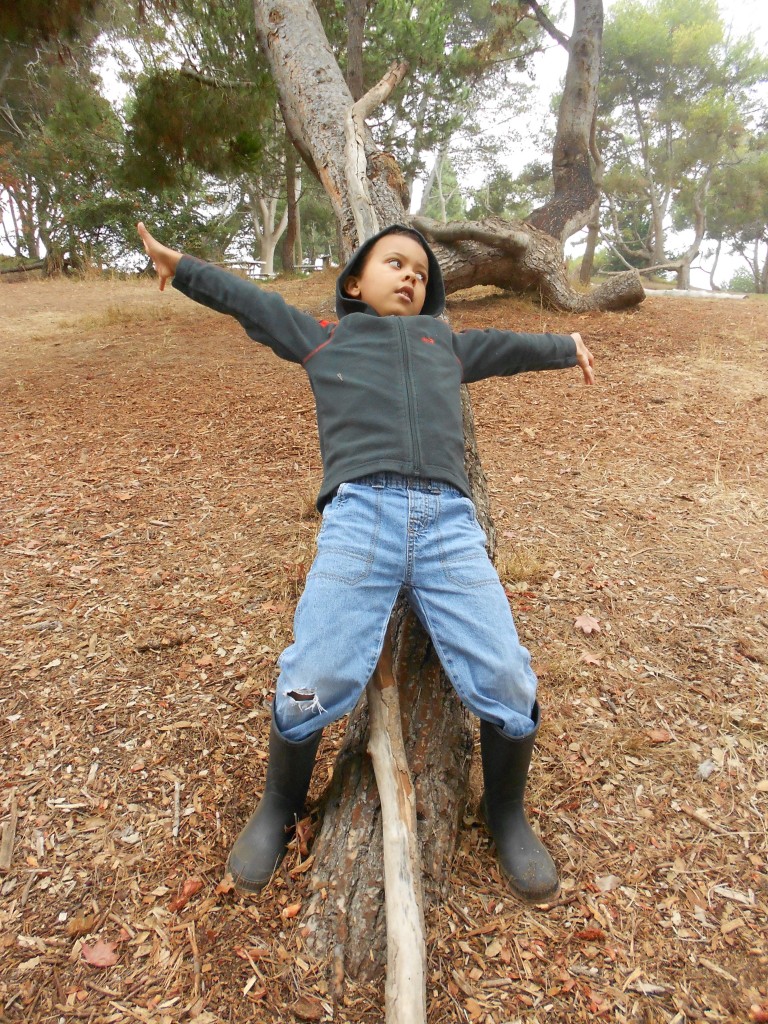 D began leaping off the sofa with my ax, running around and chopping down imaginary trees in the living room. Every thirty seconds, D touched my silver make-up, and he forgot about the tv show he'd been watching.
L told me three times what time to be home. She took a picture of us in our costumes with D's arm pointing to the Emerald City, and D and I ran down the street to the first lighted porch.
D stretched out his arms on an imaginary crossbar when the door opened at the first house. I held my ax in a frozen position, and we were the Tin Man and Scarecrow from The Wizard of Oz.
"We're going to the Emerald City," D told the middle-age man.
"Say hi to the Wizard for me," the man said.
We saw witches, super heroes, and Dorothy in her blue-checkered dress and red ruby slippers. D greeted kids by their character's name since to him they were not just a kid in a costume.
"Hey, Thor, let me see you hammer."
"Hi, Spiderman."
"It's the Incredible Hulk! Are you mad?
The lesson I learned is that twenty bucks and a trip to Dollar Tree, Party City and a hardware store to create a costume can create a fun lasting memory of bonding with my son.
We watched the "Charlie Brown's Halloween Special" when we returned home. L and I foraged through D's candy bag, and he didn't mind since he has never eaten a piece of candy.
D's head soon was bobbing up and down on the sofa–his third Halloween in the memory bank–and my attitude towards the holiday was forever changed by his contagious spirit.