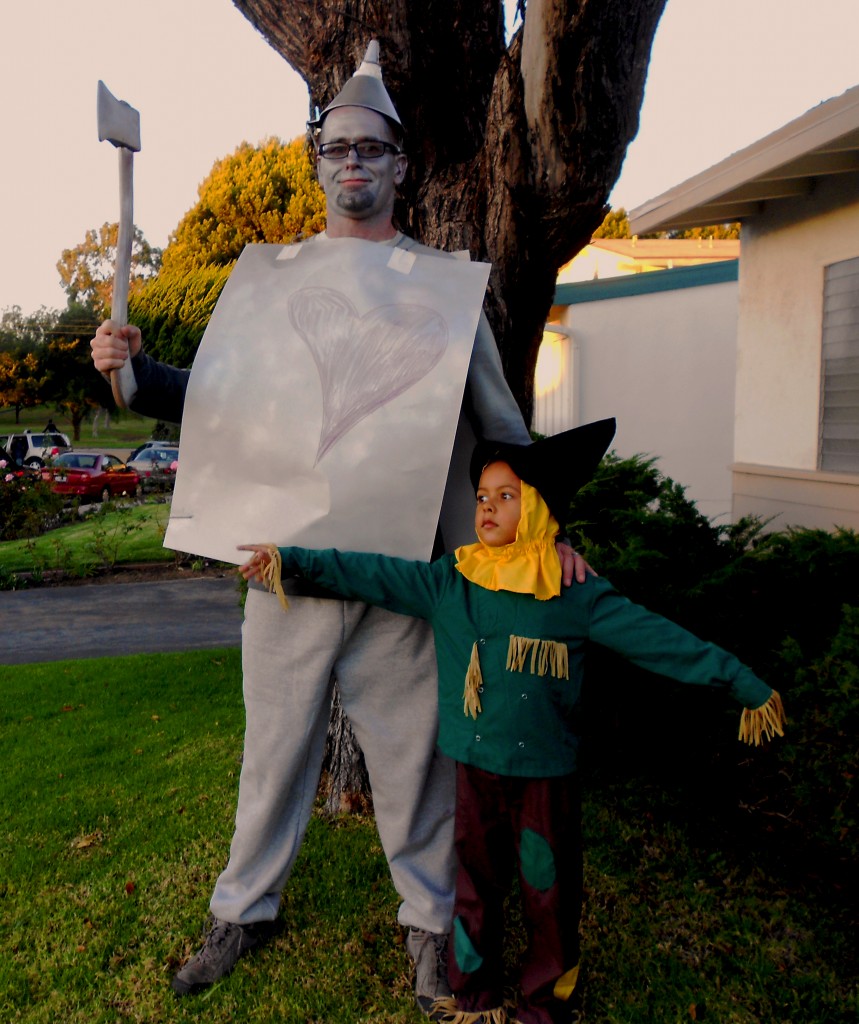 Halloween has become my favorite holiday, thanks in large part to D's attitude towards this chivalrous night when neighborhood doors open and sacks fill to the brim with candy.
Thanksgiving is an all-you-can-eat buffet. Turkey, mashed potatoes, green beans, macaroni and cheese, yams, and cranberry all mixed together in one cornucopia bite of mixed flavors.
Christmas is nice, but expensive, and for D and me, Halloween is a night ripe for father-son bonding, running under street lights in the dark of night, streaking past other kids in costumes.
D does not just wear a costume. He becomes the character and assumes their identity. He is Scarecrow from the Wizard of Oz, and joined him by becoming The Tin Man.
"The Tin Man!" D exclaimed when I came out of the bedroom in my homemade costume. "It's the Tin Man!" He checked out my silver-painted poster board with red heart drawn with a sharpee, silver make-up, oil funnel hat, and my trusty ax.
I struck a pose as the rusted solid Tin Man and groaned an incoherant "oil." He gave me a mimed squirt in my legs, arms and several joints, I thanked him profusely and our Halloween night began right then and there.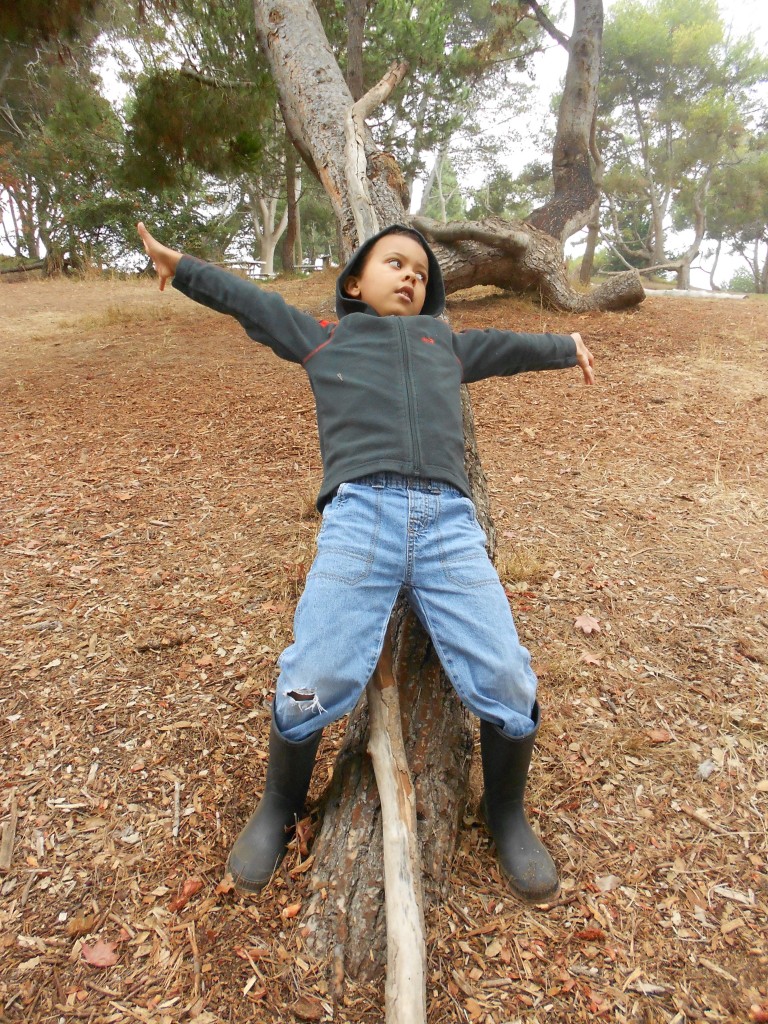 D leaped off the sofa with my ax, running around and chopping down imaginary trees in the living room and touching my silver make-up, forgetting all about the tv show he'd been watching.
The Wife fretted about candy being poisoned by our neighbors, and she told me four or five times what time to be home. She took our picture, and D and I ran to my car to go trick-or-treating.
"Make sure you are home at eight o'clock," she said as we went out the door.
D stretched his arms out on an imaginary crossbar at first house we trick-or-treated. I held up my ax, and we were the Tin Man and the Scarecrow from the Wizard of Oz.
"We're going to the Emerald City," D told the man.
"Say hi to the Wizard," the man said.
I instantly loved that man. We saw witches, super heroes, and Dorothy in a blue checkered dress and ruby slippers. D greeted kids by their character's name since they were not just a kid in a costume.
"Hey, Thor, let me see you hammer."
"Hi, Spiderman."
"The Incredible Hulk!"
The lesson I learned is  a quick trip to Dollar Tree, Party City and a hardware store for some make-up, poster board, an oil can and an ax, can create a special night of bonding with my son.
We watched the  "Charlie Brown's Halloween Special" at the end of the night. The Wife and I foraged through D's candy bag, looking for our favorite candies, and D didn't mind since he doesn't eat candy.
D's head soon began nodding up and down like he was bobbing for apples, and another wonderful Halloween was in the memory banks and a bag full of candy left for the the Wife and I to enjoy.