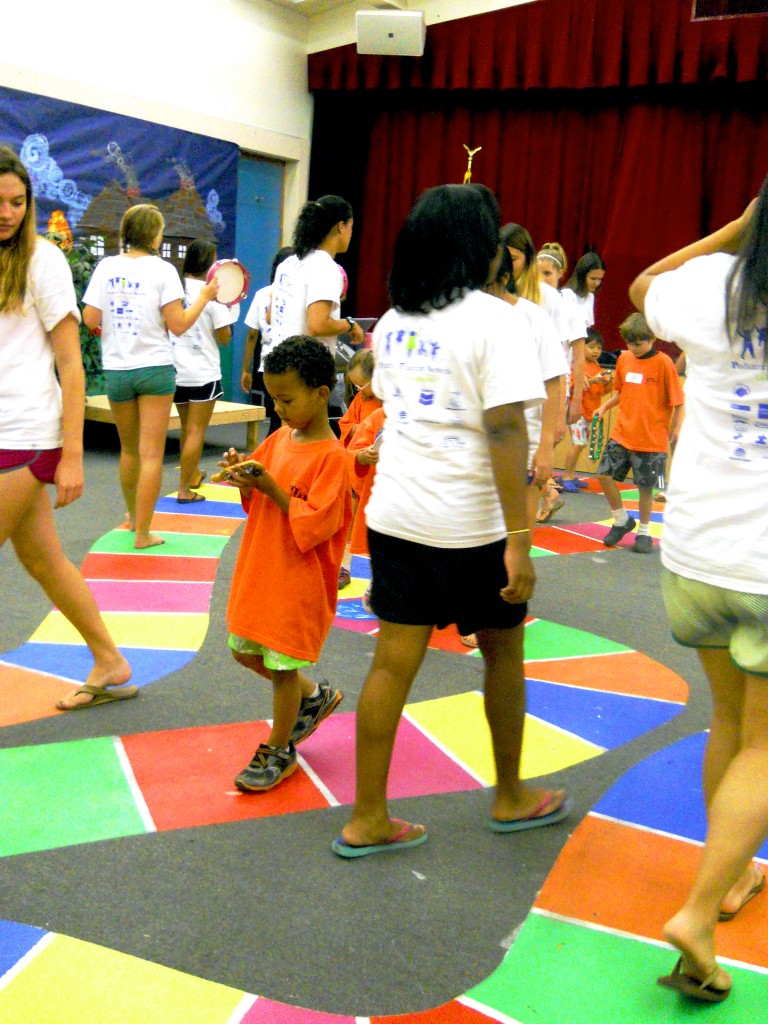 This is the mantra I repeated to D several times in the car on the way to his first day of summer camp: "You are going to have fun, fun, and then more fun." And then I asked him, "What are you going to do?"
"I am going to have fun, fun, and more fun," he said.
My mantra was part explanation, part "psyching" him up for camp, and giving him some details would have been more helpful, to let him know what type of activities he'd be doing at a summer camp.
The Wife and I were concerned if D would be able to handle a full-day summer camp, and I could probably substitute the word "anxious" for concerned, and this would be more accurate.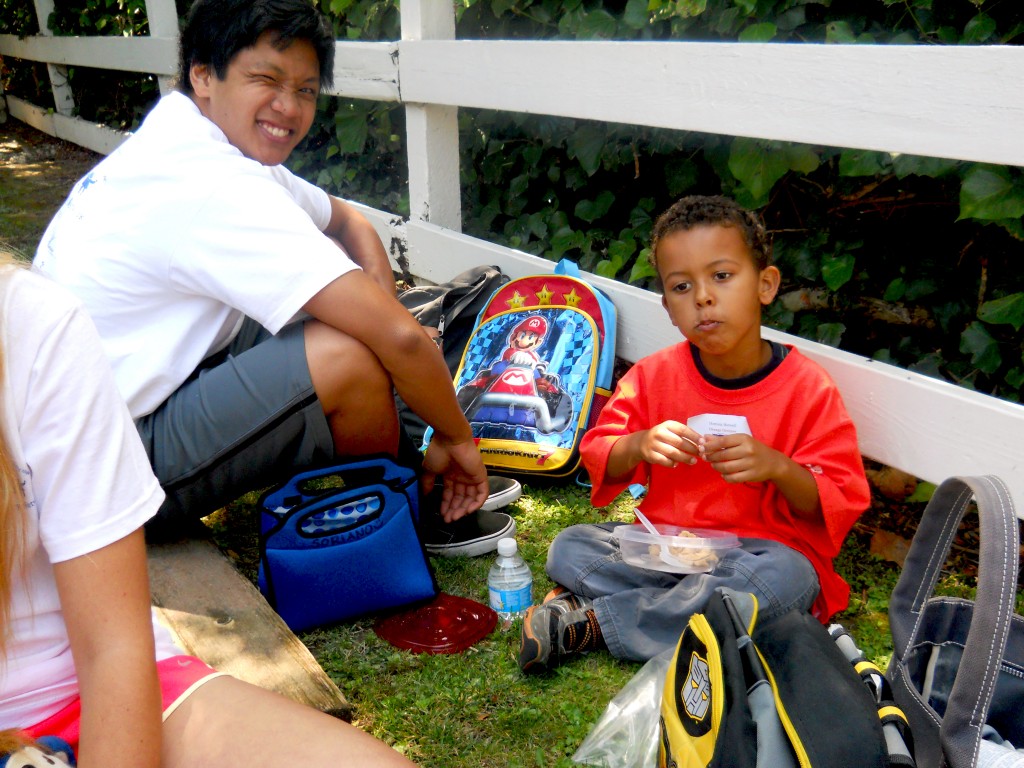 We were concerned if he would be able to listen and follow directions. Basically, if he can do what the schedule demanded and handle being on his own for six hours at camp.
When we arrived at Camp Escapades, I gave his arm a less than gentle tug to get him into the Orange Octopus room, the name for his age group. It didn't occur to me he might just need extra time to filter everything he was taking in, just like does at his My Gym class.
Yes, his first day of summer camp contained anxiety for all family members. Parents included. It is an understatement to say his shirt, pants, shoes, socks and underpants (not in that order) were a chore to get him to put on.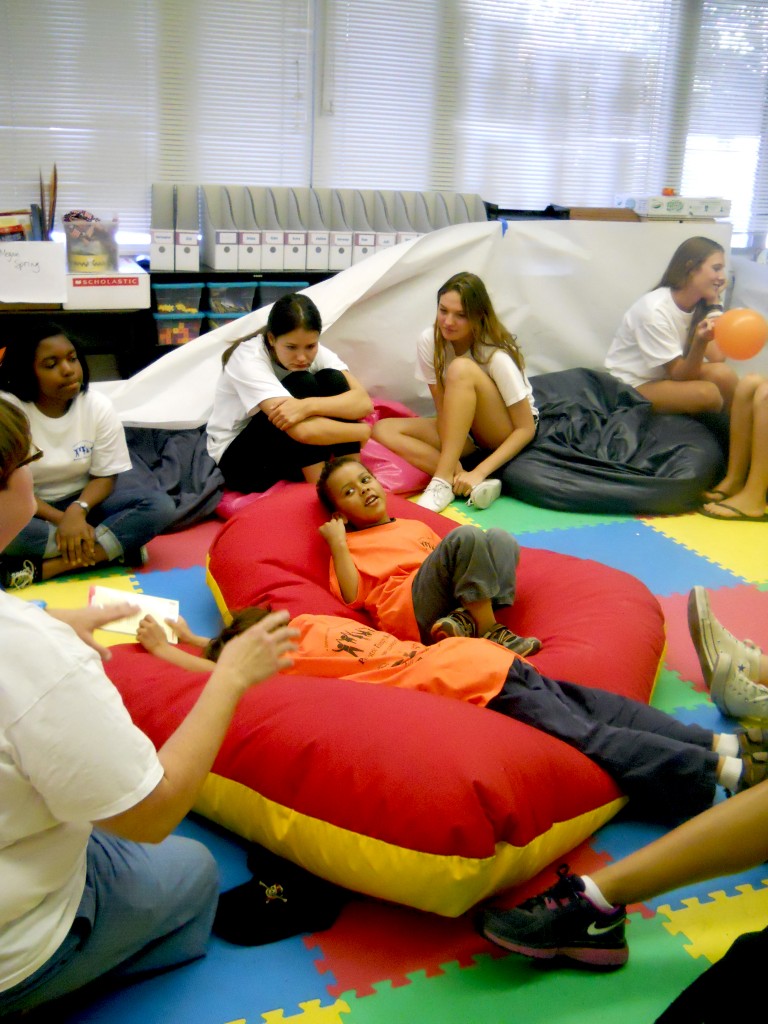 I stayed to observe D's first day. It was hard to just drop him off and leave. I wanted to know how he was doing, what he was doing. Was he comfortable? Was he having any fun? I received a discount for blogging about Camp Escapades; however, this was really my "excuse" to see how D was doing at camp.
The Wife texted me to say that I was experiencing "separation anxiety," and while this sounds more like a mother thing, I have to admit this is one of the few times the Wife is correct.
She reminded me that D and I spend a lot of time hanging out in the summer. "It's natural you would miss spending time with D," she said. "You guys spend every day together." True.
So, yeah, the Wife was right, and as I watched D jump up and down in a Moon Bouncer, I knew summer camp was an important rite of passage for him to learn to be on his own. This meant I could not be a Pop Up Dad.
I chose to observe from a distance, and when I checked up on him at lunch, D was content sitting on the grass next to his buddy and looked like he'd been doing camp for several years
His buddy told me that in his dance class a girl ran up to him and gave him a hug. This is exactly the type of messy interactions the Wife and I hope our son has plenty of at Camp Escapades.
D loves watching Bert and Ernie, Elmo, Cookie Monster and the Sesame Street gang on PBS, and we hope he loses some of his preference for tv characters in favor of real life relationships.
The next thing I knew, after being vetted by the director of the school Camp Escapades was renting space from (a good sign of tight security), it was the end of the day and D's teacher was leading his group in a sing-a-long:
"Down by bay, where the watermelons grow,
back to my home, where
I dare not go,
my mother will say, "Did you ever
see a goose kissing a moose?"
D was in a bean bag chair, smiling. He wasn't singing (this came on the second day), but he was content, part of his group, and had navigated his first day of summer camp.
His buddy told me he quietly took everything in during the morning, but he began talking with him in the afternoon. I took this as a sign he was feeling comfortable on his own at camp.
All in all, it was a great first day of camp, and now that his first day was in the books, it was on to day two of Camp Escapades.