---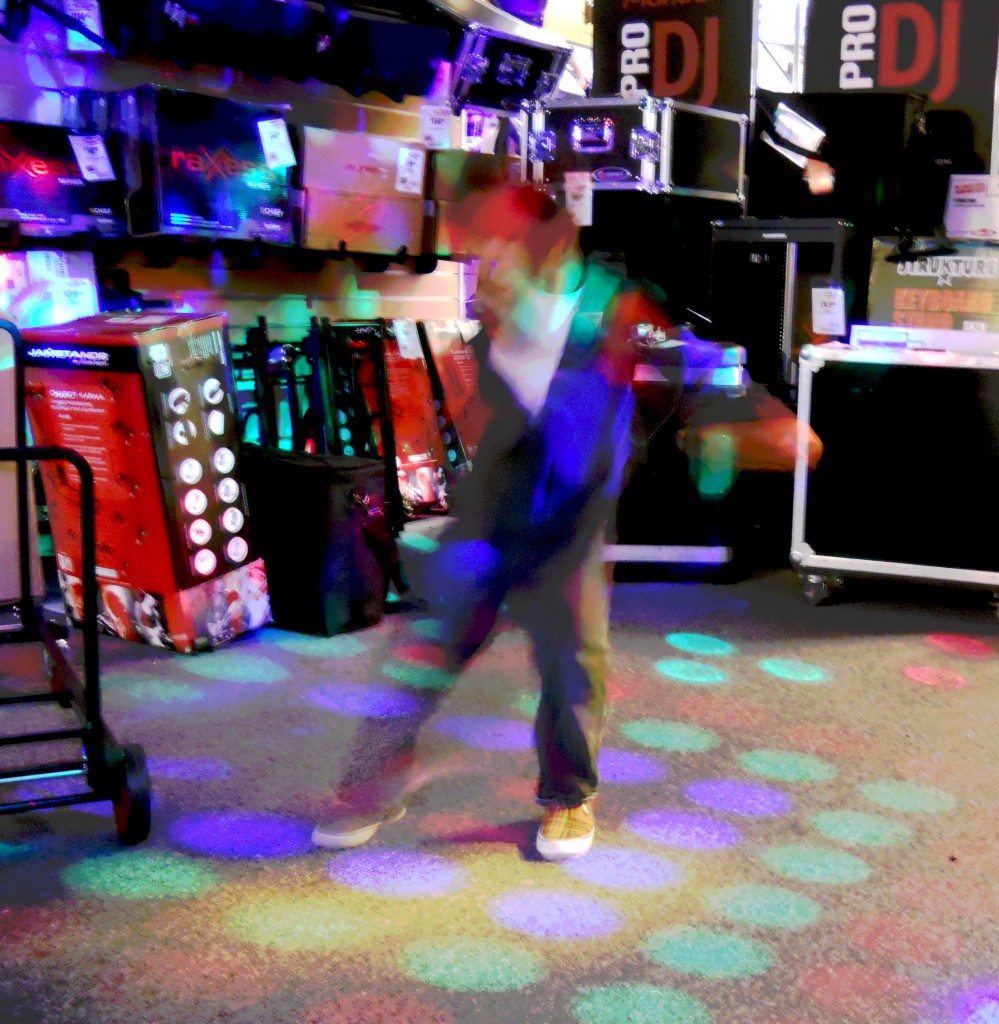 D and I go to the Music Store, and I ask an employee for drum sticks. The book I'm reading on creativity says a soul that is free and alive is a soul that creates.
The author says we err when we think of artists as a group of rare, elite people. He says we must release art into the hands of ordinary people, like a father and son at a music store.
To create is to be human.
To create is to reflect the image of
God. 
So, who is an artist?
Anyone who has a soul.
This is Erwin McManus's thesis in The Artisan Soul, and as I listen to D play the drums and keyboards, I wholeheartedly agree with his point. "Do it again," I say to D, urging him on the drums. "Do it again."
We see trombones and saxophones. There's tubas and trumpets.
Guitars. Banjos. Bongo drums. Electric keyboards.
In a corner of the store, we sit on a bench and D gently presses down on a single key with his pointer finger, starting with the high notes. He plays one note at a time, going from high to low notes, never bashing the keys or playing with his whole hand.
"Is this high or low?" he asks. "This is low. Am I right?"
He knows about high and low notes from one drum lesson with a friend of mine. D listens to each note instead of playing as loud as possible. He does the same with the chimes and triangles  rather than hitting them all at once.
He sits and slaps the side of a cajon. I sit on one next to him and tap out a beat, just as his drum instructor had done. He repeats the beat, and I tap out a new one. He repeats it, and then we drum to our own rhythms, before his impulses lead him on elsewhere.
We dance on flashing yellow, green and red circles on the floor from strobe lights, and I don't care if anyone notices us. Seriously, we do. He dances on the colored dots, and I join him for a father-son dance. What can I say? An artist creates. We're artists.
In a back room, we sit on a bench and tap buttons to create electronic beats. I pick up a fresh supply of ear plugs. He plays the bongos one last time. This is how we roll at the Music Store.
He creates. We create.
We're artists.
***
My dad worked as a reporter in high school, writing a Teen Column "The Beat" for a newspaper in Portland, Maine. My brother was on the high school newspaper staff The Sword and Shield, and as a sophomore, I ended up in a journalism class, too.
It could have been the newspaper advisor, my dad, or my counselor who signed me up for journalism. The newspaper advisor, searching for new talent, probably asked the counselor to sign me up. But my dad could have made a phone call to the school counselor since he had been a reporter, or the counselor signed me up because my brother had taken journalism.
But I don't remember it being my decision to take the class. And journalism was just another class. No different than any other class. Information to be learned. Tests taken. But something changed in my second year of taking journalism when I joined the newspaper staff.
I became a sociological critic on girls wearing the same duck-flat boots. I wrote about the band U2 and a soccer player whose nickname was the Mad Mohican; I wrote about a guy in my sixth period class who taught a karate class; I wrote about a teacher traveling in the summer across the United States in her RV, and I wrote an editorial on terrorists blowing up airplanes (mostly my dad's opinions), and the kid who rarely talked–me–had found his voice. I became someone who creates: an artist
How much turns on coincidence? Or providence? Or someone encouraging another person to try something new?
Even without their awareness.
The old journalism teacher retired, the new teacher encouraged me to apply to a summer journalism camp taught by professionals. You had to submit samples of your writing to be selected. I was one of thirty students in California to be chosen, and when I returned in the fall, the teacher asked me–the kid who rarely talked–to teach the class what I'd learned.
A fellow student at the camp approached the Los Angeles Times Sports Editor about answering phone calls on Friday nights to get high school football scores. The editor said to call him at the end of August.
I asked the editor if I could call him too. Four months later, I began answering telephones, and not long after, I was pitching and writing sports stories while still in high school.
***
I started driving a taxi in college to write a book about all the strange, weird people in Los Angeles. I met the retired secretary for my high school who invited me in her home and served me leftover cold pizza. There were toy dolls next to cat poop on the living room floor. She used a walker, told me her story, and showed me a polaroid picture of herself. Naked.
I picked up a Vietnam Vet at a hotel who I drove around for a few hours as he drank Vodka out of a brown paper bag. He rolled down the window and tried to give money to people. No one listened to him, so he grabbed my wrist, and I listened to his story. By the end of two hours, I had a $120 tip–$20 at a time–and he passed out when we returned back to the hotel.
My mom had a prayer group of women meeting every week at her house, and they all prayed for me to become a Christian. One day, my mom told me that if I was ever in a crisis, I could get down on my knees, pray to God, randomly open the bible and God would answer my prayer. I told her I thought it was a stupid idea.
But I crashed the cab one morning, and depressed from a break-up with my girlfriend, I remembered what my mom had told me and found myself on my knees, telling God that I didn't know if He existed, but if He did, I just wanted to have hope, and if having hope meant turning from my sins, I was willing to do that. As soon as I prayed, the heaviness of my depression was instantly gone.
***
After I became a Christian, a friend from church invited me to join a homeless ministry where we bought breakfast and taught a bible study. The breakfast-bible study was held in a parking lot behind a restaurant, and I had crashed my taxi right in front of this restaurant. Now I was serving the homeless where I'd crashed the taxi.
L heard me give an announcement about the ministry and called for more information. I had become the contact person for the ministry. We talked on the phone for a few hours. She had just rededicated her life to Christ, and I had become a Christian, and we talked about our new love for Christ.
One night, we went out with a group from the singles group to sing at a homeless mission. Afterwards, L and I drove to a coffee place, and she started singing crazy in my car, and when we played checkers, our eyes locked whenever one of us moved a checker. The drive and the checker game–that's when I knew L would be my wife.
***
Twelve years later, on Valentine's Day in February 2008 (we'd been married for nine years), L and I flew from Los Angeles to Memphis, Tennessee, to adopt D.
I can't help but wonder how one class, one drum he plays, one prayer I pray for him, one person he meets, one movie he watches, one song he listens to, one person who encourages him, will lead him toward his path in life.