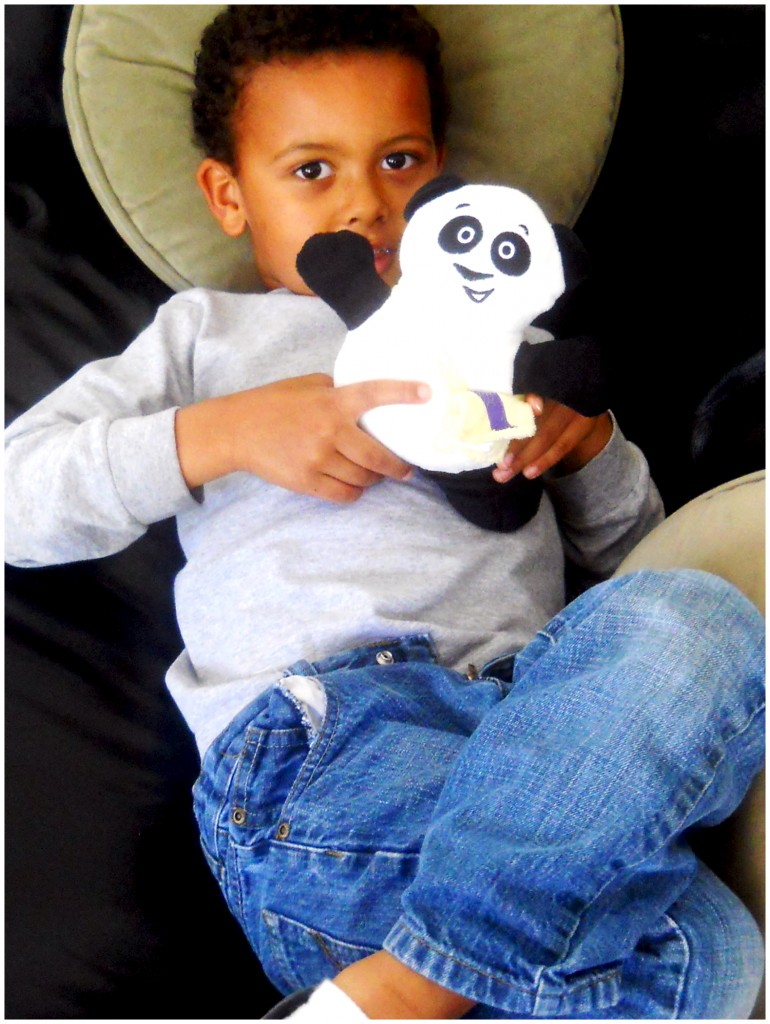 First, some backstory. I took two years of Spanish in high school and a semester in college.  The college course I almost dropped after falling far behind, but the Wife (then my fiance) encouraged me to stick it out and I proposed to her in Spanish.
Thanks to some help from a hair stylist, not my handle on the Spanish language.
I never considered learning a foreign language as fun, and after my 2 1/2 to 3 years learning Spanish, I was no better off than when I begun.  My wife took four years of Spanish with the same result.
In other words, good luck having a conversation with either of us in Spanish.
Fortunately, for our son, the world has changed.  We now have a thing called the internet and Youtube, and he can watch one of his favorite movies in Spanish, as I found him doing the other night after I left the room and returned.
I'm not sure if my son watching his favorite movie in Spanish was a technical error or sign, but I am pretty sure his rolling down the window and yelling "como esta" each time we go through a fast-food drive-through has been a sign…
Thanks to the wife introducing our son to Spanish via Youtube, he's been counting and saying the names for objects in Spanish for a few years, and a waiter at Denny's was responsible for teaching our son "como esta" and a few other Spanish basics.
Needless to say, it was time to find my son a Spanish teacher.  Cost was a factor.  So I turned to the internet and came across Little Pim: Fun with Languages: Spanish for babies, toddlers and Preschoolers, the winner of ten consumer awards.
And my son's new Spanish teacher in an animated panda bear.
The rest, as the say, is history.
My son is already well on his way to surpassing my ability to speak Spanish.
I quizzed him a few days after we watched disc one (it's a 3-DVD series) on eating and drinking. He was on a swing at the park, and I asked him the Spanish name for fork, spoon, plate, napkin, and foods mentioned in the video.
He knew the all, and he shouted them out with perfect pronunciation.  We watch the video together, and half of the words I'd forgotten or couldn't pronounce correctly, so his Spanish is officially now better than mine.
I had a hunch he had a knack for language because he has a GPS-like memory, and I was right.
He has even been ordering his food in Spanglish when we eat at his favorite restaurant: "Yo como macaroni y cheese con yogur."
He's also taken quite a liking to the velvety soft, plush panda (the stuffed version of his animated teacher that comes with the 3-DVD set) and takes him to beg with him at night.  So he's become attached to his new Spanish teacher.
***
Starting children when they're young is the best time to learn a language, and your children will love Little Pim, the animated panda who is the DVD series' teacher, as he and real kids laugh, play, eat yummy foods and learn together.
The video series is designed for ages 0 – 6, but is fun for the whole family and provides the building blocks for learning Spanish.  It's helped me brush up on my Spanish, and it's doubled as a fun way to spend time with my son.
Little Pim is cute and funny, and as a teacher myself for 14 years, he succeeds at the primary characteristic of effective teachers: keeping students engaged.  The DVD series also has footage of kids doing everyday activities that's entertaining.
The running time is 35 minutes.  The other discs in the series are wake up smiling (disc 2) and playtime (disc three).  The DVD series is the winner of Mom's Best, Creative Child, iParenting Media Award, Mr. Dad and Adding Wisdom.