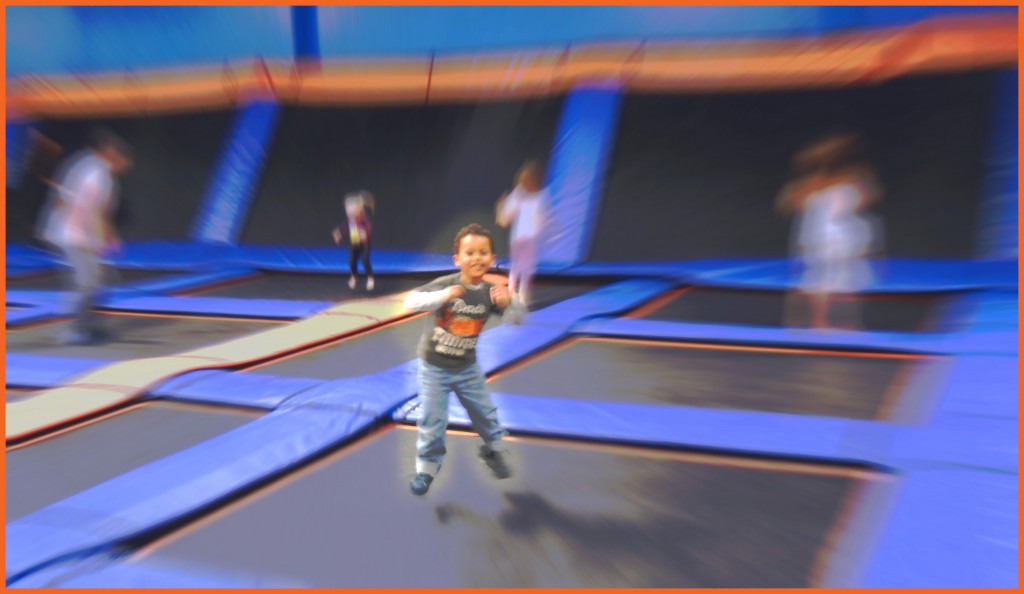 D is a sensory-seeker whose body is neurologically wired to move, and Sky Zone is an indoor trampoline park in a large warehouse, so I wasn't exactly surprised by how much he loved this place.
Nonstop movement is almost a biological necessity for him. Everywhere we go, every sidewalk we encounter, he's looking for sensory input. Shredding leaves, flicking sand, scaling and jumping off railings.
So I knew Sky Zone and D would go together like salsa and chips, butter and popcorn, or milk and cookies, yet I conveniently ignored the possibility that he might have difficulty handling the highly-sensory environment.
I initialed the liability waiver about twenty-five times, and we laced up our blue, light-weight high-top jumping shoes, and we were ready to jump to our heart's delight at the rate of $17 per person for the next hour.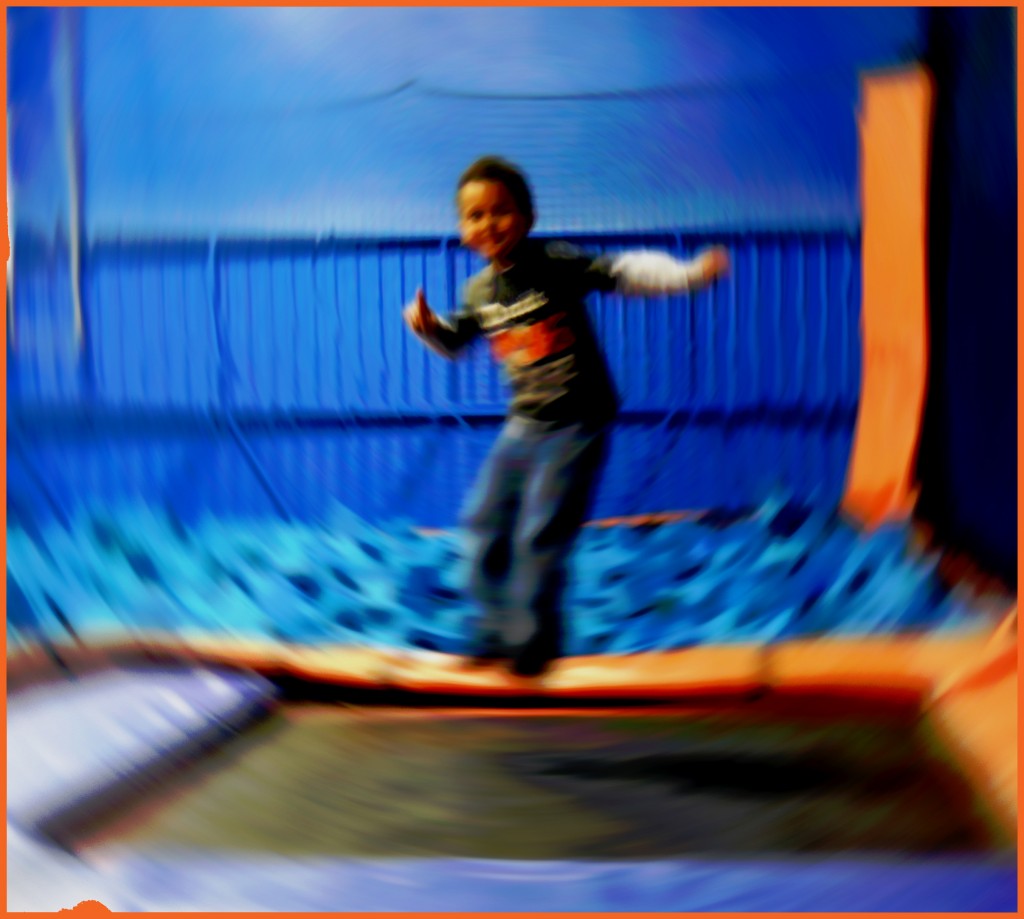 An employee explained the one rule for the main trampoline to us ("one person jumping in a square at a time"), and I naively thought to myself, just one rule should not be too hard to follow, right? 
The trampoline was a long rectangle stretching across the room with about thirty five by seven squares. A third were filled with jumpers of different ages, and everyone was following the one person per square rule.
D just needed to stay in one square, and when he got tired of jumping in that square, he could leap to another square, like a frog hopping from one lily pad to another across a pond.
It was simple.
But that's not how it went.
Not even close.
D looked more like a crash dummy, testing his body's durability as he ran and jumped across several squares, narrowly missing a few persons, before    skidding and thudding to a halt.
I checked to see if his limbs were intact, and after I saw he was fine, he repeated the same running, jumping, crashing pattern. Thus, I discovered the reason for the liability waiver: my son.
Each time, I reminded him of the "one person in a square" rule, but he jumped in his square a while before bolting across the trampoline, crashing in a heap and breathing fast and giddy by the time I reached him.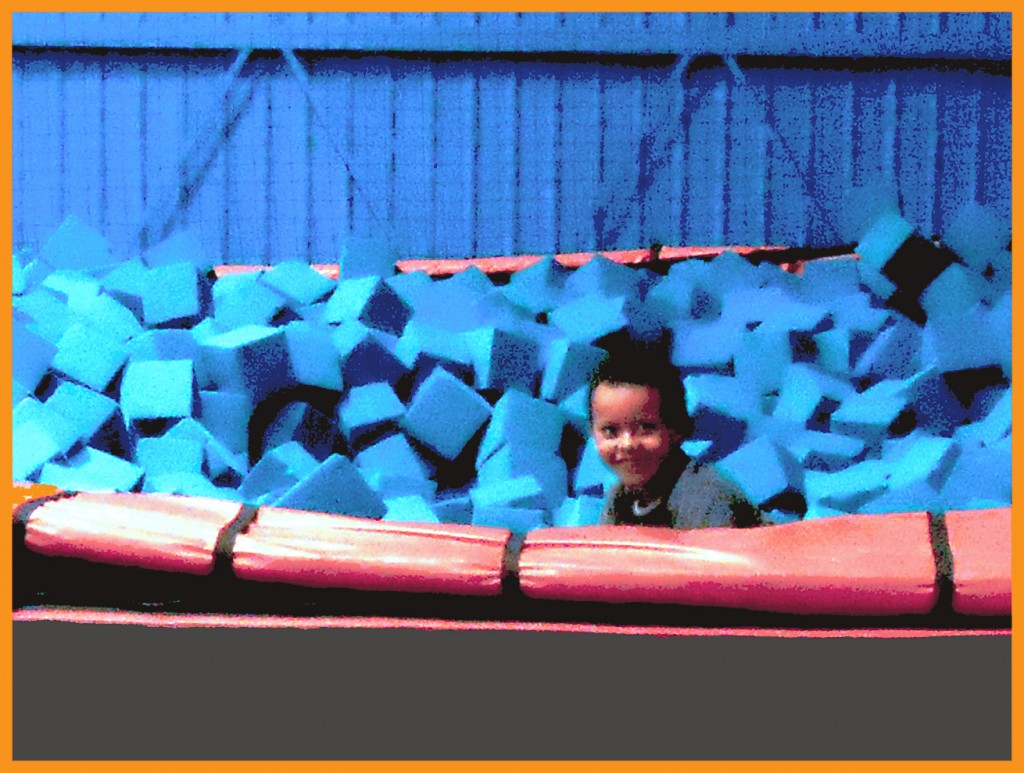 In recovery, they say insanity is doing the same thing over and over and expecting different results. I felt D was heading down this route without some form of direct intervention from me.
Parenting to me is like editing a movie. You have to know when to cut a scene short, how to skillfully blend one scene into another, and how to capture the best out of every actor in a story.
So I guided D to the Foam Zone, a pit filled with 10,000 blue foam blocks preceded by a trampoline runway. Most importantly, it had a short line that required waiting before jumping. 
The Foam Zone was a much better fit for D. The short breaks between jumps enabled him to regulate his body, and we spent the next hour jumping into the foam blocks and watching others do flips. 
The Wife will disagree, saying I do not understand D's sensory difficulties; however, I felt Sky Zone provided a unique challenge–while having fun–to helping D learn to regulate his body. 
When we walked to our car in the parking lot after jumping for an hour, D looked up at the sign on the side of building. I think he wanted to know the name of the place where we had so much fun.
"Sky Zone," he said.