---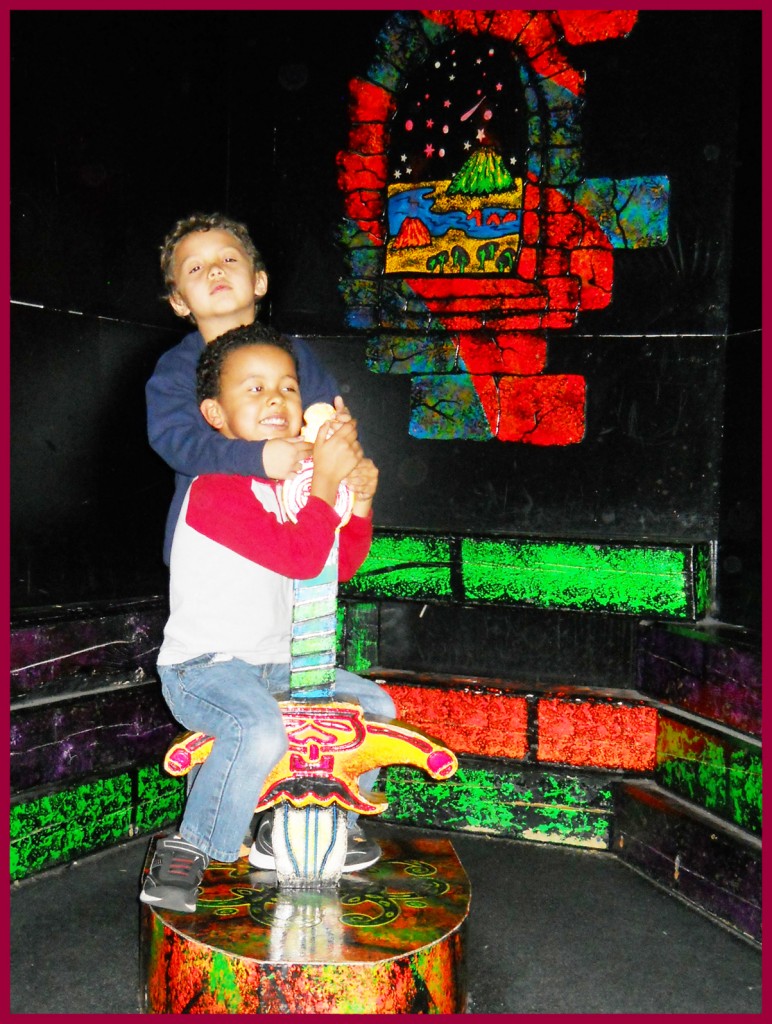 Putting Edge isn't the miniature golf course I grew up playing. There's no castles or wishing wells. No split-second timing to avoid a windmill's spinning blades, spitting your ball back to the beginning of the green.
This 18-hole course has black-lighted, fluorescent paintings of super freaky creatures on the walls, and you play in the semi-dark with neon golf balls. The experience is sort of like falling down a rabbit hole in Alice in Wonderland
But instead of rabbits wearing waist-coats and carrying pocket watches, there are paintings of neon green fire-breathing dragons emitting fluorescent flames, to create the perfect ambiance for a game of miniature golf.
It's a great place for two dads to spend a Saturday afternoon with their sons. The conversation between D and his friend Z on the ride there was as wacky as the course, a combination of sensical and nonsensical dialogue.
This was D's first time riding in a friend's car and listening to his happy chatter was my favorite part the day. D shared the two books he brought with him. I only wish I had recorded the conversation between D and Z.
It was that fantastic.
D and Z had just met (his dad and I share a classroom), and I was curious to see how D would interact with a new friend. I was also nervous about how D would cope with the environment.
L complimented me for setting up the outing, but she also said it was a "stupid" idea. I think what she meant is: D might have trouble regulating his body on a miniature golf course.
If she only knew we were going to a glow in the dark course with a fluorescent painting of a lizard with blood-soaked teeth…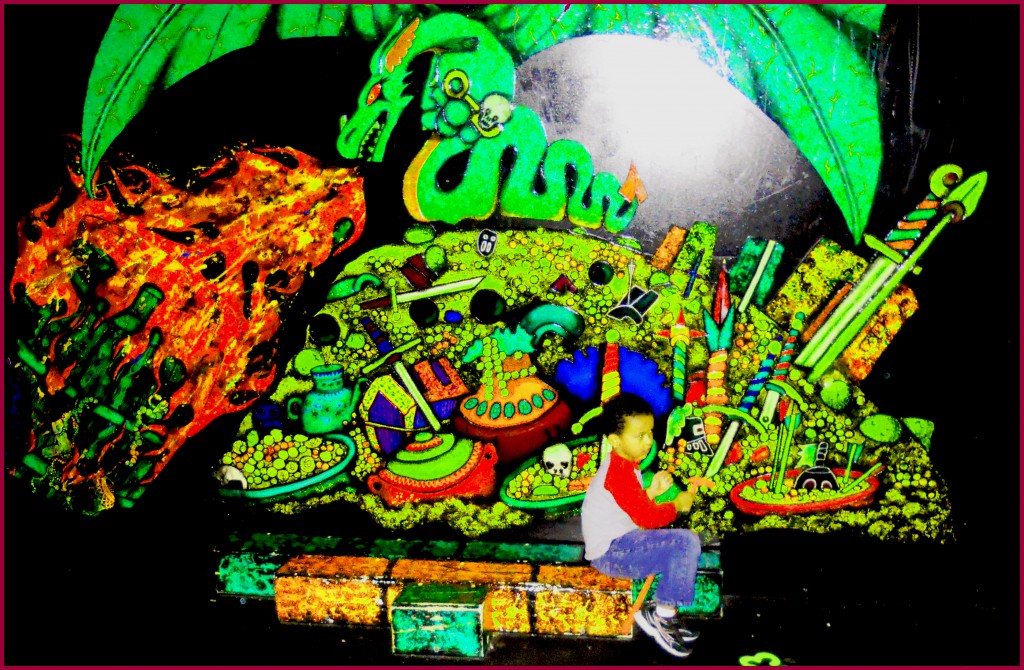 I forgot to mention the glow in the dark part when telling L about our trip. Nor did I feel it necessary to mention it was outside her five-mile radius for our father-son adventures.
So.
D looked ready to bolt into the neon wonderland when we arrived. His body was extra jittery as we stood on the edge of the course. But it had nothing to do with the neon colors.
He just needed to take a pee.
Yet, it was obvious the neon colors affected him when we began playing. He had difficulty standing still when it wasn't his turn, and his body looked like someone had injected it with fifty or a hundred volts of electricity.
Whenever it was my turn, I quickly whacked my ball and when I glanced to where D had been standing on the second hole, I saw him—in my peripheral vision—streaking across the green on the next hole, heading towards darkness.
"Hope is a thing with feathers," Emily Dickinson once wrote. If she meant that hope can fly away in a moment's notice, then this describes how I felt when D ran off on the second hole.
By the time I caught up with him, my objective for the day had completely changed: it was to just make it to the 18th hole. No time for chit chat. Just hit the ball, move on to the next hole.
That was my new m.o.
I didn't care as about making par or trying to ace a hole or two as I normally would have. These concerns got tossed aside by the challenge of simply advancing to the next hole.
No one bothered keeping score, and this was the fastest game of min-golf I've ever played. D's swing looked more like he was sweeping the floor, but that didn't really matter, either.
By the 12th hole, I was just relieved when I realized we were going to complete the course, and I was happy we were going to make it to the end.
By the 16th hole, D climbed on top of a treasure chest, and on the 17th hole, he tried pulling a giant sword from the ground with his friend Z, and I knew we'd overcome the sensory challenge, and we probably seemed (almost) like any other foursome on the course.
Of course, I owe a huge thank you to my friend R. Without his extra eye on D, there is no way we could have made it through the course, and he accepted the need to play at a faster pace.
Afterwards, D and I shot attacking  spiders and whacked frogs in the video arcade, and we were playing with only our imagination. No quarters were necessary.
Sometimes, the best thing to happen to a father and son is to fall down into a rabbit hole.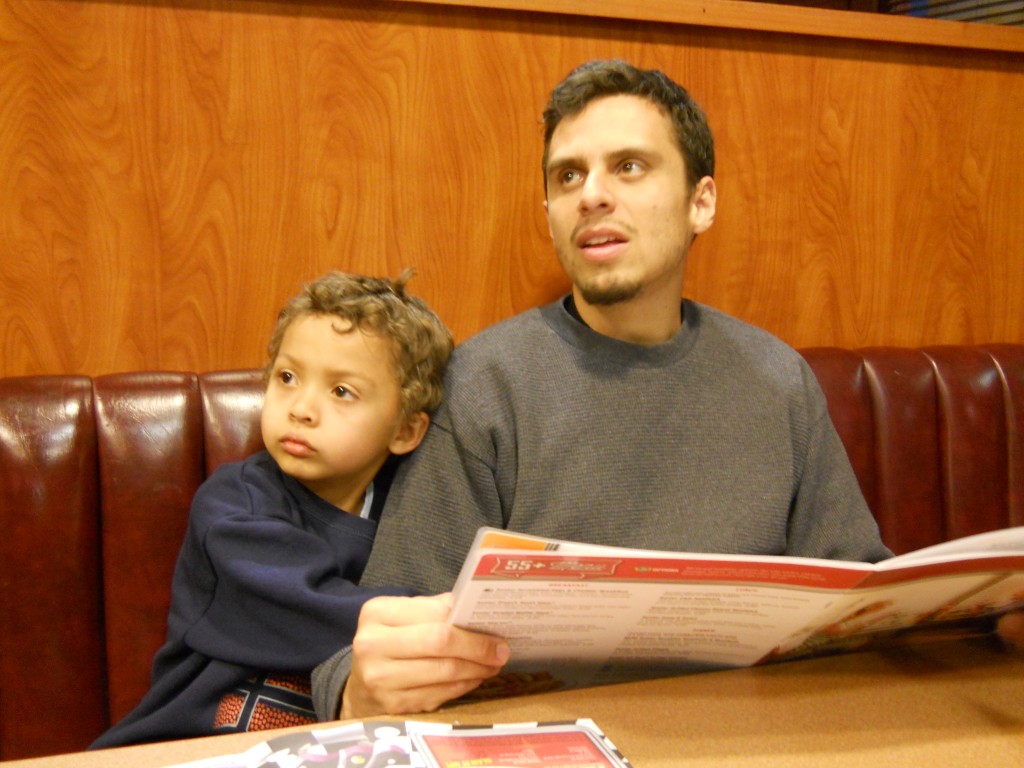 This is Richard and his son Zeppelin at Denny's following our visit to Putting Edge.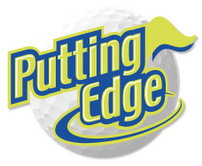 Think Putting Edge for your next event! From a simple night out, to fundraisers and birthday parties, Putting Edge makes the event planning and execution process easy and hassle free.  Enjoy a fun, one of a kind experience when you host a glow-in-the-dark event at Putting Edge!  And thanks to Putting Edge for the compliment tickets to enjoy a father-son adventure.