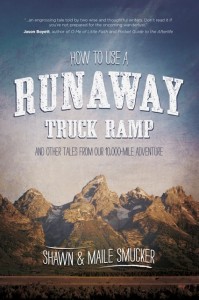 My ambition for several years has been to ride the Amtrak Coast Starlight train from Los Angeles to Seattle and back, but I've never gotten around to making the trip.
So I gotta give it up to Shawn Smucker.
This Pennsylvania father of four (ages 8, 7, 3 and 2) and his wife Maile embarked on a four-month, 10,000 mile journey last summer across the United States in a big, blue 40-foot RV they affectionately called Willie.
Besides providing a lifetime of family memories, the trip led Shawn amd Maile to co-write "How to Use a Runaway Truck Ramp," an amazing story of the sights, challenges on their road trip and the way the trip changed their lives.
I found Shawn's blog when I googled top christian blogs, and I fell in love with his writing.  He has a simple, easy narrative style with a combination of interesting story and subtle wisdom.  Definitely not preachy, and writing that can be enjoyed by readers with-or-without faith.
One of my favorite parts of the book is how Shawn beautifully describes the landscape of America, especially in the Southwest and Midwest, that provides the much of the backdrop for Shawn and Maile's inner transformation foreshadowed in the story's beginning:
"Adventures will change you. They'll saturate you with a fresh view of life….take every foundation you ever stood on and shake them until you crack…tear away layer and layer of you…and when it's all over, you'll step away from that pile of old skins and barely recognize the person you've become."
Ironically, I found the descriptions of America's topography at first to be, well, a little boring.  But then I went back and skimmed through the book to write this review and noticed how the changing landscape was a catalyst for the tearing away the layers of Shawn and Maile's old skins.
The cumulative experiences on their trip didn't hurt, either, but my advice: Drink in the narrative like a cup of coffee.   Read slowly and thoughtfully and let Shawn and Maile's narrative and inner journey speak to the deeper parts of your soul.
Seriously, though, who takes a four-month, 10,000 mile cross-country trip with a family of six?
That's what I love about "How to Use a Runaway Truck Ramp:" the audacity and boldness of a family taking such a trip.   Towards the end of the book, Shawn acknowledges the viewpoint most people would take of his family's trip:
"We return from our adventure with very little to show for it—at least from a material sense.  We have a good deal less money, not much work lined up, and for at least a few weeks, we will be living with our parents. Again. By most measures of this world, taking this trip was a mistake, and it has left us worse off than when we began."
But, thankfully, he says there are other less arbitrary means to measure life than the numbers on a bank statement.
This is true…because I found myself being transformed as I read about the fears and issues Shawn and Maile encounter on the road, and the changes the trip brought within themselves.  The story reinforces what I've been learning: we grow in life by acknowledging and dealing with our fears and listening to our lives.
Shawn ends the book by saying, "So carry on our story. Take an adventure.  I can see it in your eyes. You need one."  He's right, and as Shawn says at the end of his book, there are many ways to embark on an adventure, and very few of them involvd a big blue bus named Willie:
"This is adventure: Setting out to do something that doesn't make sense, something for which you are not completely equipped, something that takes you into a place fraught with danger and uncertainty. This is true of changing professions or moving or writing a book.  It is true of saying hello to a stranger or giving away money for which you had good use."
Here's an excerpt from Shawn  from one of my favorite passages in the book. Enjoy!
—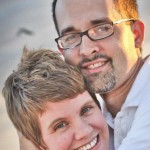 About Shawn and Maile:
Shawn Smucker is the author of How to Use a Runaway Truck Ramp and Building a Life Out of Words. He lives in Lancaster County, PA with his wife Maile and their four children. You can find him on Twitter and Facebook, and he blogs at shawnsmucker.com and Maile blogs at mailesmucker.blogspot.com