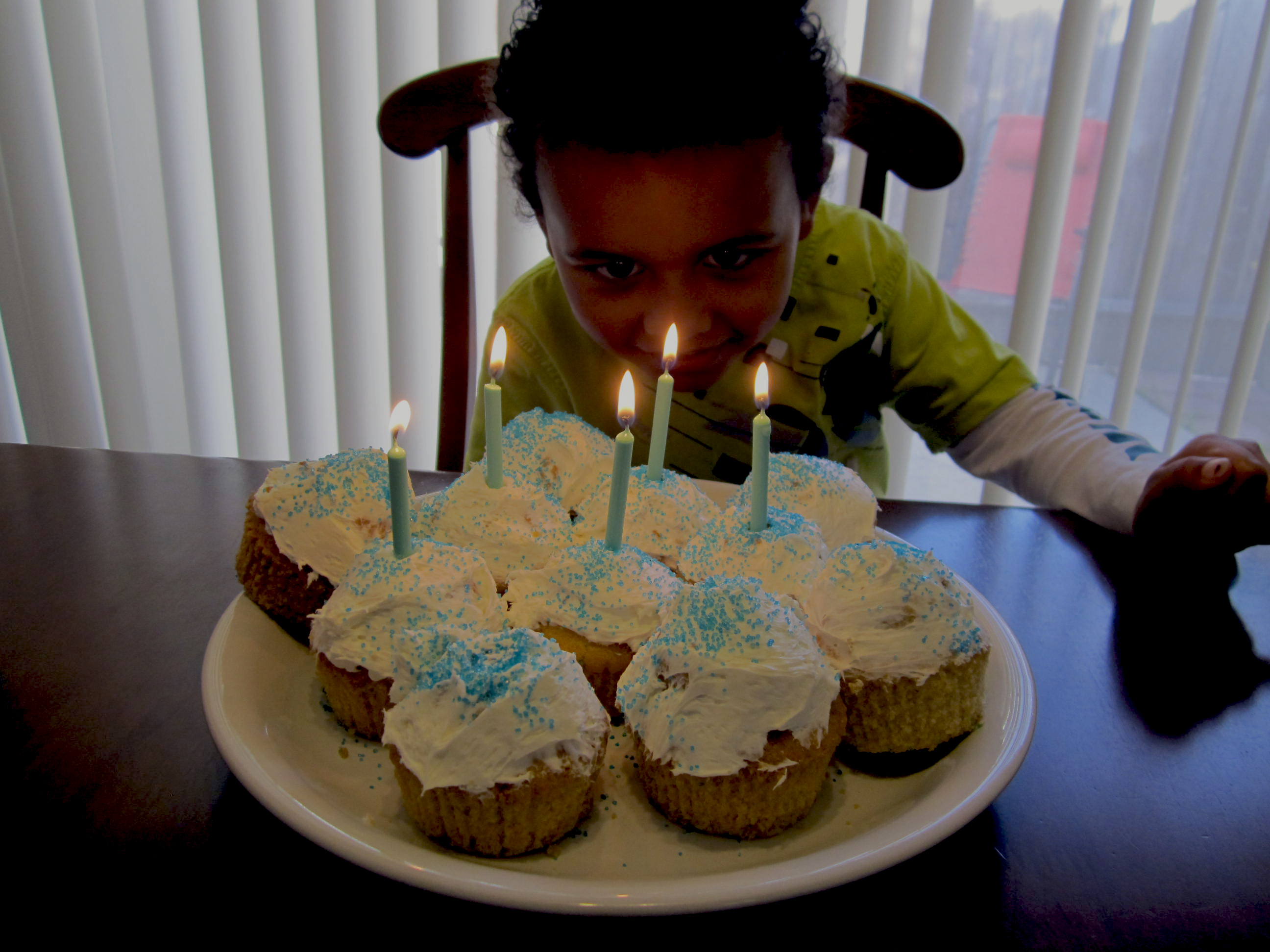 Happy 5th Birthday, Little Guy!
I couldn't help but think today how fast your first five years came and went.  It seems like only yesterday I carried you on my shoulder in walks through our old neighborhood with a cat named Blackie following us.
I've decided to write this letter to let you know what you were like at age four.   I believe this knowledge will be valuable to you as you begin to grow older and develop a self-identity.  As Parker J. Palmer says in his book Let Your Life Speak about his granddaughter:
"She did not show up as raw material to be shaped into whatever image the world might want her to take.  She arrived with her  own gifted form, with the image of her own sacred soul.  Biblical faith calls it the image of God in which we are all created.  Thomas Merton calls it true self."
I believe you too did not show up as raw material to be conformed by others.  I've taken the time to record my observations of you at age four to give you an understanding of your own gifted form, and how you arrived in your earliest years with your own unique sacred soul.
My hope is you will read this letter sometime in the future and it will help you to accept yourself and feel comfortable in your own skin, and not be afraid of share your unique self with others in this world.
I believe the true definition of success is learning to be yourself, to develop your own gifts and talents, and to learn to express your unique perspective on life with others.   And so here's a little snapshot of what you were like at age four.
A few things you did this past year that I'm going to remember:
Memorizing all 50 states and their capitals and putting together a puzzle of the United States.
Learning to read fluently at the beginning of age four, including big words.
Speaking Spanish to fast food workers in the drive through and waiters in Spanish.
You performed in your first school concert, singing "Go Tell it on the Mountain."
You and me running the neighborhood together on Halloween, you wearing your Super Grover costume and me a Clippers' jersey.
Starting pre-school with Ms. Tanya and Ms. Krista and learning to sit still, a significant achievement for a  sensory-seeking boy.
Your favorite things at this moment:
• Your favorite movie is the Veggie Tales Jonah movie
• Eating ice cream and playing at McDonald's Play Place.
• Putting together your Map of the United States.
• Reading books with The Pokey Little Puppy as your favorite.
• Favorite restaurant is still "Dennys" after all of these years!
• Computer time on your labtop and Starfall and Sesame Street.
• Going to the Toy Store and the Pet Store…in Torrance and now Redondo Beach
• Jumping on your trampoline and reading books on your trampoline.
• Scooter's Jungle, AdventurePlex, Kid Concepts and McDonald's Play Place
• Rudolph, Super Grover, Froghorn Leghorn and a collection of stuffed animals.
• TV shows: Sesame Street, Daniel Tiger, CaiYou
I'm going to miss that 4 year-old forever, but can't wait to make some memories with this amazing 5-year-old that's getting bigger every day.
Love,
Daddy