I've been reading a book Rite of Passage Parenting by Walker Moore that got me thinking about what I would like to teach my son in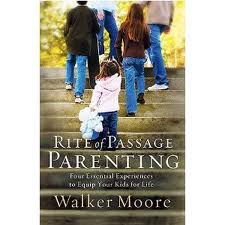 2013.
The book's subtitle is, "Four Essential Experiences to Equip Your Kids for Life." What parent doesn't want this? But have you as a parent thought of a plan for developing the skills your child needs for life?
My son just turned five. Is it too early to begin the process of helping him become a capable, responsible, self-reliant adult? That's what I was asking myself as I read Moore's book, and I quickly realized it's never too early.
I'll be honest, my main focus as a parent has been developing a bond with my son through adventures—hence, this name for this website– and Moore's book showed me how much greater my role as parent can be with my son.
Moore argues that what's missing in kids' lives today is clear rite of passage events marking a separation from childhood to adulthood, and he discusses how parents can incrementally teach children skills through meaningful tasks to build responsibility into a child's life to prepare for the transition from childhood to adulthood.
That's more of a summary than I wanted to give on Moore's book, but I wanted to give Moore (a former youth pastor) credit for changing my perspective on parenting, and to provide a little background context for what motivated to make a list of ten things I want to teach my son in 2013.
Here's my list in no particular order (a few of which I've already begun doing) and I share this list to encourage other parents to consider thinking about what you want to teach you son or daughter in 2013, no matter what their age.
1)      Recycling bottles and cans at the Recycling Center: I want to teach my son the concept and value of money and how hard work relates to earning money.  Does my son know the difference between the cost of dinner at Denny's and an Ipod?  That's one of my purposes for introducing him to money via recycling.
2)      Teaching charity by giving away old toys and books: Instead of me taking my son's old toys and books to Goodwill, I want to let him pack up his old toys and boos, decide where to give them away (Goodwill or a doctor's office) and use this to teach him how to give while marking his growth from a Lil to Big Kid.
3)       Learning to read the Bible and know God:   The is the most important thing I want to pass on to my son: to know and connect with God.   I want to spend time reading the Bible together and talking about these stories.  Afraid I might procrastinate on this, I bought him a Beginner's Bible for his upcoming birthday.
4)      Learning to take good photos: All you bloggers know how important images are to your website. In our technological society, the ability to take pictures has become a legitimate skill especially with the prominence of the internet, and my goal is to move my son from a consumer to a producer of images.
5)      Increasing his social skills: While I regularly take my son to the park, McDonalds and indoor playgrounds to develop his social skills, I know I can find more ways to increase his social skills.  This is especially relevant for my son because his supersonic activity level makes it difficult to slow down and play with others.
6)      Helping him to learn to speak Spanish: My son loves speaking Spanish ('hola,' 'como esta?', 'muy bein,' 'gracias,' 'de nada.') at restaurants and fast-food drive-throughs (he's developed quite a reputation at McDonald's and Del Taco), and I've ordered Little Pim's video series to feed his appetite for learning Spanish.
7)      Learning to be part of a team: I skipped on signing up my son for playing soccer this year because I didn't think he was ready, but I think he's now ready to be part of a team: T-Ball!  A conversation with a soccer mom at McDonald's Play Land convinced me my son's readiness is on par with most other kids.
8)      Encouraging meaningful contributions to our family:  This covers everything from keeping his room clean, putting away his toys, helping take out the garbage, etc.  All necessary life skills, right?  I confess it's sometimes easier to quickly clean up after him than teach him to clean up his own mess.
9)      Encouraging my son to be respectful: This is one I've been working on (treat others as he wants to be treated) in 2012 because of his habit of touching or pushing other kids.  He's improving, but still a work-in-progress.  Yesterday, he hit a neighbor friend on the head several times during a sword fight.
10)   Teaching my son to obey his mom and dad: My son is has a strong sense of independence (even more than regular for a five-year old)and it sometimes takes telling him something a few times to get him to do it.  Holding him accountable for every action, I've been learning, is important for teaching him to obey his teachers, future bosses, God, etc.
Even though Moore's intended audiece is parents of junior or high school age kids, I believe it's never to early to identify the skills kids need for adulthood and begin to design activities to provide kids the opportunity to develop these skills through significant tasks.
Moore says the alternative is to make your kid happy through buying them the newest X-Box, CDs, DVDs, MP3s, Ipods, cell phones, and TVs for their bedrooms—and then be surprised when they stop communicating and don't ever want to learn their bedroom.
I hope to look back at the end of 2013 and see my son has developed the skills on my list.  If you've been inspired to make a list, I suggest you customize your list to son or daughter's age and interests.
Let me know if this post inspired you to think differently on parenting and maybe even led you to create your own list of things you want to teach your son.