---
D will surprise me at times. During his Christmas break from pre-school, we decided to play a matching game called Zingo that he received as a present from my brother's family.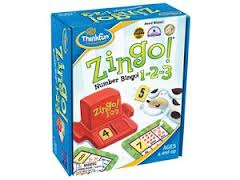 Board games can be a challenge for him from turn-taking to wanting to fumble the game pieces with his hands; these sensory-seeking habits can make playing games with him a frustrating challenge.
A great amount of patience is required, and my attitude is this is just who he is, and where he's at, in his development right now. The Wife is a lot more easily frustrated and less understanding of his sensory issues.
His sensory tendencies is a reality that can be frustrating, baffling, funny at times, and test the level of my patience as D can be so preoccupied with fumbling the game pieces that it's difficult to start the game.
The Wife fears, as he grows older, his sensory-seeking tendencies will be a problem. My perspective is, he will be five in a week, and as it says in the Bible, "Each day has enough trouble of its own. Therefore, do not worry about tomorrow."
I believe D will be able to regulate his body better as he progresses in his development. I was surprised this morning when I found him playing Zingo by himself while I went to the bathroom before we started to play.
D had taken the game off the top shelf of the bookcase which involved stepping on the bottom shelf. He removed the game board and pieces, slid the number holder back and forth and matched numbers from the yellow tiles to his card.
Most importantly, he avoided the temptation to fumble the game pieces, and when I came back into the living room, he yelled, "Zingo!'