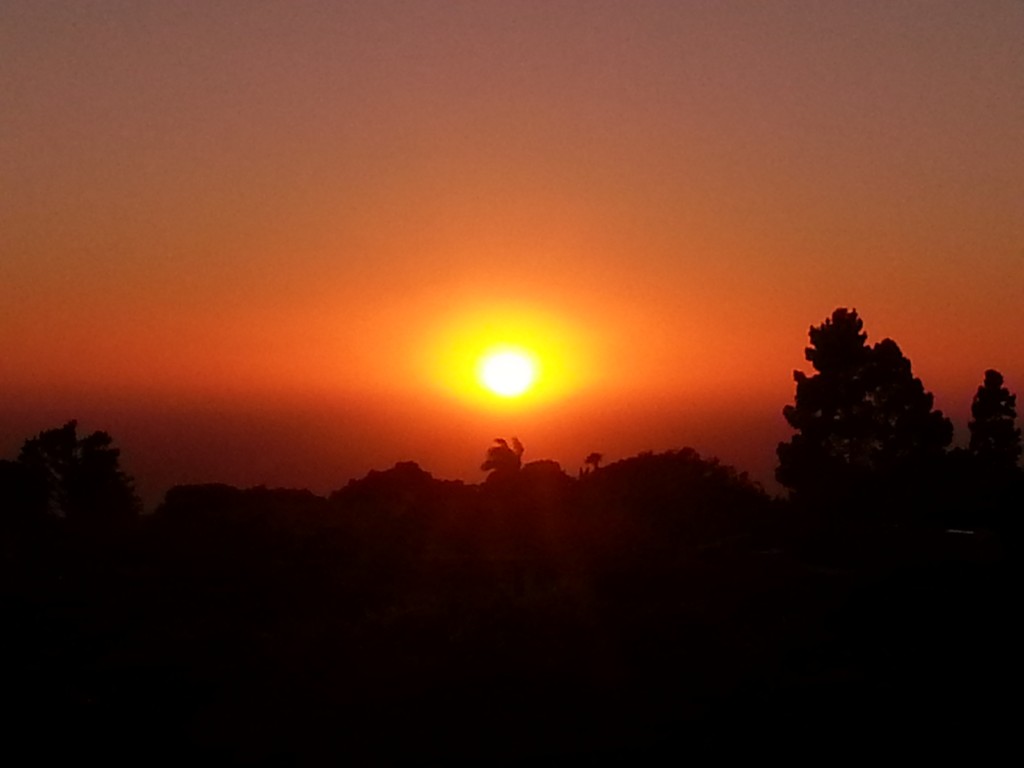 It's a Friday, and we're driving to Parents Night Out at our church. I need to turn left on Sepulveda Boulevard and right on Maple Street, less than a quarter of a mile away, which I've done hundreds of times.
Right. Left. No emotion.
But as I look my left shoulder, I see a line of cars in the next lane, and when I try to merge into the right-hand turn lane, a powder blue Camry starts to converge into my lane, and I jerk the steering wheel to avoid an accident.
"You are going to get us killed," L says in a not so friendly tone. "We are all going to die on the way to church."
She launches into an emotional rant. Her angry tone startles D, and he starts crying. We unravel fast. I hate her tone, but after 15 years of marriage, I am accustomed to the sudden swell in volume in her voice.
All the good feelings I have about life seep out as her rant continues, and it never ceases to amaze me how one seemingly small event–to me–can trigger a tsunami of emotion in her.
What I dislike the most is how these rants reveal her dark feelings, those subconscious thoughts and feelings, suddenly jarred loose which I would prefer not to know of their existence.
Shunryo Suzuki in Zen Mind writes:
"When you do something, if you fix your mind on the activity with some confidence, the quality of your state of mind is the activity itself. When you are concentrated on the quality of your being, you are prepared for the activity."
I am not a Buddhist, but a day later Suzuki's thoughts bring to mind our conflict while driving to Parents Night Out, and how neither L's nor my mind were fixed on the activity of enjoying spending time together on a date.
We were not mentally prepared for the evening, so I repeated a mantra I've been saying to myself as of late: seek peace and pursue it, seek peace and pursue it, seek peace and pursue it.
It's a bible verse L texted me when I wanted to take D outside her five-mile radius for our father-son adventures, and it was her way of saying to accept her answer without questioning it.
It wasn't the response I wanted to hear, but the more I thought about what the verse said, it helped me to deal with my frustration and to accept her response without questioning it.
The verse means I set my mind on pursuing peace and, no matter what the circumstances, I make peace my main objective through cultivating an attitude focused on preserving peace.
If I know a subject will not create harmony with L, I do not bring it up. I wait for a better time. Also, I get in the right-hand turn lane asap, knowing this will greatly reduce L's anxiety.
This is how I can become a better husband, learning to dwell with my wife with greater understanding of who she is, what sets her off, and what actions promote peace between us.
So L and I waited for a table at the restaurant, the silence between us remaining from the car ride, a logical consequence from both of us not having fixed our minds on the date.
Then a boy skipped by us, and it broke the silence. I couldn't resist saying, "That's a sensory kid." The way the boy moved reminded me of D, and I imagine they shared other similarities.
L agreed, and we both laid aside any resentment, thanks to each of us seeking peace and pursuing it, and we enjoyed a few hours of uninterrupted talking and listening to each other.
We took time for ourselves (we missed the last Parents Night Out) and to take care of our relationship. And since becoming parents we've mostly neglected to do that until recently.
The most fun part of the evening was taking our own "selfie" portraits at the end of dinner. We took several pictures of each other where neither of us were happy with the results.
So we kept taking more and laughed the whole time. And we had not laughed like that in a long time. We were acting like two giddy teenagers.
Seek peace and pursue it. It is amazing how much wisdom can be packed into five words, and how helpful they were in guiding L and me to seeking harmony rather than more conflict.
I know we will have more arguments–L and I have different temperaments–so we need to follow the wisdom in this verse and to continuously seek peace and pursue it in our marriage.