It's a week before Christmas, and D and I are at ToysRus. Holiday shoppers are bustling through the crowded aisles, searching for gifts or standing in long lines, caught in the rush of Christmas shopping.
But not D and me.
The Wife has taken care of the Christmas shopping online. My role was to be a consultant for D's gifts, offering suggestions and providing feedback on her ideas, so this visit to ToysRus is strictly for pleasure.
D is wearing a black cowboy hat and camouflage pants, and near the front entrance, he says hello to Bert and Ernie. His Sesame Street buddies are sitting in a red fire truck, and D slides in the front seat next to Ernie.
Just for a short visit.
He gives Ernie a quick hug before saying good-bye. He finds a spider's web a few aisles away with a spider, fly, cricket, dragon fly and beetle, and as my spider tries to eat his insects, we string together a series of dialogue.
"Don't eat me," D's fly says.
"I am going to eat you," my spider says.
"Nooooohhh," he yells.
I follow D as he discovers Sesame Street ornaments the size of his hand, and he decides to bring Elmo, Cookie Monster, Big Bird and Super Grover with us on our mini-adventure.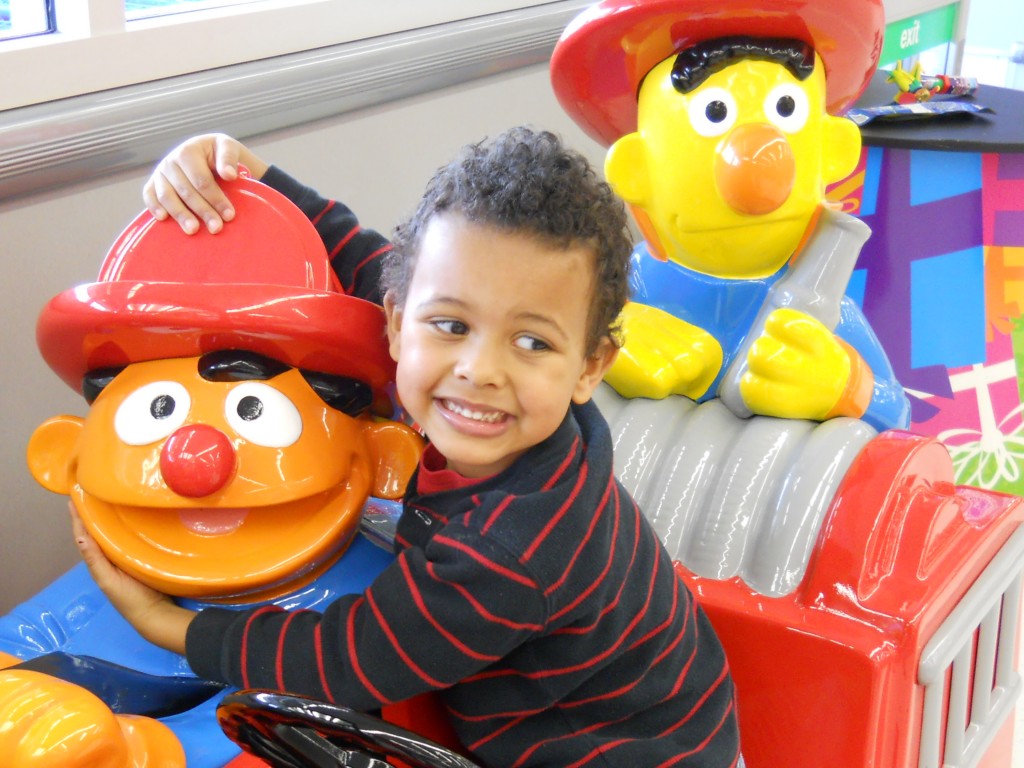 No trains are out at the Chuggington train station, so D doesn't stop to play.
He goes to the bike section at the back of the store, puts the Sesame Street characters into the trunk of a red tricycle, hops on and pedals away riding up and down the aisles.
He weaves around customers before looping back to the bike section and switching to a bike with training wheels. He flicks the streamers and rings the bell, and I recall him first learning to ride a bike this summer.
I remember how tentative he was while riding his bike on the sidewalk around our neighborhood with the Wife and I walking on both sides of him offering encouragement.
Now he is riding with confidence and bravado, maneuvering deftly around customers and toy displays and making crisp turns at the end of aisles:  not the same boy from this summer.
It is rare those moments when you see your child growing up in front of your eyes, but this is joy ride through aisles of holiday shoppers at the toy store is one of those moments.
***
When I first learned autism is a communication disorder that can make social relationships difficult, I decided to be more of a buddy than a parent to D because this would help him to develop in his social ability.
And I have stuck to this because in my heart it is what D needs. I believe he needs to have a model of a friendship, and he enjoys me in this role since relationships can be difficult for him.