It's a few days before Christmas, and D and I take a trip to Toysrus. Holiday shoppers bustle through the crowded aisles, looking for gifts or standing in long lines, caught in the hectic rush of last-minute Christmas shopping.
But not D and me.
L took care of the Christmas shopping online. My role was to be a consultant, offering my suggestions for D's gifts and providing feedback on her ideas, so this visit is strictly for pleasure.
D is wearing a black cowboy hat and camouflage pants. He says hello to Bert and Ernie inside the front door. His Sesame Street buddies are sitting in a red fire truck, and D slides in the front seat next to his pal Ernie.
"Hi, Ernie."
He gives Ernie a hug, waves good-bye, and finds a FAO spider's web a few aisles away with a spider, fly, cricket–plus a few other insects–and my spider attacks his fly, and D and I string together a series of dialogue.
"I am going to eat you."
"Nooooohhh….don't eat me."
"You ARE going to be my dinner."
"Noooohhhh…I don't want to be eaten. Please don't eat me."
And so it goes. Then I follow D as he discovers Sesame Street ornaments the size of his hand, and he decides to bring Elmo, Cookie Monster, Big Bird, Oscar the Grouch, and Grover with us.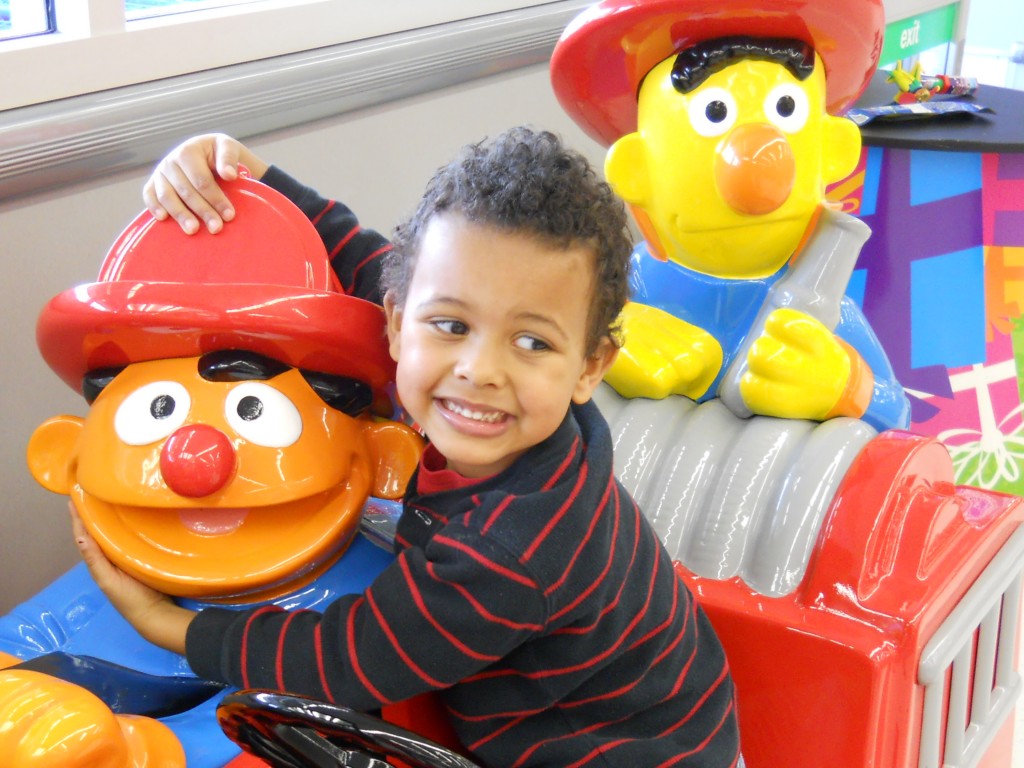 No trains are out at the Chuggington train station, so goes to the bike section at the back of the store, places the Sesame Street guys in the basket of a red tricycle, hops on and pedals away, riding up and down the aisles.
He loops back to the bike section, switches to a bike with training wheels, flicks the streamers and rings the bell, and as he takes off I recall when he learned to ride a bike this summer.
He was a tentative rider in those first few rides around our neighborhood, needing to be coaxed to ride, with L and I offering him encouragement as he slowly pedaled with no real gusto.
But now he is riding with such skill and bravado, maneuvering around customers and toy displays, making sharp turns at the end of aisles; he is not the same boy from this summer.
It is rare these moments–when you can see your child grow up right before your very eyes–and this is one of those moments as I observe D transform from a timid to a confident bike rider.
I shared with L about our excursion. She said she was surprised we didn't get kicked out of the store, but this wasn't about right or wrong—or breaking store etiquette or rules
I wanted to let D stretch his range of human emotion, to follow his inclination to pursue joy and to allow him to creatively express himself.
I didn't want to douse his spirit by telling him riding a bike in the store is generally not allowed, and instead I chose to let him enjoy this holiday joy ride through the aisles of  Toysrus.