It's a week before Christmas, and D and I are at ToysRus. Holiday shoppers are bustling through the crowded aisles, looking for gifts or standing in long lines, caught in the hectic rush of Christmas shopping.
But not D and me.
L took care of the Christmas shopping online. My role was to be a consultant for D's gifts, offering my suggestions and providing feedback on her ideas, so this visit to ToysRus is strictly for pleasure's sake.
D is wearing a black cowboy hat and camouflage pants, and he says hello to Bert and Ernie at the front entrance. His Sesame Street buddies are sitting in a red fire truck, and D slides in the front seat next to his pal Ernie.
"Hi, Ernie and Bert."
He gives Ernie a quick hug, says good-bye, and finds a spider's web a few aisles away with a spider, fly, cricket–and a few other insects–and my spider moves closer to eat his fly, and D and I string together a series of dialogue.
"I am going to eat you."
"Nooooohhh….don't eat me."
"You are going to be my dinner."
"Noooohhhh…I don't want to be eaten. Please don't eat me."
And so it goes. Then I follow D as he discovers Sesame Street ornaments the size of his hand, and he decides to bring Elmo, Cookie Monster, Big Bird, and Super Grover with us.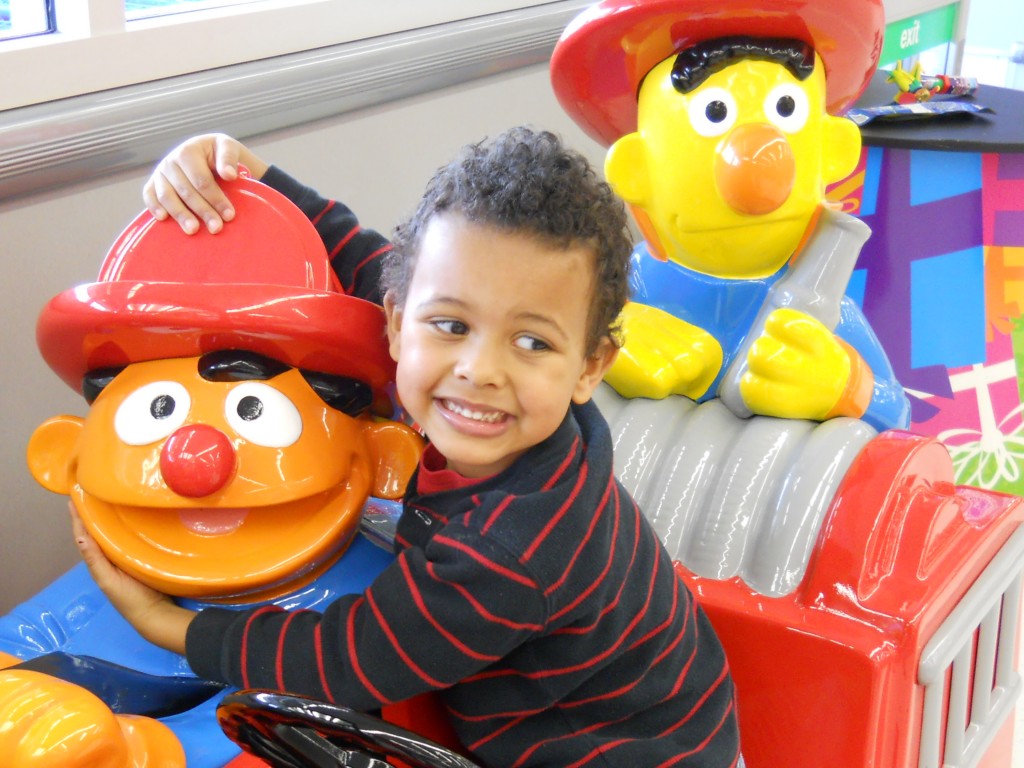 No trains are out at the Chuggington train station, so he doesn't stop to play with the trains.
He makes a beeline to the bike section at the back of the store, places the Sesame Street characters in the basket of a red tricycle, hops on and pedals away, riding up and down the aisles.
He loops back to the bike section and switches to a bike with training wheels. He flicks the streamers and rings the bell, and I recall when he first learned to ride a bike this past summer.
He was a tentative rider in those first few rides in our neighborhood–he had to be coaxed to ride–with L and I walking on both sides of the sidewalk and offering him our encouragement.
But now he is riding with such skill and bravado, maneuvering around customers and toy displays, making sharp turns at the end of aisles. Not the same boy from this summer.
It is rare these moments–when you can see your child grow up right before your eyes–and this is one of those moments as I observe D transforming  from a timid to a skillful rider.
***
Earlier in the day, we went to the Angel Breakfast at our church, and D listened as Angel Gabriel introduced him to Joseph and Mary. The angel said to Mary, "The Holy Spirit will come upon you, and the power of the Most High will overshadow you; therefore the child to be born will be called holy–the Son of God."
He knocked on the door to the Bethlehem Inn, and D stood with a group of kids and their parents as  a man popped his head out and said, "I'm sorry, there's no room at the Inn."
He sat in a circle and shepherds in striped bathrobes told him how angels had appeared to them, telling about the birth of Jesus. He kneeled inside the manger where baby Jesus lay, leaning in for an close up view.
"No touching baby Jesus," a lady said.
This was no baby doll playing baby Jesus. It was a real one month old baby, and D wanted to get a closer look. I moved closer too, knowing his tendency to want to touch everything.
But he became mysteriously calm and transfixed looking at baby Jesus, so tiny and fragile, and I wondered what transcendent thoughts might possibly be circulating throughout his mind.
I could tell he fought the urge to touch baby Jesus, perhaps, but his hands remained by his side, and he kept gazing at the baby laying in a wooden trough wrapped in white linens.
This is my son: a skillful bike rider–albeit still with training wheels–with an adventuresome spirit, willing to think outside the box of normal, a sensory boy capable of transcendent thoughts at the sight of baby Jesus.
***
L would say I should not let D ride a bike through the store. She would use this as justification for how I fail to give D rules when in places he should have parameters for his behavior.
But this is about letting D stretch his range of human emotion, and what is permissible in a toy store. It is about finding joy, adventure and allowing D express himself for who he really is.
It isn't about right and wrong, and that's why I didn't want to douse his spirit with a bucket of cold water, and instead I chose to let him enjoy this blissful joy ride through Toysrus.