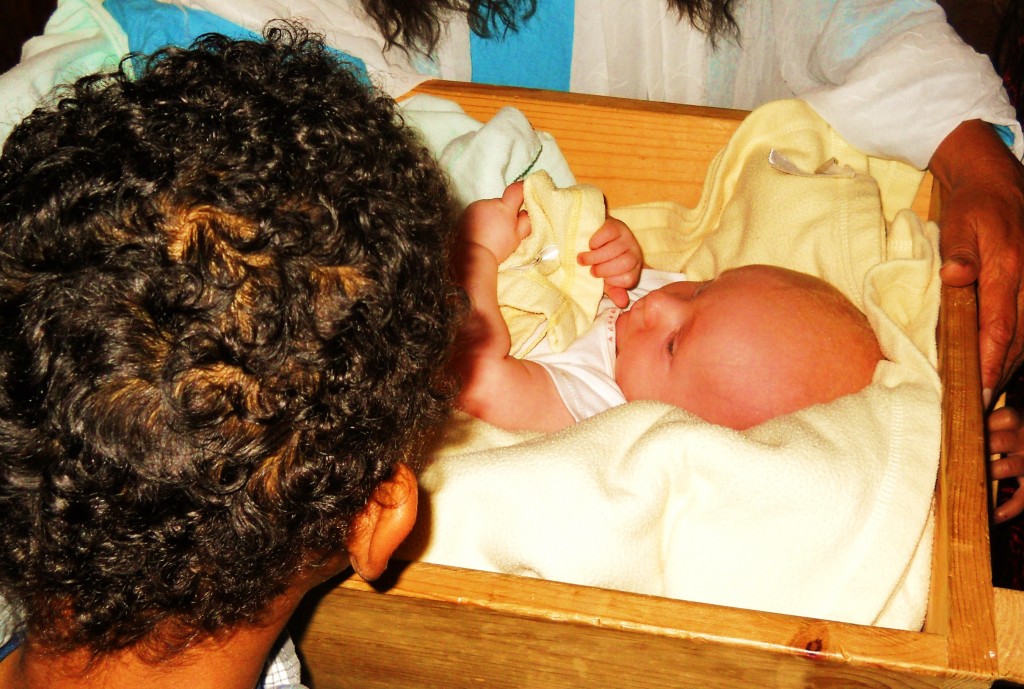 D was inches away from touching baby Jesus. He listened as Angel Gabriel introduced him to Joseph and Mary. He knocked on the door to the Bethlehem Inn, and a man popped his head out and said, "I'm sorry, there's no room at the Inn."
He sat in a circle and shepherds in striped bathrobes told him how angels had appeared to them, telling about the birth of Jesus. He kneeled inside the manger where baby Jesus lay, leaning in for an close up view.
"No touching baby Jesus," a lady said.
This was no baby doll playing baby Jesus. It was a real one month old baby, and D wanted to get a closer look. I moved closer too, knowing his tendency to want to touch everything.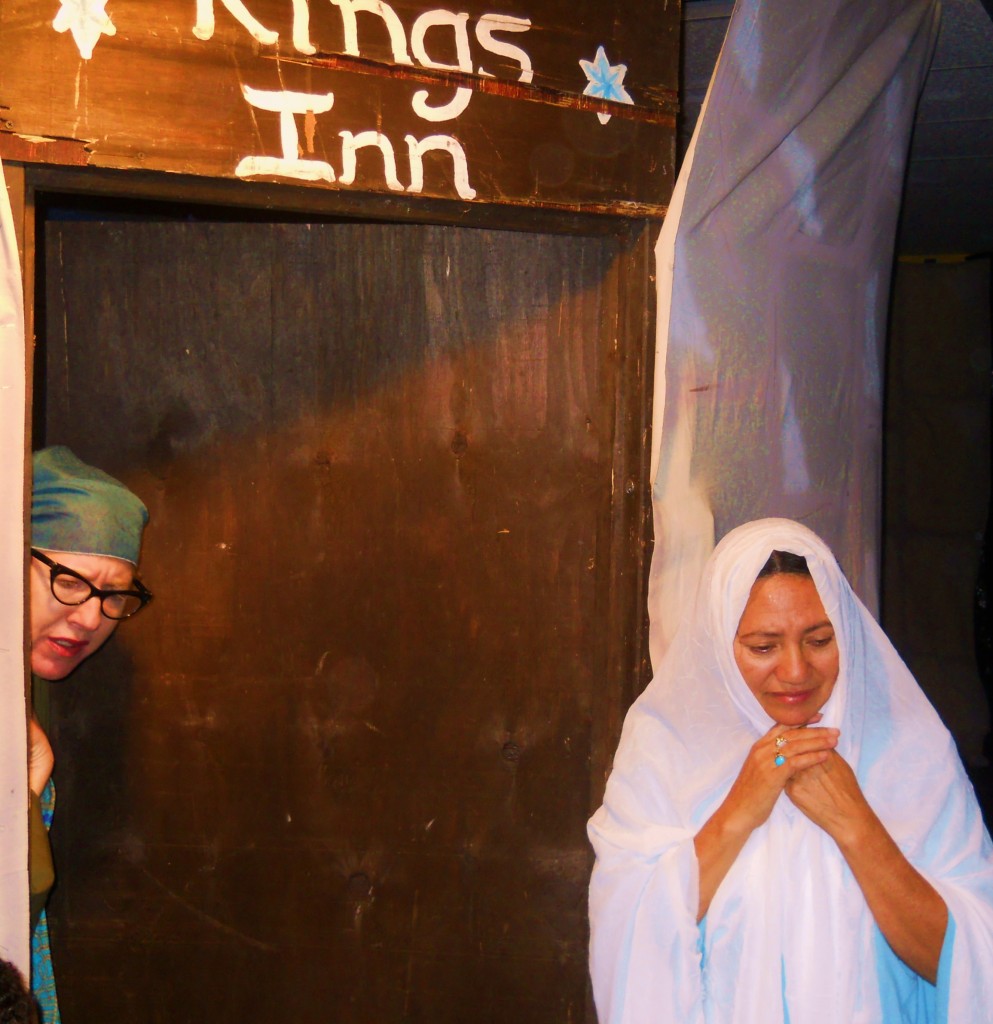 But he became mysteriously calm and transfixed looking at baby Jesus, so tiny and fragile, and I wondered what transcendent thoughts might possibly be circulating throughout his mind.
I could tell he fought the urge to touch baby Jesus, perhaps, but his hands remained by his side, and he kept gazing at the baby laying in a wooden trough wrapped in white linens.
He's been watching Rudolph the Red Nosed Reindeer and Frosty the Snowman four or five times. Or more. He's memorized entire songs and chunks of dialogue. He took a black hat with us on a trip to the mountains.
D and I bought the hat at Target, and he picked up sticks and two black rocks that passed for coal, and he wanted to build a talking Snowman.
But here was baby Jesus in the flesh. You could see how badly he wanted to touch him. And to stay and linger to get a longer look at baby Jesus.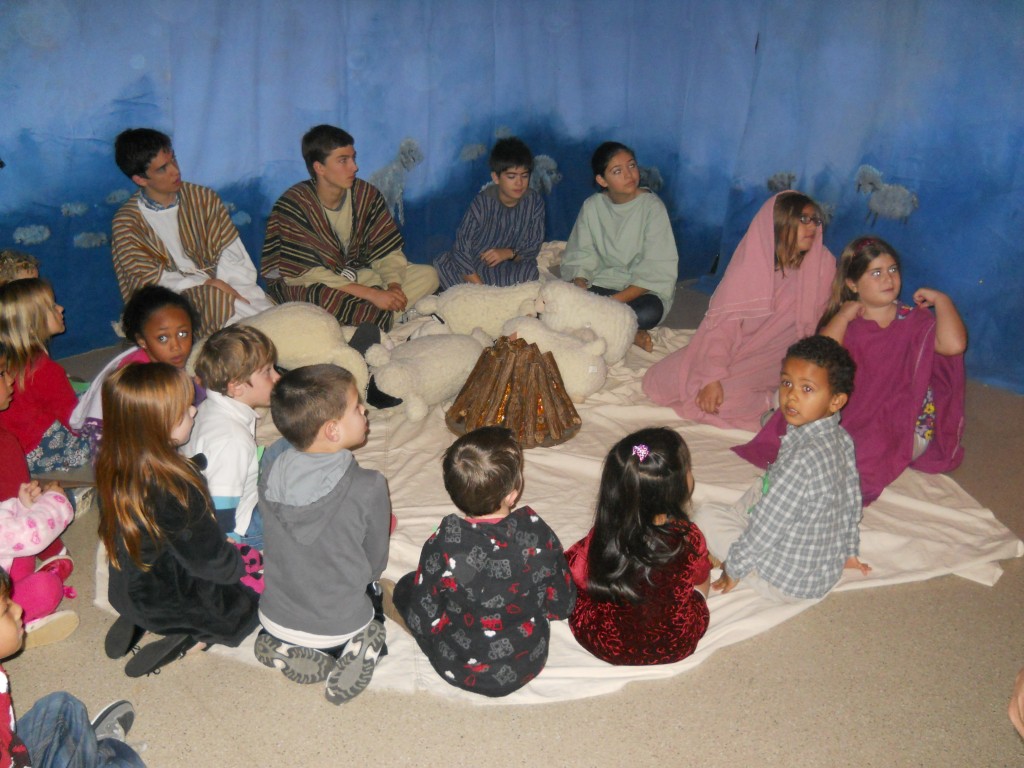 But his group moved on to breakfast: French toast sticks and yogurt (none of which he ate being gluten and dairy-free). This was the Journey to Bethlehem at our church, and D loved seeing the historical Christmas story with Mary and Joseph, angels and shepherds, and baby Jesus.
I thought he can enjoy Rudolph, Frosty, Yukon Cornelius, Hermey, King Moonraiser and the island of misfit toys, the Abominable Snow Monster, Santa Clause and Mrs. Clause and their toy-making elves on the North Pole, Frosty the Snowman and Professor Hinkle and his rabbit.
He can sing about Rudolph and his miraculous saving of Christmas. And I don't mind if he believes an old silk hat can make a snowman come to life. He will grow out of these stories too soon.
But I'm glad he heard the real story of Christmas, a mother and her divine baby in a manger bringing God's love closer to mankind while his earthly dad watched over mother and son.
***
And the angel answered her, "The Holy Spirit will come upon you, and the power of the Most High will overshadow you; therefore the child to be born will be called holy–the Son of God. Luke 1:35