---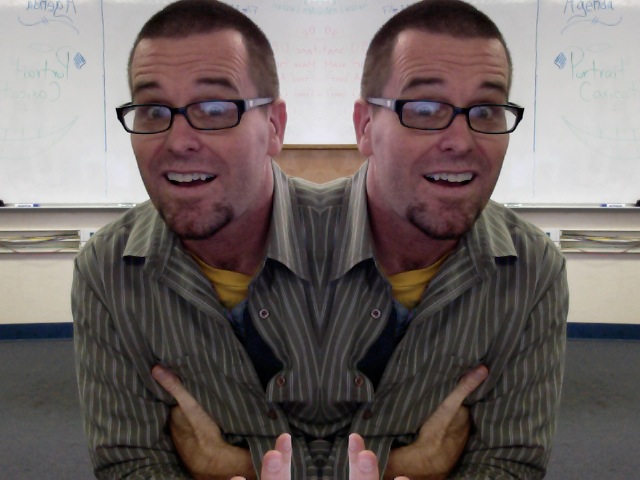 Okay, so. The Wife tells me I should write more about being a Christian Dad, and not just D and I going on adventures, and it's true, I have avoided writing about certain topics.
I started a blog to document my relationship with D, to capture what I'm learning about D and what I am learning as a dad, and my struggle to find the right tag line suggests I may be having an identity crisis as a dad.
My first tag line was "Adventures of a Father and Son on the Autism Spectrum." This was a nod to special needs parents being my primary audience, but I switched it to "Building a Relationship Through Adventure" because my emphasis has been on our relationship more than autism.
My latest tag line is, "Leave the house, bring a camera, don't go too far away." I like this one the best because it's honest and truthful, representing my struggle with the Wife over her five-mile radius for our adventures.
The truth is, I think I am having an internal struggle over how to perceive D's self-stimulatory habits like flicking game pieces, sand, coins, pencils, and any object he can for fumble or flip.
Really, I am struggling with how to perceive D after his autism diagnosis, and how he is more fascinated by spinning ceiling fans at an ice-cream shop than playing with toys or balls.
It doesn't really bother me–when he flicks game pieces rather than using them functionally–but it hard to play the game or to interact with him when engages in a self-stimulatory behavior.
D has stopped repeating the last word said to him, but he is prone to speak in long monologues instead of back and forth conversation. This can making talking with him difficult. Or different.
I am tired of observing his every behavior through an autism lens. I am not a psychologist and want to connect with D, not analyze his behavior. So I have concluded, plain and simple, that I am D's dad.
My preference is still to go on adventures to a park, the Pet Store store, or some place within the Wife's five-mile radius. This is how we best relate–or how I best relate with D–at this point in time.
We're going to an Angel Breakfast at our church this Saturday, and as far as writing about being a Christian Dad, I've begun teaching my son the Golden Rule: Treat others the way you want to be treated (Matthew 7:12).
I picked this as a starting point in learning about God because D has a habit of pushing down little kids. He isn't a bully or mean; he just loses control of his impulses when he's overstimulated, and he gets overly excited when he sees little kids.
This habit has given me frequent opportunities to teach the Golden Rule. Whenever D sees a toddler at the park, all I need to say is, "What have I been teaching you?" And he responds, "Treat others the way you want to be treated."
I am also considering have a Quiet Time with D on the weekends where we eat breakfast and read a story or a few verses in the Bible and discuss what the verses teach about God and how they relate to his life.