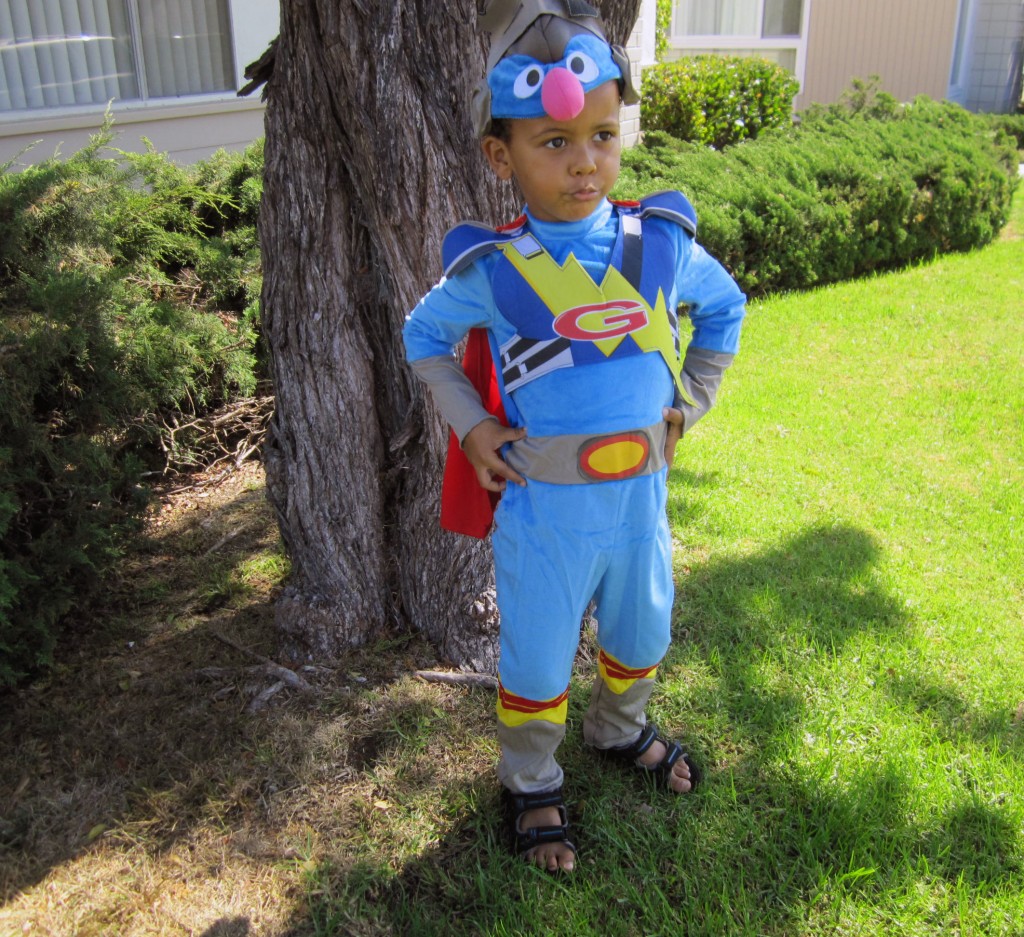 D was a blur of blue running through the neighborhood in the dark of night under the street lights on Halloween night in his Super Grover costume.
Now two months shy of being five, time and development had reshaped his view on Halloween. He was no longer the timid trick-or-treater he was as a three and four-year-old.
His new joy was running from house to house. I had forgotten how it feels to run through the neighborhood on Halloween night, but it was a joy joining him stride for stride.
The Wife had pinned a picture of D's costume on the kitchen wall in June, and in anticipation of Halloween, he had often jumped up and down with excitement in front of the picture.
Really, stimming.
So, yeah, he was more than excited to go trick-or-treating, and he did not just wear his costume. He became his character and assumed their identity, flying through the sky as Super Grover with his cape trailing behind him.
We trick-or-treated as a team. D rang the door bell and said "trick or treat." I held out his candy bag, two pieces of orange construction paper stapled together, and reminded him to say, "thank you."
D performed his part of the trick-or-treating script, making good eye contact, enunciating clearly and projecting his voice; he even added pitch and inflection to his voice.
He still had an occasional bout of bashfulness, but he was like a butterfly emerging from its cocoon, with a new confidence and boldness replacing his former social timidity.
His candy bag, a pre-school art project, looked doomed to rip. This was one reason I decided to trick-or-treat as a team; the other was that I was his support at point of social contact.
Yet, my reasons for trick-or-treating beside D were just phony excuses. Really, I just wanted to run with D through the neighborhood on Halloween night as his side kick.
A year or two from now, when he goes trick-or-treating with friends, I will be relegated to supervising from a distance, so I want to enjoy trick-or-treating together as long as possible.
My other role was to explain the "unwritten" rules of trick-or-treating. A lighted porch means candy, lights out no candy. It went more like this: "Hey, D, this house has its lights on!"
And then we ran past super heroes, wicked witches, wizards, pirates, princesses, and the latest animated video and movie characters to get to the next lighted house.
D didn't care about candy since he has texture issues with certain foods and has never eaten candy, so his joy was non-sugar driven and came from the communal aspect of Halloween.
We watched the Charlie Brown Halloween Special when we returned home. D's head bobbed up and down on the sofa as the wife  and I searched his candy bag for our favorites.
Halloween is becoming my favorite holiday thanks to D's infectious attitude. Thanksgiving is an all-you-can-eat buffet, and Christmas is expensive, but Halloween is a night ripe for father-son bonding.