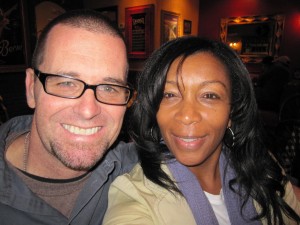 Familiar with the concept of Parents' Night Out (PNO)?  After four and half years of being a parent, I've learned to embrace this idea only recently, but I've quickly come to love it.
Twice a month, our church hosts a PNO event. Parents make a reservation and can drop off their child for three hours (6 – 9 p.m.) for $12. That's right, $4 an hour for time alone with your spouse.
It's a win-win situation for all. The little ones get to enjoy a Bible story, play time, arts and crafts, snack time, a movie, and random fun with peers while parents grab some dinner and connect with their spouse.
Last Friday, we took advantage of PNO again. We both got to take a break from a being a parent, and to look at each other and actually focus on what the other was saying (without the Wife repeatedly telling our son to use his fork.)
As parents of any young children know, one-on-one conversations with are few and far between (practically non-existent) when you're the parents of an active four-year-old boy.
And most conversations resolve around your child. That's the beauty of PNO.  While our son enjoyed a fun evening outside our home, the Wife and I talked about several topics over the next two hours.
The Wife shared with me some of her latest writing and we read some posts from her favorite blogger.
Most of our home conversations are short from our focus being on parenting our son, or we are simply too tired when our son is playing by himself to maximize this time for conversation .
We do not have a babysitter because the Wife doesn't trust anyone to watch our son, and she doesn't consider my mom, who is 80, a viable option, so PNO is our only alternative.
I joked that the every church could save more marriages by hosting Parent's Night Out every week–it's probably more effective than three or four sessions of marital counseling.
This was our third consecutive PNO, and I've noticed each time we come back a little later. Our son was sitting still (a concern we before we went to PNO) and watching a movie.