D and I are going to an indoor playground named Scooter's Jungle, and while packing yogurt and meat sticks into a lunch container, I inspect the date on the yogurt. It says, "09/11/12."
Normally, I am a half-glass full type of person, not prone to reading negative interpretations from dates on a yogurt carton. Yet, I briefly stop to ponder if the date is an ominous warning, foreshadowing potential disaster.
But it's hard to wreck a visit to Scooter's Jungle; basically, it is two large rooms in a warehouse with huge inflatable jumpers: two 21-foot Super Slides, jumpers with zip-lines, basketball hoops, and an obstacle course.
The best part of all, the equipment is adult size and it is safe for children–and adults–to play on, and listen to this novel idea, parents are actually encouraged to have fun with their kids.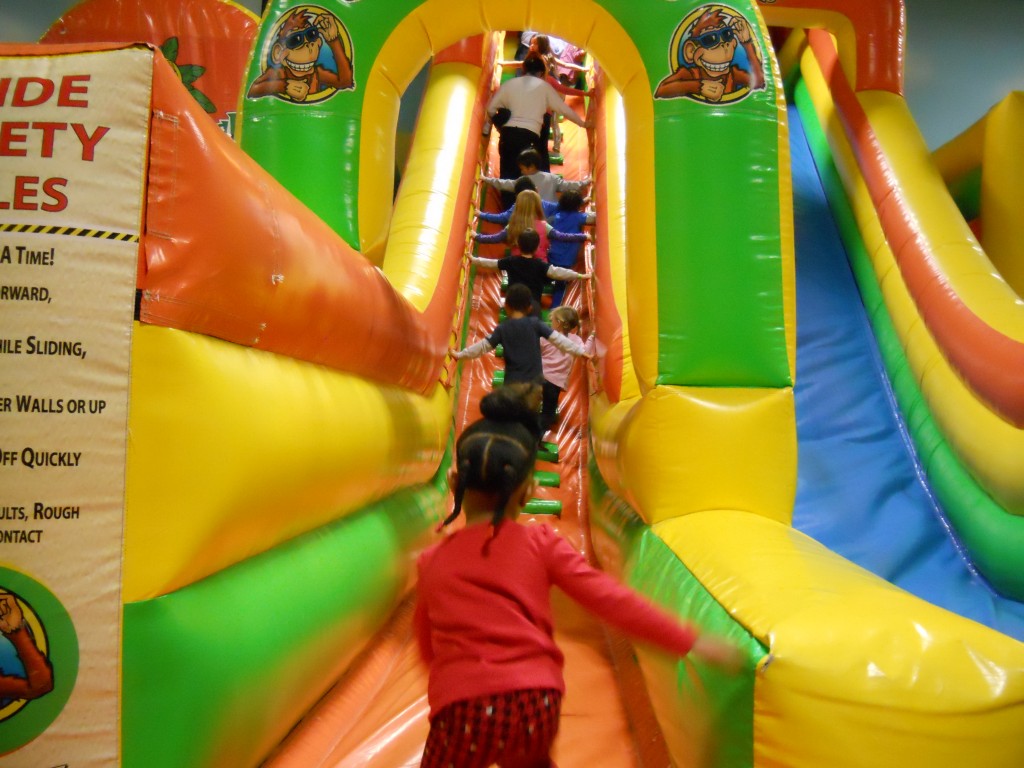 Today is Toddler Time: two hours of free play for kids six and under (and parents willing to join in); it's a free-for-all of kids running, jumping, climbing all over the place without any concern other than to keep moving.
At least that's how it seemed to me.
The Wife feared D would have trouble keeping his hands to himself since he has a habit of pushing kids down when his senses are overstimulated, and she was concerned that I wouldn't know how to deal with D.
However, D and I went down the Super Slide 20 or 30 times in a row, and the continuous movement kept him preoccupied, and while gave a boy a gentle nudge at the top of the Super Slide, that was only to helpstart his descent down the side.
D surprised me in the bathroom when he said, "Dad, I want to play ping pong." But we found out his hand-eye coordination needs time to develop as he took several whiffs before going back to the inflatable jumpers.
He did earn one time-out for pushing a girl inside the play structure, but one time-out in 90 minutes constitutes improvement for D, and he accepted the consequences with no resistance.
For D, Scooter's Jungle represented non-stop movement and camradery with other kids, and we both came to the same conclusion after our first visit: inflatable jumpers are fun!  
My favorite memory was watching a boy struggle to make it up the Super Slide. He was two and began sliding back down the ladder because he couldn't reach the side handles.
I was right behind him and scooped him up. And I loved his determination to make it to the top. It's the same attitude I see in D in dealing with his sensory challenges.
For more info on Scooter's Jungle, go to www.scootersjungle/el_segundo.php.