D and I are sitting on the floor in a Yoga Room, me telling him to move closer to a golden Buddha statue and a stuffed penguin with earmuffs and a red, green, yellow-striped scarf.
I take their picture, and D rushes over to see it on my phone, "That's me, Buddha, and Rico," he says.
We're at an indoor playground with a roped, five-level structure with fast slides and a zip line, but today he is just enjoying being with Buddha, Rico and me in the Yoga Room.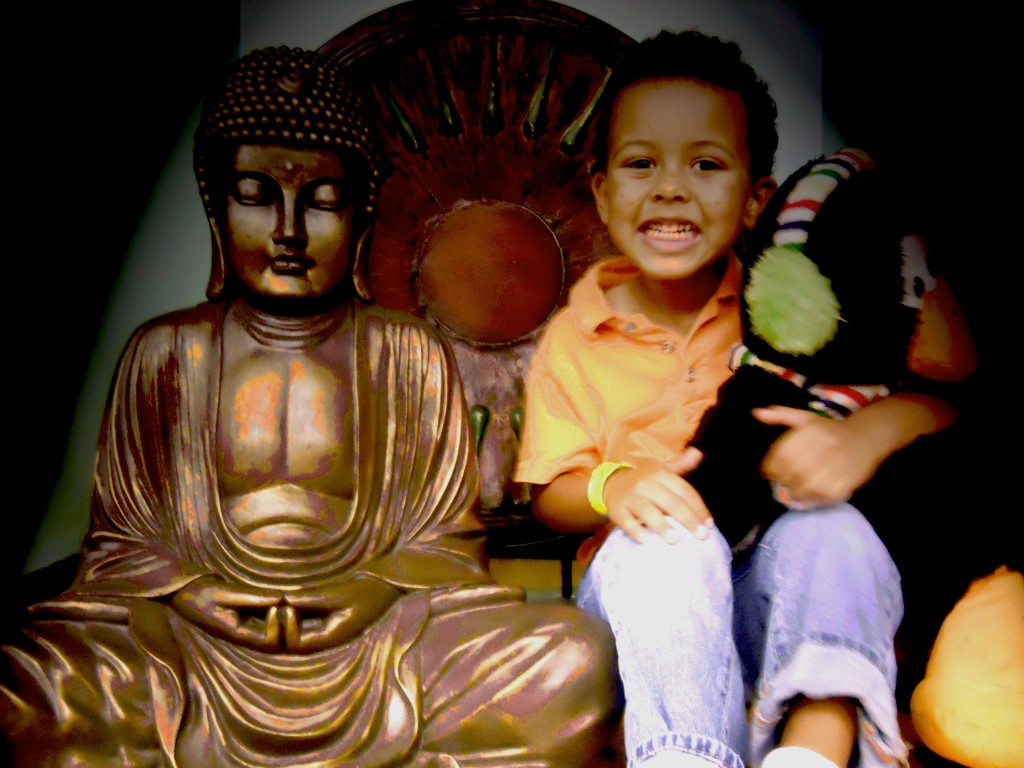 Technically, I don't think we're even supposed to be in here and–after about twenty minutes in the Yoga Room–I start to wonder why D is enjoying playing so much with a golden statue and stuffed penguin.
I know kids use their imagination to play with all sorts of objects. They have a keener imagination. It's just that D has chosen an odd pair to engage his with a huge play structure–teeming with kids–one floor directly below us.
We play hide and seek even though there is one hiding spot behind the curtains, and D starts to fiddle with the strings on Rico's scarf as I think about us doing a "typical" kid activity.
Later, once we have exited the Yoga Room, D and I pass by the front desk, and he stops to flick a Super Hero mannequin's cape, so I ask the age requirement for the Rock Wall.
The age requirement is six, the manager says, but he says D-who is four and a half–can climb if he wants to do it.  "Do you want to climb the Rock Wall?" I ask him. "Yes."
D is oblivious to the physical challenge ahead of reaching his arms and legs to grab small rocks that are spaced apart while securing toe grips on other rocks. It will require strength and coordination beyond his ability.
However, he shows no fear as K, his teenage instructor, secures a harness around his waist, and I fasten on his helmet under the shadow of the imposing 35-foot-high Rock Wall.
I go first to give D an example. Halfway up, my forearms burn and back tightens up, and I struggle to grip rocks and find toe holds, yet I make it to the top, lean back like I am sitting in a chair, and counter intuitively rappel down with my feet against the wall.
D is next, and I think of Parker J. Palmer, one of my favorite authors, in his early forties at the edge of a 110-foot cliff and being told by an Outward Bound instructor to rappel down.
"Do what?" Parker says.
"Just go!" the instructor says.
Failing to lean back, Parker's body slammed hard with "bone-jarring" force into the rock wall after he failed to lean back into empty space, put his feet on the wall and trust a thin rope.
"I don't think you've quite got it," the instructor said.
Parker is peeved.
"Okay, tell me again what I am supposed to do."
"Lean way back and take the next step."
It's a great metaphor, I think, for parenting, trusting what you can't see, as D begins to climb the rock wall, failing to get past the number "1" marker on his first two attempts, and I detect signs of distress in his face.
I realize he is going to need my help in navigating this physical challenge and making his ascent up the face of the Rock Wall, and a little motivation to kick start the climbing experience.
"If you make it to the number '5' on the rock wall," I tell him, recalling my need for support during my first rock climbing experience at age twenty-one. "Then we will go to Denny's."
True, it's a mix of encouragement, motivation, and good, old-fashioned bribery–the standby most parents use in a time of need–and this seems as good time as any for a bribe in the form of encouraging motivation.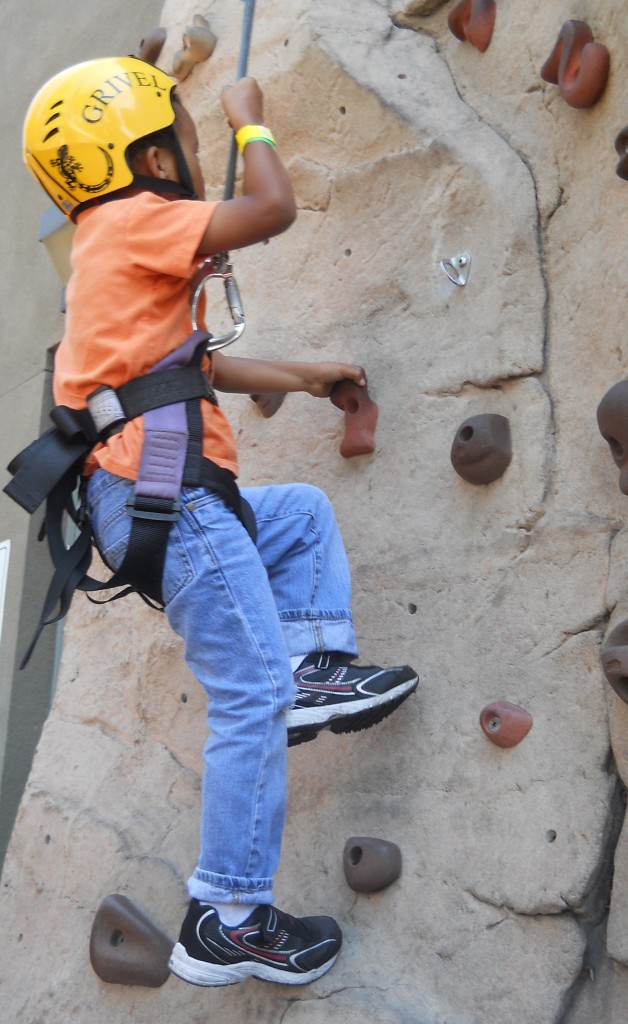 And it works. The positive association of food (really macaroni and cheese) motivates him. He makes a few more attempts, each time showing absolute determination and indelible focus, and he reaches the number "5′ marker.
And I catch a glimpse of his character. He's determined, willing to take risks and face his fears, and not give up at a challenging activity. Yet, I know his main motivation was eating macaroni and cheese at his favorite restaurant.
"Do I get to go to Denny's?" D asked, as soon as his feet touched the ground.
Despite his accomplishment on the rock wall, what I cherished was the one-on-one time we had in the Yoga Room–along with Buddha and Rico–regardless of his stimming and fiddling with the strings on Rico's scarf.