D and I are sitting on the floor in a Yoga Room, me telling him to move closer to a golden Buddha statue and a stuffed penguin with earmuffs and a red, green, yellow-striped scarf.
I take a picture, and D rushes over to see it on my phone: "That's me, Buddha, and Rico," he says.
We're at an indoor playground called Adventure Plex, and D loves climbing inside the five-level play structure with fast slides and a zip line, but today he is enjoying just being with Buddha, Rico and me in the Yoga Room.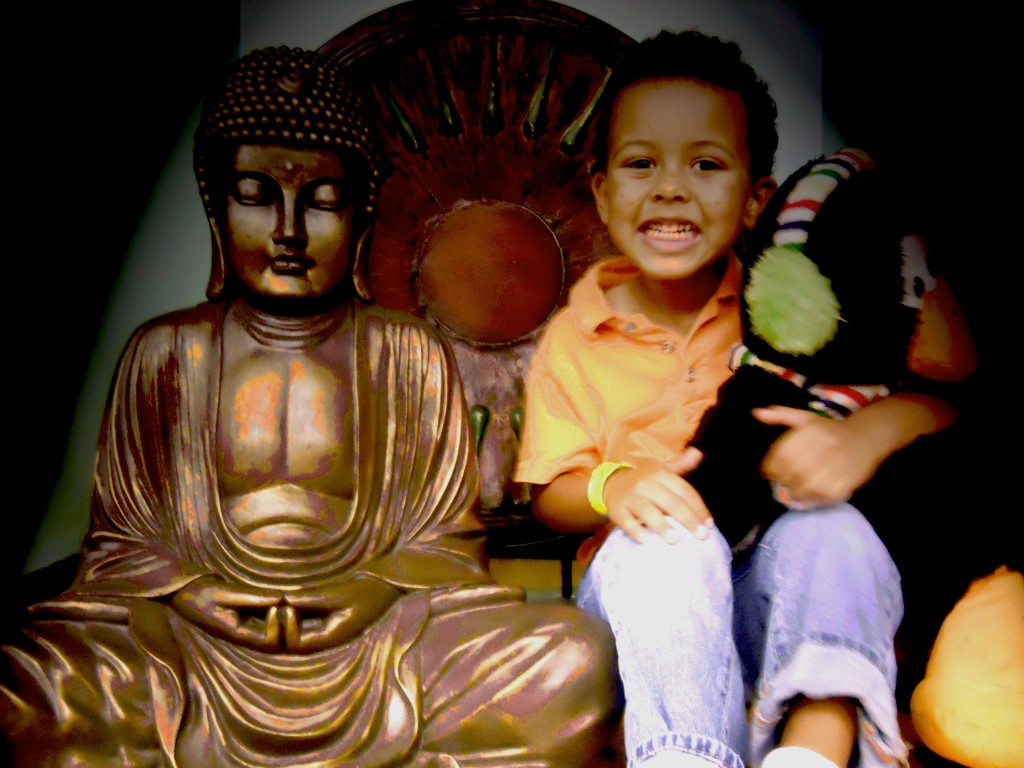 Technically, I don't think we're even supposed to be in here–and after twenty minutes in the Yoga Room–I start wondering why D is enjoying playing so much with a golden statue and a stuffed penguin.
I know kids use their imagination to play with all types of objects. But he has chosen an odd pair to engage his imagination with a huge play structure, teeming with kids, just one floor below us.
As D fiddles with the strings on Rico's scarf, I start to think about us doing a more "typical" kid activity. The same thought crosses my mind when he flicks a Super Hero mannequin's cape at the front desk, so I ask about the age requirement for the Rock Wall.
The age requirement is six, but the manager says D, who is four and a half, can climb if he wants to. I turn to D and ask him, "Do you want to climb the Rock Wall?"
"Yes," he says, unaware of the physical challenge of grabbing small rocks spaced apart on a flat wall while trying to maintain toe holds on other small rocks. Basically, it will be like climbing the side of a building and require strength and coordination, perhaps, beyond his ability.
However, D shows no fear as his instructor secures a harness around his waist, and I fasten on his helmet and glance up at the 35-foot-high wall. It looks imposing, so I decide to go first and to give him an example.
Halfway up, my forearms burn and my back tightens up. I struggle to grip rocks with my hands and feet, yet I make it to the top, counter-intuitively lean backwards and rappel back down to the bottom.
D is up next. He struggles to coordinate his hands and feet to grab hold of rocks, failing to get past the number "1" marker on his first two or three attempts, and I detect signs of distress in his face.
"If you make it to the number '3' on the wall," I tell him, recalling the support I needed during my rock climbing experience. "Then we will go to Denny's."
True, it's a mix of encouragement, motivation, and good, old-fashioned bribery–the stand-by most parents use in time of need–and this was as good a time as any for a bribe as encouraging motivation.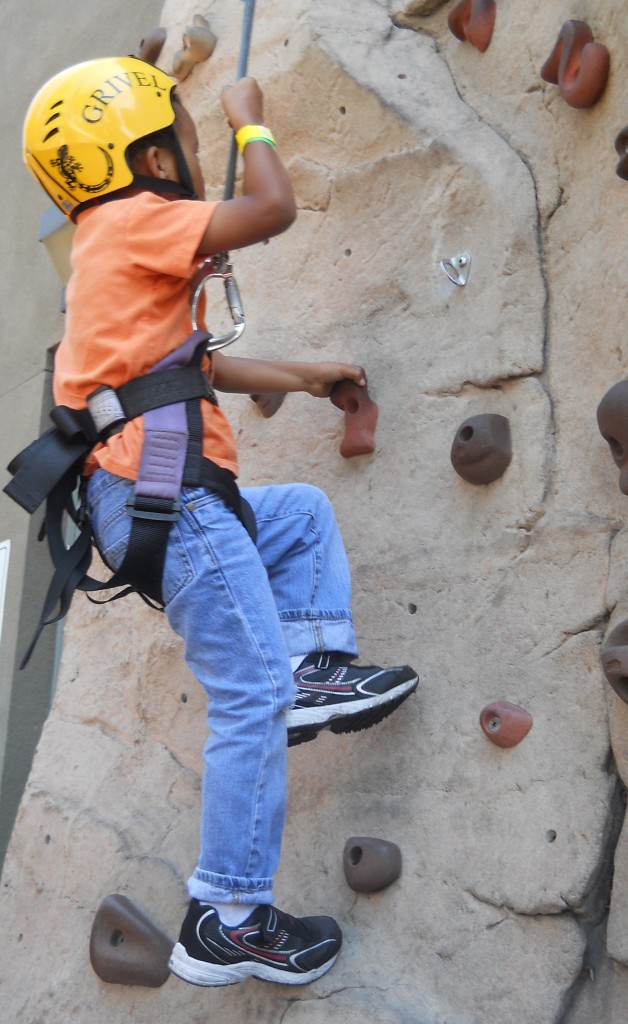 And it works. The positive association of food (really macaroni and cheese) motivates him. He makes a few more attempts, each time showing absolute determination, and he reaches the number "3."
And I catch a glimpse of my son's character. He's determined, willing to take risks and face his fears, and not give up at a challenging activity. Yet, the truth is his the main motivation was eating at his favorite restaurant.