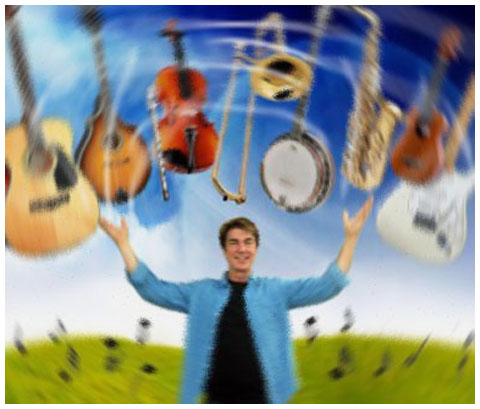 "Criss-cross, apple sauce," I say.
D and I sit on the library floor the following week, surrounded by a motley crew of twenty to thirty kids, waiting for "The Really Big Music Show" to begin, as a part of the library's summer reading program.
D will be starting preschool soon, and besides being here for the music show, we're here to practice the essential "school-readiness" skill of sitting still. That's right, I'm here to teach my son how to sit still.
I tell myself, this lesson will be the foundation of his journey from preschool to elementary school, middle to high school, and on into higher education. As a high school teacher, I know the worst students don't pay attention very well.
It doesn't start off good. The first time I say "criss-cross, apple sauce," D leans back into my body after ten seconds, and it shrinks to five and two seconds the next two times. I know what the Wife would say if she were here: I should not be sitting behind him.
I look around and every kid has their legs crossed and hands folded in their lap. This is no exaggeration. True, most are five to seven years old and have a few years of school experience, yet even the toddler-age kids are sitting perfectly still.
"Criss-cross, apple sauce," I say again, as if I am Harry Potter casting a magic spell on D to sit still.
There are four tables of grandparents sitting behind us and watching this very public lesson, and after my fifth or sixth "criss-cross, apple sauce," I am ready to give up because of the rapidly diminishing results, even though I am not the giving up type.
"Criss-cross, apple sauce," I say.
Then I realize something: D's trouble sitting still isn't related to difficulty regulating his body, as I had thought; it's not because the "sensory wiring" in his body is different from other kids.
His occupational therapist has told me D's sensory system is different than other kids–which is true–but that's not the reason he isn't sitting still. No, he just wants to be physically closer to me.
He is just sitting the same way he does with me on the sofa at home. Then I realize something else: Physical touch–and quality time–are his primary love languages!
So we sit on the floor and listen to "Surfin' USA," "Old MacDonald," "Five Little Monkeys," "Dock of the Bay," and "Freeze Dance," and I forget about teaching him the essential "school readiness" skill of sitting still.
So we listen as the musician plays snippets of songs, and I see another father and son sprawled out on the library floor, so we are not the only father and son enjoying some "quality" time with their bodies enmeshed.
Soon enough, parents with grown children tell me all the time, the childhood years will fast become memories. So I take their imparted wisdom and cherish this opportunity to be with D on the library floor.
I figure he will have plenty of time–thirteen or fourteen years, to be exact–to learn how to sit still in school. However, we have only a few years to snuggle and listen to music on the library floor.