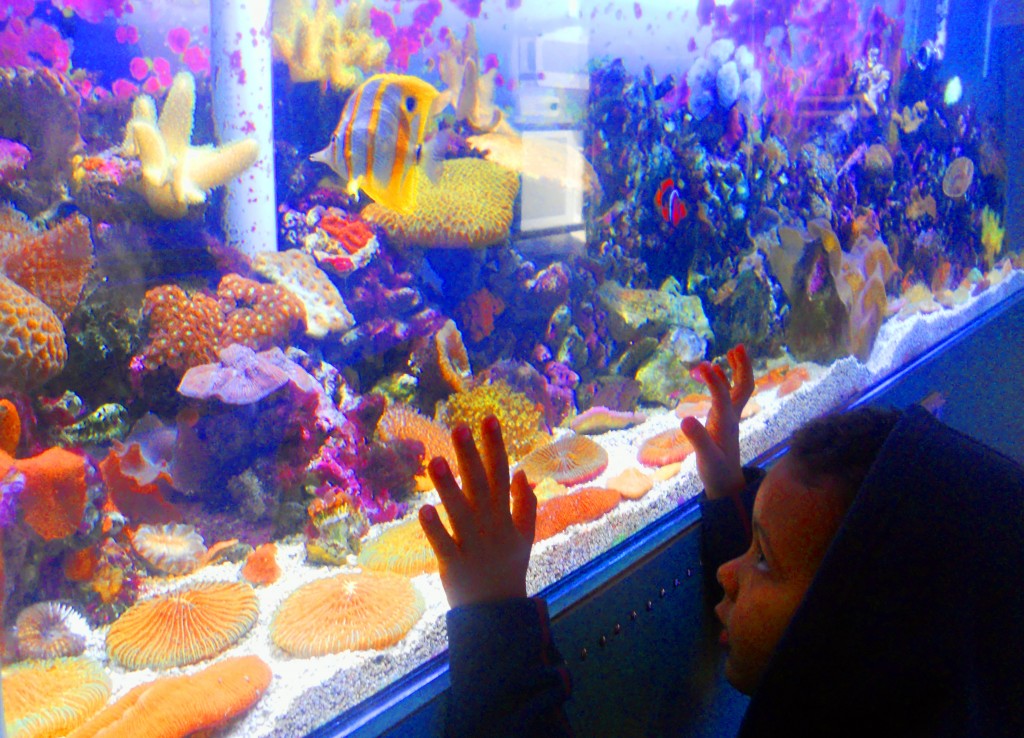 D is talking to a striped yellow fish in a large tank as we leave the aquarium. "We will see you again Butterfly fish," he says to the red, orange and yellow-striped fish.
"I want to go back and see Captain Eggplant," he says in the parking lot on the way to the car.
"His name is Captain Eggbar."
"I want to see Captain Eggbar. Can I see him again?"
"Sure, we will come back soon to see him."
This aquarium is tiny: one room with ten to twelve tanks and an outdoor patio with 
another eight to ten tanks where visitors can take a guided tour and pet sea animals. And it's free. Which makes it a great place to revisit.
The SEA Lab is the perfect size for D. He ran in circles, literally and metaphorically, on a visit to a much larger aquarium, yet has formed a personal connection with the sea creatures at this smaller aquarium.
He liked the Butterfly fish and sting rays, but by far his favorite was Captain Eggbar, a computer-animated alligator who asks "true" or "false" questions about marine life.
D read each question aloud off a screen and rushed a few feet away to touch a "true" or "false" icon on a computer monitor to hear Captain Eggbar say "right" or "wrong."
I broke the questions down to his cognitive level, and while a few other kids his age or older came by, they just hit the true-false icons without bothering to read the questions.
Two moms commented on how impressed they were with D's reading, and as I celebrated each one of his correct answers, I felt pride in his decoding ability and engagement with the questions.
D went through a series of seven questions three consecutive times, listening to the clues I gave him and thinking carefully before tapping on the "true" or "false" icon.
During the next few weeks, he continuously asked me to do true-false questions with him at home, in the car or at the park. Everywhere we go, he says, "Dad, can you do a true and false question?"
"True or False? Whales have belly buttons."
"True or False. Dolphins sleep with one eye open to watch for predators."
"True or False? There is an ocean animal called a bone eating snot flower."
"True or False? Some fish communicate by farting."
"True or False? Sharks have horrible, stinky breathe."
As a child with difficulty in expressive speech, I suspect the true-false questions are an easy template for conversation, and he likes answering incorrectly to hear me make a loud buzzer sound, laughing at the strange noise.
He is probably stimming of the true-false questions, it occurs to me after a few weeks, since the questions and his answering incorrectly to get me to make a buzzer sound are repetitive.
But that's fine with me since it creates a pathway for interacting, and I'm hopeful it will lead to more fluent conversation, and it beats hearing silence in the back seat of the car.
Spontaneous conversation can be difficult for D. His everyday speech is often lines from movies which is easier for him than following the twists and turns in a typical conversation.
He has no difficulty requesting his basic needs or wants. Dad, I want to see Captain Eggbar again. However, he often talks incessantly about his favorite subjects in long monologues.
The one aspect I have noticed D struggles the most in communication is with social talk: initiating, maintaining and terminating conversations.
Yet, today he said good-bye to a Butterfly fish and talked to me about wanting to see Captain Eggbar again, and this was more than usual. So I am grateful for a Butterfly fish and animated alligator for stimulating his expressive speech.
I feel grateful too for discovering wisdom in such an unlikely place–a tiny aquarium one block from the beach. The wisdom is simple: to join him in what excites him and seize these as opportunities for communication.