---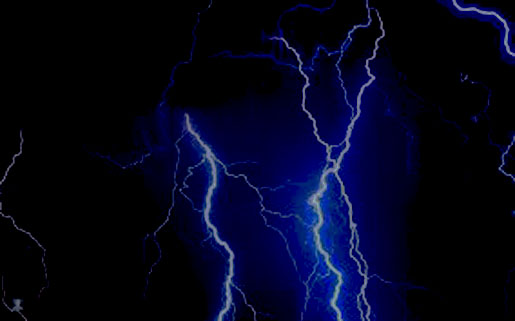 D has taken up residence inside an eight by ten foot room, mostly dark, no lights, black walls, octagon shaped, felt curtain entrance, with periodic flashes of lightning and crackling thunder.
Henry David Thoreau went to Walden Pond to immerse himself in nature, to reflect on society's ills, and to seek a simpler lifestyle. Well, D has chosen his sanctuary to be in the eye of a simulated storm at the Children's Museum at La Habra.
I doubt his fascination is an effort to commune with nature. With every flash of lightning and crackling thunder, he joins two older boys in running around the room and screaming as if struck by lightning
Nevertheless, I can't help but reflect on how he's mastered the philosophy of Thoreau: "Simplify! Simplify! Simplify! Let your affairs be two or three, not a hundred or a thousand."
He's found the one thing that makes him happy–his Walden Pond–and I see no problem letting him stay in the Lightning Room as long as he likes. He's happy here, I think to myself. Why should I make him leave?
The Wife thinks differently. "Tell him it's time to see the rest of the museum," she tells me. "He's been in here long enough." She evidently doesn't prescribe to Thoreau's "simplify" philosophy, and I feel torn by her simple request.
You see, I want to act as I typically do with D, following my free-range parenting style, and yet I know L wants me to give D rules and structure, and if I do what will please her, this would represent a major change in my parenting philosophy.
For D and me.
***
D just turned five, and I've been reading Wes Moore's book Rite of Passage Parenting: Four Essential Experiences to Equip Your Kids for Life. Is it too early to begin the process of helping my son at five to become a responsible, self-reliant adult?
That's what I've been asking myself while reading Moore's book, and I realize it's never too early, even if my main focus has been developing a bond with D through adventures (I've been a one-dimensional dad).
Moore has shown me how important my role can be with my son. That I can teach skills through rite of passage events to build responsibility into D's life to prepare him for the inevitable transition to becoming an adult.
That's more of a summary than I intended to give on Moore's book, but I wanted to give Moore, a former youth pastor, credit for stimulating my evolving perspective on parenting.
***
So L and I coax D out of his beloved Lightning Room, and he makes it no more than twenty feet, before he turns and races back, dodging a few wobbly-legged toddlers at the last possible second to avoid knocking them over.
My intuition tells me L's and my contrasting parenting styles are converging for a head-on collision, and I start breathing faster, my thinking becoming erratic and panicky.
L is calm. She is usually anxious 24/7, and I'm the calm one; however, today it's reversed: I am suddenly anxious, and she is surprisingly calm. (Note to self: remember to ask L later why she was so calm.)
L's habit is to tell D what to do all the time, and in her new mellow mental state, a total aberration, she has chosen to let me be in charge of D, assuming a zen-like serenity that I know won't last much longer.
Since L is calm, my inner struggle isn't influenced by her, unless previous conversations count, and after D makes four or five round trips to the Lightning Room, she tells me: "We need a behavior plan. Do you know what a behavior plan is?"
"Yes."
"What is it?"
"It's a plan for behavior."
"That's what we need. A behavior plan for D. That we discuss with him before we go somewhere. We're the reason he's running around the museum. We're the reason he's out of control."
I can't argue with her logic, but her thoughts started out in a calm and reasonable tone, and by the end they had become too critical and left a sour imprint in the pit of my stomach.
So I found the idea of a Behavioral Plan difficult to embrace. I know it would enhance our parental unity, and it sounds good in theory, but it feels like putting a straight jacket on D, which I have no interest in doing.
I see a behavioral plan as similar to animal testing: it is good for finding cures to human diseases like cancer, but when it is done at the expense of inflicting pain and death on sentient creatures, animal testing is wrong.
Dr. J, a psychologist L and I meet with as part of D's ABA program, has identified our problem in two sessions. I am the Fun Dad who needs to "step up" my parenting, and L is the Commander-in-Chief who needs to spend more time connecting with D.
"It's like he has a drill sergeant for a mom and a Muppet for a dad," L quipped during an argument while criticizing my parenting approach.
So easy to assess. So hard to change.
Would it make a difference in D's relationship with his mom if I were less the of the Fun Dad? Would it help her to be less of the Drill Sergeant? If I gave him more commands to wash his hands, turn off the tv, come to dinner, brush his teeth, get dressed, put his pajamas on, put his toys away and clean his room, would it allow her to focus more on connecting with D?
The manager at Denny's told me his two sons-m loved putting on the fireman uniforms at this museum, but the heavy jackets and helmets failed to spark D's imagination in pretend play.
He ran right by the fireman uniforms to a tree with spiraling stairs on the inside. This was more his cup of tea, and I scrunched my body to be follow him through the interior of the tree.
This trip was forty-five minutes outside our five-mile radius for our father-son adventures–hence, it became a family outing–and ended with D making one final mad dash back to his beloved Lightning Room.
He ran around the room every time lightning struck, and I decided to join him while L waited for us outside. I figured being less of the Fun Dad could wait one more day, so D could enjoy being in the Lightning Room.