---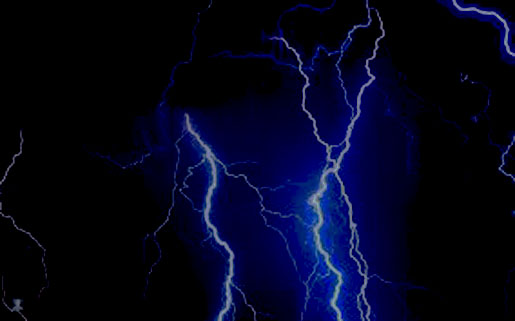 D has taken up residence inside an eight-by-ten foot room, mostly dark, no lights, black walls, octagon shaped, felt curtain entrance, with periodic flashes of lightning and crackling thunder.
Thoreau went to Walden Pond to immerse himself in nature, to contemplate society's ills and to seek a simpler lifestyle. D has chosen his sanctuary to be in the eye of a simulated storm at a children's museum.
I doubt his fascination is an effort to commune with nature. With every flash of lightning and crackling thunder, he joins two older boys in running around the room, screaming as if they were struck by lightning.
Nevertheless, I can't help but reflect on how he's mastered the philosophy of Thoreau: "Simplify! Simplify! Simplify! Let your affairs be two or three, not a hundred or a thousand."
He's found the one thing that makes him happy–his Walden Pond–and I see no problem letting him stay in the Lightning Room as long as he likes. He's happy here, I think to myself. Why should I make him leave?
L thinks differently. "Tell him it's time to see the rest of the museum," she tells me. "He's been in here long enough." She evidently does not subscribe to Thoreau's philosophy, and I feel torn by her simple request.
You see, I want to act as I typically do with D, following my free-range parenting style, and I know if I give D rules and structure as L wants me to do, this would represent a major change in my parenting practice.
For D and me.
So L and I coaxed D out of the Lightning Room, and he made it no more than twenty feet, before racing back to the Lightning Room, narrowly dodging a few toddlers at the last second to avoid a major accident.
My intuition tells me L's and my contrasting parenting styles are converging for a head-on collision, so I start breathing faster, my thinking becoming erratic and panicky.
L is calm. She is usually anxious 24/7, and I'm the peaceful one, but it's reversed today. I am anxious, and she is surprisingly calm. (Note to self: ask L later why she was so calm.)
L's habit is to tell D what to do all the time, and in her new mellow mental state, she has chosen to let me be in charge of D, assuming a zen-like, serenity that I know won't last long.
Since L is not anxious, my inner struggle isn't influenced by her, unless previous conversations count, and after D makes four or five round trips to the Lightning Room, she tells me: "We need a behavior plan. Do you know what a behavior plan is?"
"Yes."
"What is it?"
"It's a plan for behavior."
"That's what we need. A behavior plan for D that we discuss with him before we go anywhere. We're the reason he's running around the museum. We're the reason he's out of control."
I can't argue with her logic, but her thoughts started in a neutral and reasonable tone, and after a while they became too critical and left a sour imprint in the pit of my stomach.
This made a Behavioral Plan difficult to embrace, even though it sounded good in theory, and while I know it would enhance our parental unity, it feels like putting a straight jacket on D.
Dr. J, a psychologist L and I meet with as part of D's ABA program, has identified our problem in two sessions. I am the Fun Dad who needs to "step up" my parenting, and L is the Commander-in-Chief who needs to spend more time connecting with D.
"It's like he has a drill sergeant for a mom and a Muppet for a dad," L quipped following an argument while criticizing my parenting.
So easy to assess. So hard to change.
Would it make a difference in L's relationship with D if I were less of the Fun Dad? Would it help her to be less a drill sergeant if I issued more commands for D to wash his hands, turn off the tv, come to dinner, brush his teeth, and clean his room? Would this allow her to connect more with D? 
But what's wrong with being a Muppet for a dad? I know L's comment was meant to be negative, but the Muppets have their own lovable quirkiness, and a beautiful kinship among themselves.
I once that parents are a gateway to all their children's future relationships, and somewhere along the way, I decided D needed me to be a friend more than an authority figure.
Maybe, it was his being on the autism spectrum, or him being an only child, but I sensed he needed me to play with him more than discipline him.
D started calling me Gary and himself Walter after seeing the Muppet movie, and I took this as a sign that I was developing a close father-son bond with D.
So this is how I have become the Muppet Dad, and I think there are positive virtues to my parenting style. It has helped me to connect with D by playing with him and doing things he likes to do.
But I could be more balanced as a parent by, as Dr. J put it, stepping up my parenting. I will admit to needing to help L out more with co-parenting D, not just playing with him.
This trip was a family outing because it was 45 miles outside L's five-mile comfort zone for our father-son adventures, and it ended with D making one last dash to the Lightning Room.
I considered if it was time to be less of the Fun Dad D, but as he ran around the room with each lightning strike, I thought it could wait for another day. And I circled the room screaming with him.
Needless to say, L was in the restroom.