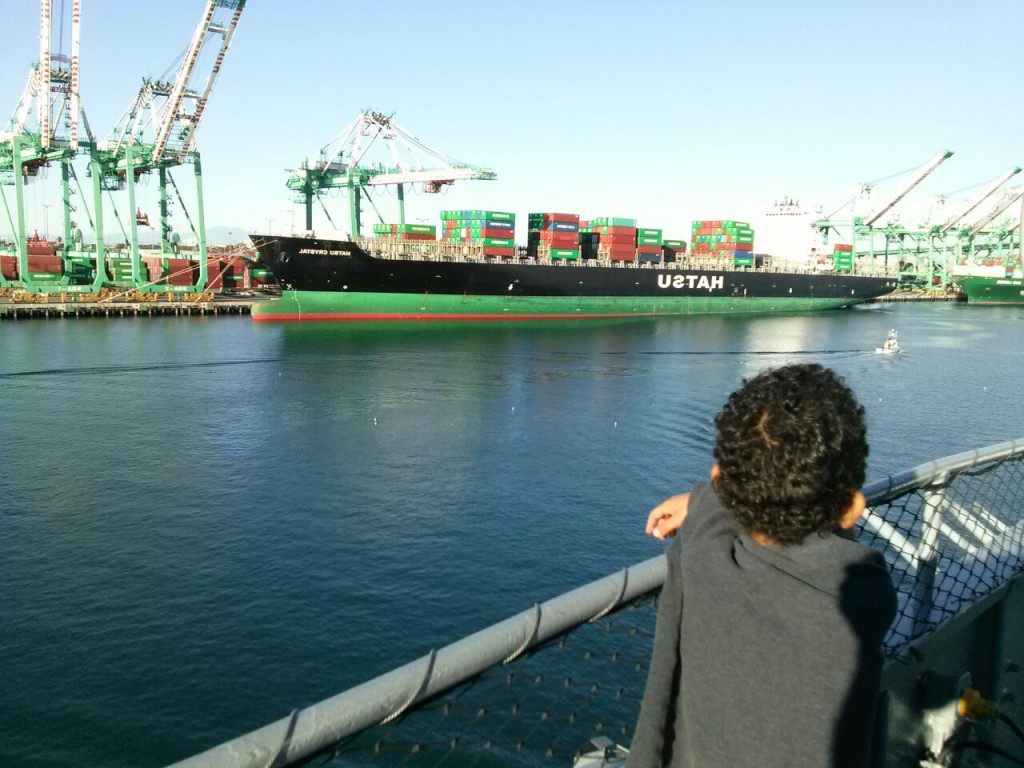 The following is a list, in no particular order, of reasons for parents of children to visit the USS Iowa:
Learn juicy details of a former president's top secret voyage aboard the USS Iowa in the captain's room
The large canons that rained down thunderous armament in World War II are an impressive sight.
3. Berthed in San Pedro, the USS Iowa is a short trip away to walk aboard a part of U.S. maritime his history (that is the size of the Titanic).  It has twenty level (eight currently open to the public)
4. Climbing up and down the USS Iowa's ladders is a fun for kids and parents alike.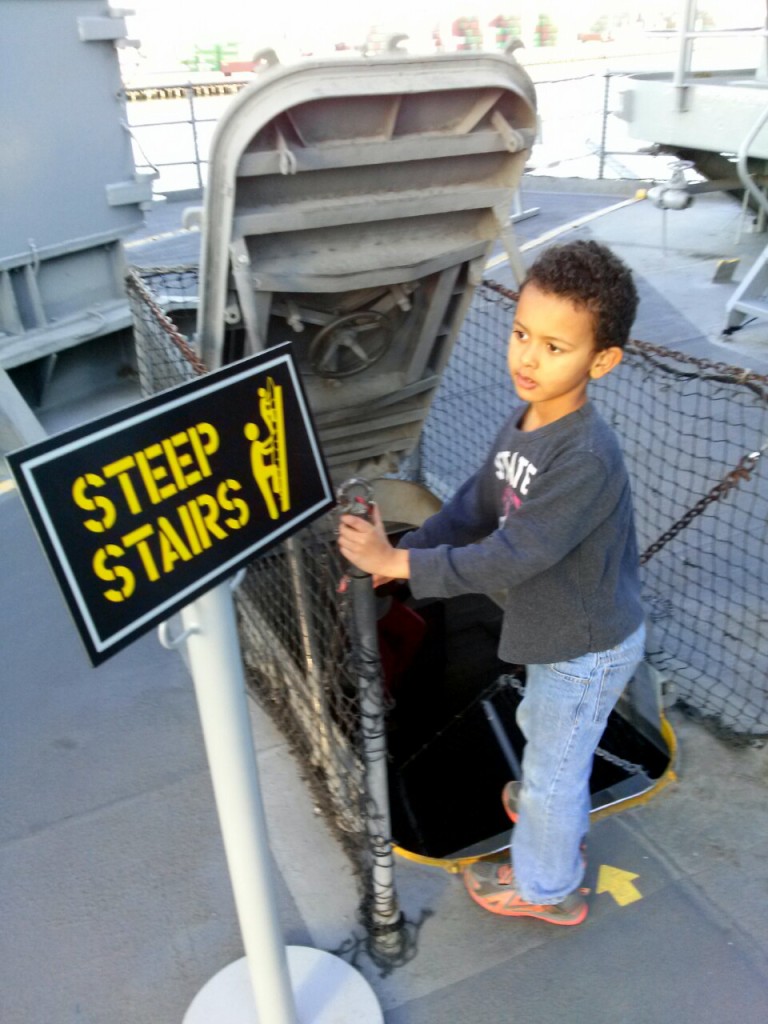 5. The self-guided tour is as easy as following the Yellow Brick Road, ahem, the yellow lines aboard the USS Iowa.
6. Tighten the abs from eating too much turkey, ham, mashed potatoes and back-to-back pumpkin pie slices over the Christmas holidays?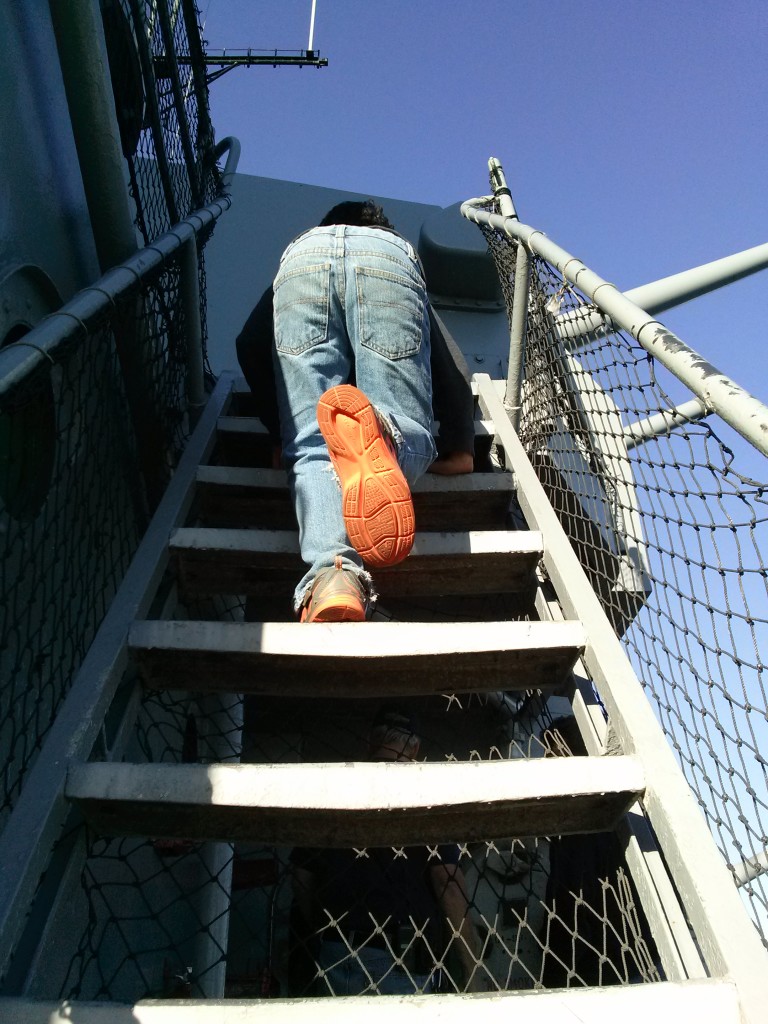 7. Introduce history to your child aboard the USS Iowa, of course, in small-sized chunks (that will be my objective in our return visit. we just strolled on our first visit).
8.Honor the legacy of those who have given our country freedom and try explaining the difference between democracy and other types of government (this will be on my second trip–our first trip I just wanted to get out of the house).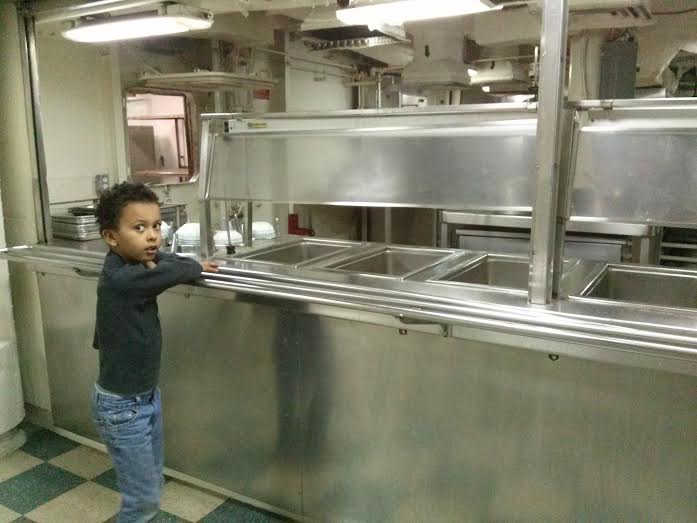 9.  Look for different types weaponry aboard the USS Iowa with aid of the tour pamplet: Tomahawk cruise missiles, 16" /50  guns on three turrets, the four phalanx weapon systems which shoot 3,000 rounds per minute.
10. Tell this story about Hitler: "At eighteen, he took his inheritance, seven hundred kronen, and moved to Vienna to live and study.  He applied to the Academy of Fine Arts and later the School of Architecture. Ever see one of his paintings? Neither have I.  Call it overstatement but I will say it anyway: it was easier to start World War II than it was for him to face a blank square of canvas." (War of Art, by Steve Pressfield.)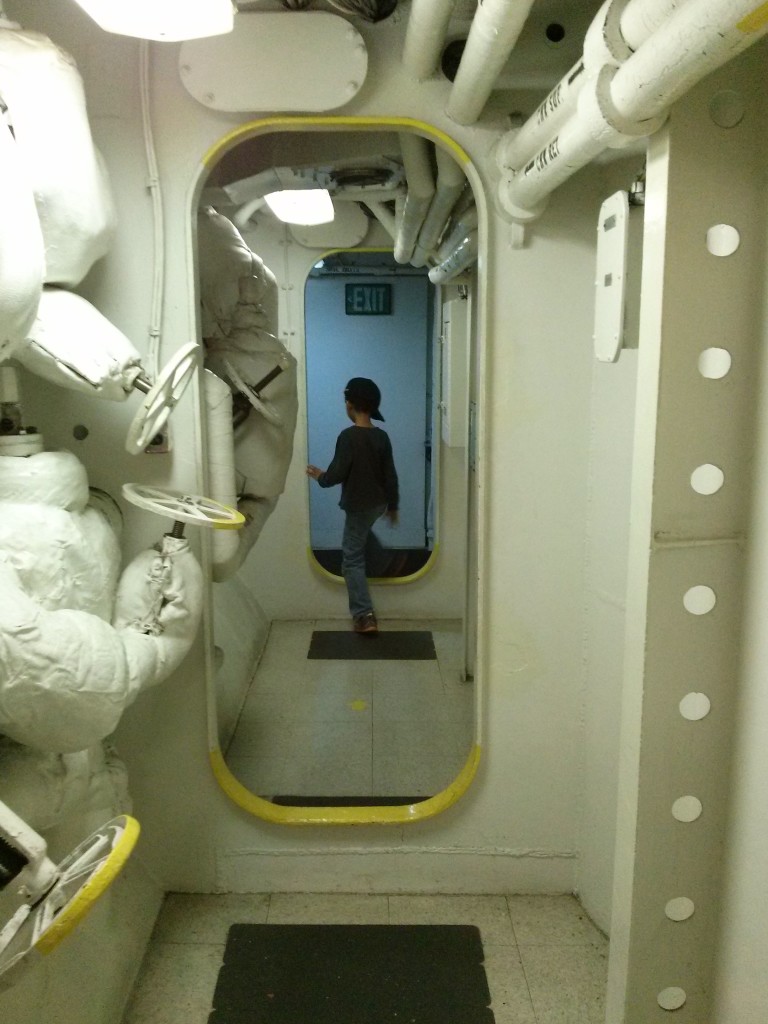 11. Develop a father-son bond by spending quality time in a historical place.
12. Take pictures at the never-ending photo opportunities in the dining area, cannons, artillery, sleeping quarters, the view of the harbor and Vincent St. Thomas bridge and the overall size and scale of the USS Iowa.
13. You're worn out from watching Christmas movies for the past several weeks.  Actually, this is my favorite part of Christmas, but I reached my limit.
I am sure there are many more reasons to climb aboard the USS Iowa.  The main one for me and my son, it's fun to climb up and down the steep ladders.   It as like a huge playground with history.
I loved my son's question to me after hearing in FDR's secret voyage aboard the USS Iowa to meet with two world leaders on his: "Who were those three Gentlemen?"
He was listening!