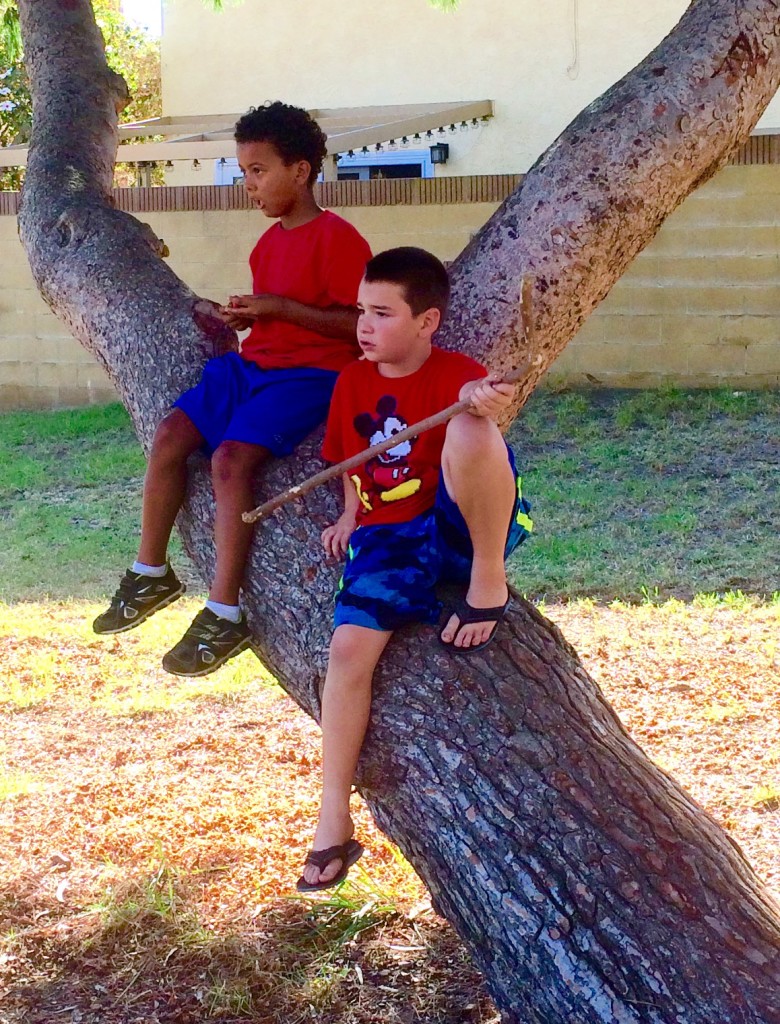 D and I went to the park with his friend C.  They climbed their favorite tree and watched six workers building a well. They were both wearing red t-shirts and blue shorts.
"Did you guys call each other to wear the same colors," I said.
It's a well that's taken over a year and half to build. That's because pipes have run underground from the park all the way up the street, making it difficult to find parking spots.
Anyways, it was an eight and seven-year-old, sitting together in a tree, looking at what they will do when they become men. Work.
"I bet they make $48 a day," C said.
I thought about correcting him by telling him it was more like $48 an hour, but figured he had a long time to learn about the economics of a paycheck.
D's mouth hung open as he watched the workers, and I wondered what he was thinking. Was he thinking what his future vocation might be?
Was he admiring triangles in the chain fence? Was he thinking about George Washington being on the quarter? Was he thinking nothing at all?
I watched too, thankful for this unexpected stillness and question, in my otherwise frantically busy life. Not really thinking, just being with D and C.
And the worked laughed and kidded one another, and I thought, "this is how work should be done."  Not too serious. Done with a sense comraderie with co-workers. Lots of laughs.
C was more chatty than D, telling me how he wanted to be a teacher when he became a grown-up.
Eventually, the moment ended, and D began to throw a rock over the fence towards the workers, perhaps making a statement by his action.
Let play reign.