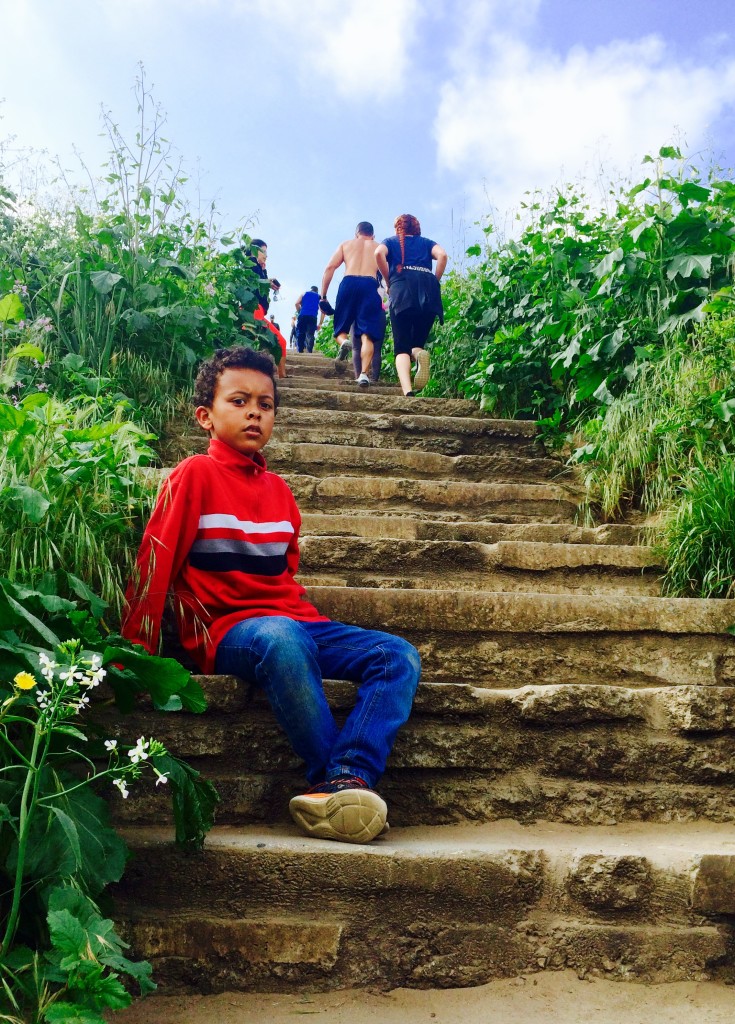 This was one of those ideas–hiking up 279 stairs at the Culver City steps–that seemed like a good idea at the time, but didn't feel so great while I was on step number 133 or 208.
At step number 279, I was more than grateful we had made it to the top and, forgive me for the cliche, I realized that I ain't no spring chicken any more.
I made D take a few breaks because I needed to catch my breath. D didn't have this problem. He just kept climbing up the steps, and the steps were one foot high.
I looked forward to a father-son moment looking out at a vista of Los Angeles at the top. But D followed a trail leading back down after taking a short glimpse at the view.
Ho-hum, he must have thought.
I was thinking something along the lines of "this isn't everyday you see a view like this and, hey, I was really hoping for a break…and a chance to recover."
We passed through an display of the history of Los Angeles heading back down. D wasn't too interested, so we found the nearest trail back to the bottom
I realized as we neared the bottom that I needed to find bathroom. Like asap. Climbing all the steps moved my breakfast through my digestive system at a faster rate than usual.
Plan A…was a nearby Dunkin Donuts which I remembered passing on the way to the steps, but there was a sign on the bathroom door: Out of Order.
Plan B…was the Smart and Final restroom next door. I needed to make it there in a hurry, but it was occupied, and there was no time to search for another restroom.
Plan C…required expediency. I looked around and saw a trash can. There was no time for Plan D.
D looked at me with a surprised look, so I felt a need to elaborate with a life lesson attached to it.
"Sometimes, you have to, uh, do what you have to do in an emergency. This was an emergency situation. Maybe, you will be in an emergency one day."
I knew I was violating the proper decorum for public restrooms–and I only accidentally hit publish on this–but I think I made the right choice.