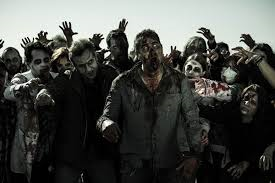 You, too, have probably been stopped from going to a kid's comedy show. One you've been wanting to go to for months and one thing or another got in the way.
The last obstacle being the Wife poo-pooing the idea in front of your son. So what to do with the rest of a good Saturday afternoon?
First, we went to Wilderness Park (a nature preserve) and then the Toy Store (Toys R Us) and the Pet Store (Pet Smart).
By the time we got back home, I took a break from our adventures which began with a parent vs. kids baseball game in his "Break it Down" Total Sports class.
 And then the  door bell rung. It was D's best friend who lives across the street. And he wanted to go to the park.
 So what do you do?
 Pretend the best friend has turned into a zombie, conspiring, screaming and running with D to avoid being eaten by the zombie. 
 You create the illusion that you believe the best friend is a zombie wiith high-pitched panic and terror. To show your fear of being eaten by a zombie.
"I'm not a zombie," the friend said. "I'm human."
"No, he's not," I tell D, "he's pretending to not be human, so he can eat us."  
The moral of the story: Create your own dramatic performance if you're hindered from seeing a dramatic performance.